Configuring Work Schedules
This article explains how to configure work schedules and define one schedule as the default that is applied to all employees, unless a different work schedule is assigned.
How to Use Work Schedules
By assigning a work schedule in Personio, you define how many hours your employees are expected to work on which days. Assigning a work schedule not only forms the basis for correct attendance tracking but can also be used for the calculation of prorated leave entitlement for part-time employees. You can find further information on configuring part-time employment here.
Within a company, there is often a standard work schedule that applies to the majority of employees. In Personio, you have the option of creating several work schedules to reflect the contractually agreed working hours of your employees.
Configuring a Work Schedule
To configure a work schedule, navigate to Settings > Attendance. Click on Add schedule to create a new work schedule. Assign a meaningful name to the schedule (e.g. full-time; 40 hours; Mon, Tue, Wed, Thu, Fri with time tracking). Next, click on the plus icon.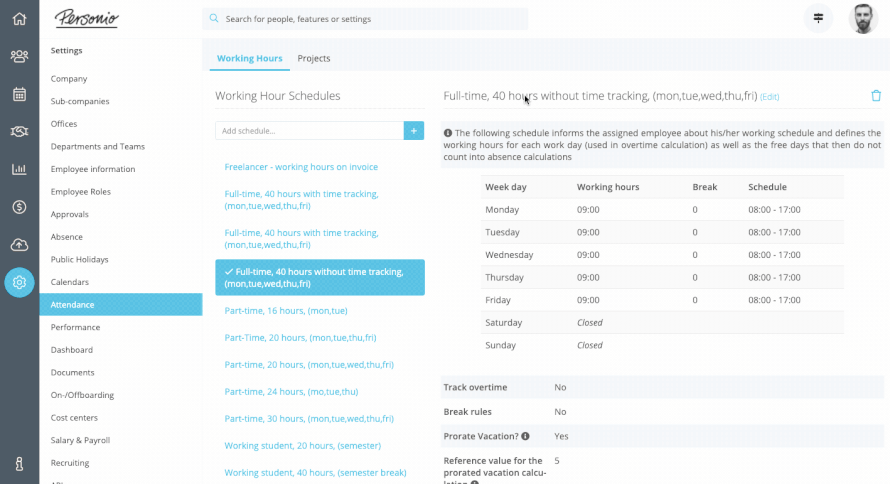 Defining Working Days and Hours

Enter the number of hours your employees normally work on each working day and how long their breaks are.

Please note that entering the start and end times is optional and subsequently only serves as a guideline. Employees can record attendance outside of the specified start and end times.

Overtime hours

Select whether you would like overtime hours entered by employees to be tracked. If you activate the Track overtime option, you then have a choice between having your employees' overtime calculated on a daily or weekly basis.

When tracking on a daily basis, you also have the option to document deficit hours. These are then offset against any overtime hours in the employee's overtime balance. You can also define the number of overtime hours per month that is already covered by employees' salaries.

You can find more detailed information on the overtime calculation settings here.

Break Rules

You can add up to two break rules, if required. This allows you to define how long a break should be if a person works a specific number of hours per day. Employees and approvers will then be alerted if they enter or approve insufficient or excessive breaks in their time tracking.

You can find further information on break rules and how to use them here.

Absences

Finally, you can use the Prorate vacation option to indicate whether you would like the work schedule to serve as the basis for calculating vacation entitlements. Here you can also define the reference value for the prorated vacation calculation. When calculating the vacation entitlement, Personio reconciles the working days entered into the work schedule with the reference value given.

Thus, if a work schedule contains 4 working days, but the reference value is 5 days, the employees who have been assigned this work schedule will be assigned 4/5 of the regular leave entitlement. You can find further information on prorated leave entitlement here.

Now click on Save work schedule to create the work schedule.
Defining a Default Work Schedule 
Once a work schedule has been created, you can set it to be the default work schedule. This is then automatically assigned to all employees unless another work schedule is assigned. If you do not set a default model, Personio automatically makes the first work schedule on your list the default model. You can find further information on assigning work schedules here.
Both newly and previously created work schedules can be set as the default model. To set a work schedule as the default, select the work schedule and then click on Make default schedule.
Please note: If a new work schedule is set as the default, the work schedule's settings will be used to recalculate overtime entries based on the existing attendance hours.
Can't find what you're looking for?
We are happy to help you! Just write us a message with your questions and we will get back to you as soon as possible.
Submit a request
Topics of this article