In this article, you will learn how to integrate ZEP's software with Personio to make time recording easier for your employees. In the following you will get an overview of all necessary prerequisites and a instructions for setting up the integration via the Personio Attendance API.
What is ZEP?
ZEP allows you to automatically and reliably transmit times to Personio. ZEP is a proven web-based solution for project-oriented work since the year 2000. You can choose between the solutions ZEP clock and ZEP. ZEP Clock is used by many companies that need or want to record working times. ZEP is used by companies that work project/order-oriented and have to prove or invoice their services to their customers.
With the products of ZEP you acquire a web-based software for the recording of working times with or without project reference. All you need is a web browser. In contrast to conventional applications, no software installation is required on your computer.
How can I set up the integration of ZEP and Personio?
Starting with the Essential Plan, you can connect one integration partner of your choice. If you would like to use more than one integration partner, this is possible from the Professional Plan onwards.
To set up the integration of ZEP and Personio you need the following information from your Personio account:
To get the Client ID and Client Secret, navigate to Settings > API > Credentials. Select Generate new credentials.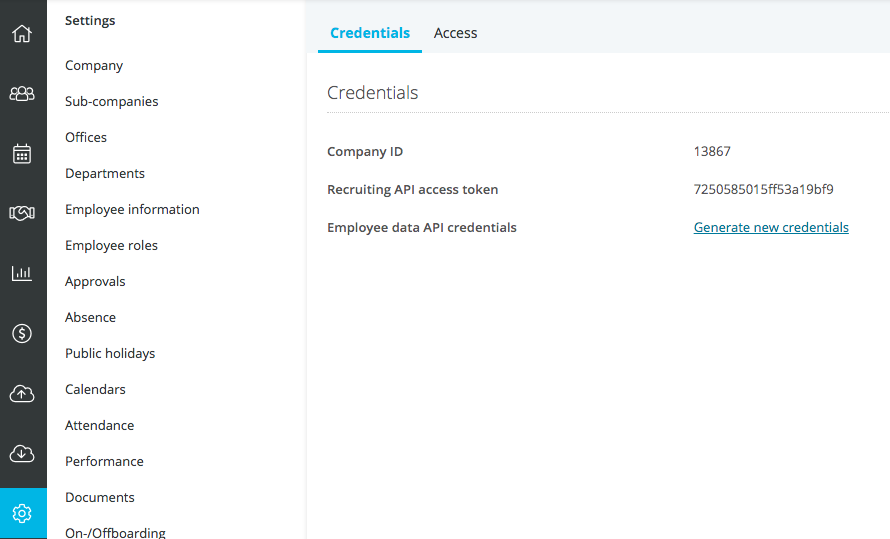 This will automatically start the download of a file containing your credentials for the interface.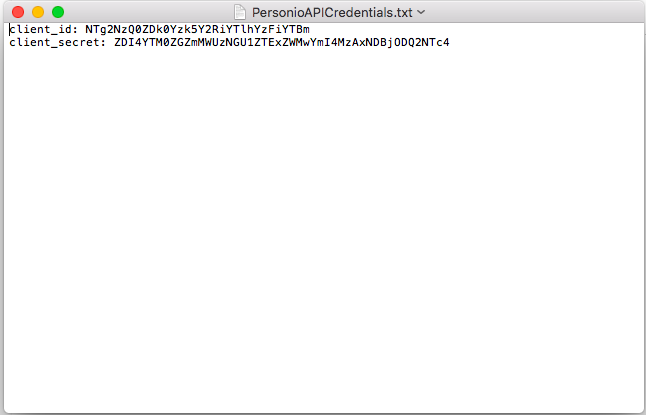 Please note that the Generate new credentials command invalidates your previous credentials.
The configuration of the ZEP Personio interface is done in ZEP under Administration > Settings > Personio. For the setup you can choose between two different settings.
Setting 1: Synchronize Employee-IDs by email address
To ensure that a user's time postings are correctly assigned in Personio, the Personio Employee-ID must be stored for each ZEP user. The Personio Employee-ID can be stored manually in ZEP for each user. To minimize the manual effort, ZEP's Personio-Task supports the automatic determination and transfer of Personio employee-IDs based on the email address.
If a user is created both in ZEP and in Personio with identical email address, the task automatically transfers the Employee ID of the user to the ZEP user. This automatic transfer can be activated or deactivated. Only time postings of ZEP users with a set Personio ID are taken into account during synchronization. Changes to time postings are not logged in ZEP until the employee-ID of the user has been set in ZEP.
Setting 2: Aggregate time postings by day
If this option is selected, ZEP aggregates the time postings of a day to a single Personio attendance with corresponding duration, including break deduction if applicable. If this option is not selected, all of an employee's time postings are transferred to Personio for each day. This means that there is a corresponding attendance for each ZEP time entry in Personio.
Setting up the Personio-Task
The Personio-Task is scheduled in ZEP under Administration > System > Tasks. Click on the link Create a new task and select the task Synchronization of time postings with Personio. Then you have to specify the time intervals in which the task should be executed. If you have activated the option Synchronize Employee IDs Using Email Address in the settings, you should now start the task manually just once. This determines and assigns the Personio Employee-IDs based on the email addresses. Changes to time postings are then logged for synchronization with Personio.
What data will be transferred?
Time postings recorded in ZEP are regularly transferred to Personio and stored there as attendances. Time postings are synchronized using a ZEP scheduler task which can be scheduled for regular execution. When the task is executed, all new, changed, or deleted time postings created since the last execution are determined for each user, and are synchronized with the attendances in Personio accordingly.
What are the costs?
ZEP offers the products ZEP Clock and ZEP. You can purchase ZEP Clock from 1€ per user per month. The price for ZEP is calculated according to the range of functions and selected modules.
Who to contact at ZEP?
If you have any questions or feedback on the integration, please contact Ms Zürn and Ms Eggert +49 7156 43623-22.
Can't find what you're looking for?
We are happy to help you! Just write us a message with your questions and we will get back to you as soon as possible.
Submit a request