This article explains how to integrate Staffomatic by EASYPEP software with Personio and at the same time make time tracking easier for your employees. You will find an overview of all the prerequisites below, as well as instructions on how to set up the integration via the Personio attendance API.
Activate from the Marketplace:
We have improved the activation flow for this Integration. You can now start the activation from the Marketplace. For more information, read our Help Center article
Activate Integrations from the Marketplace
.
What is Staffomatic?
Staffomatic offers an intuitive solution, allowing you to efficiently organize shift schedules and involve employees in the process of creating schedules. From vacation planning and time tracking to evaluation, all the relevant functions you will need for personnel planning are provided. Individual permissions and approvals allow employees to show the specific times when they are available, apply for or trade shifts, or sign themselves in.
Online personnel planning is the key. With Staffomatic, everyone has an immediate overview of who is scheduled when, or who is absent. This means that you can easily do all your workforce planning online. Tedious follow-up phone calls, modifying shift notes and Excel files filled with complex formulas will no longer be necessary. You will be able to finalize your roster quickly, saving time and money, and avoiding stress.

How can I set up the integration of Staffomatic and Personio?
You need to generate new API credentials for this integration in Personio at Settings > Integrations > API Credentials. In most cases, when selecting an integration in the drop-down menu, the system automatically preselects the system attributes that need to be read or written by the integration. You can always add or remove attributes manually if they are needed, or you wish to do so. For more information on how to do this, have a look at our help center article on how to generate and manage API credentials.
Then switch to your Staffomatic account and install the free Personio add-on in the add-on section. Upload the file containing your credentials to your Staffomatic account via the Personio add-on or type in your credentials.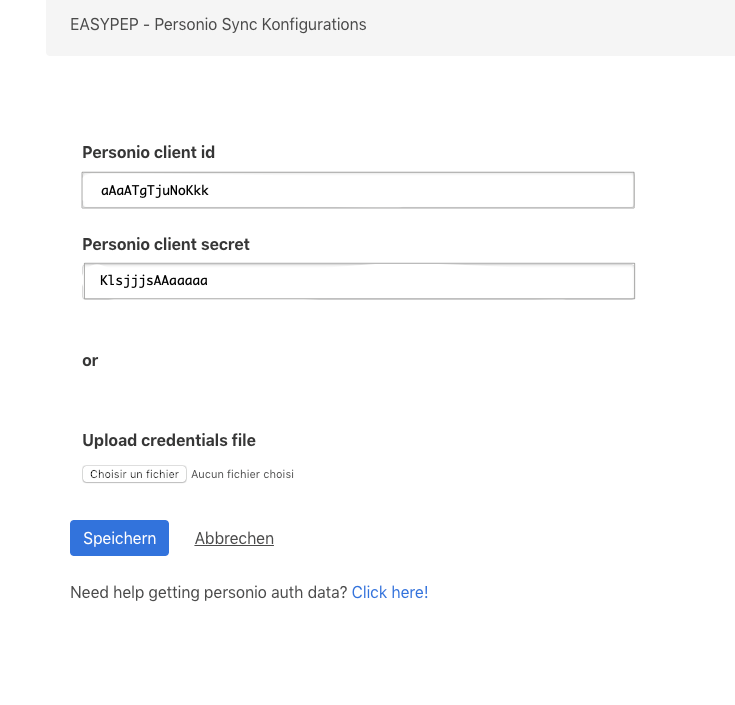 When you click on Submit, the two tools will be linked and your Staffomatic and Personio accounts will be automatically synchronized.
Which Data Is Transferred?
As soon as the integration is running, employee data and absences will be transferred from Personio to Staffomatic. Time tracking data will also be transferred from Staffomatic to Personio.
How Much Does It Cost?
The price per user starts at €2 per month. If you agree to pay annually, you will receive an additional 10% discount on the annual price. For more information, please contact Staffomatic directly.
Who should I contact at Staffomatic?
If you have any questions or feedback on the integration, please contact Staffomatic Support at support@staffomatic.com.
If you are interested in purchasing the software, please call Tobias Küstermeyer at +49 (0) 40 87407229.
Topics of this article