When Is the Security Token Being Generated?
This article explains, under which circumstances, a Security Token or Login Token will be required to log in to your Personio account. The Security Token is an additional Personio security feature to protect your data from being accessed by third parties.
As Personio contains highly sensitive employee data, this functionality cannot be deactivated.
When will the Token be Triggered?
Personio has an automated monitoring system which detects suspicious activity such as different browsers or IP addresses being used or failed login attempts. If a suspicious activity is identified, you will receive an email containing a one-time Security Token which you must enter along with your password to recover your account.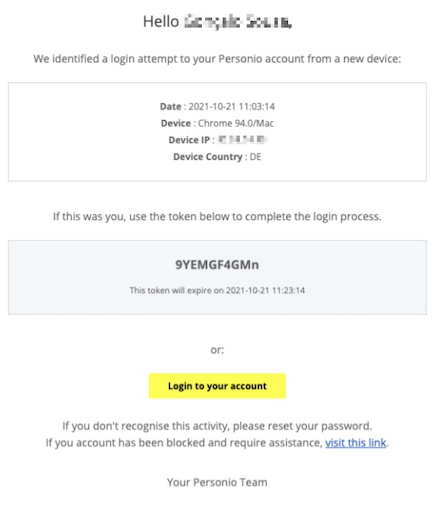 Where to Find the Login Key?
The security token is sent to the employee's email address that has been stored in the system. In this email, you can also find a timestamp of the most recent login attempt, the kind of device that was used, and the IP address and country from where the login happened. The login key will be valid for 20 minutes from the time it is sent.
Topics of this article