This article explains how to create customized email templates in Personio. Create any number of user-defined email templates, for example an automatic acknowledgment of incoming emails, a rejection of an application, and an invitation to a personal interview. Templates not only save time and effort, but also ensure that correspondence with applicants is handled consistently across the entire company.
Creating Email Templates
Navigate to Settings > Recruiting > Email and define any number of customized email templates using the Add new template input field. Click on Edit to define the email subject line and contents. Use placeholders and gender variables to personalize your communications with your applicants.
Placeholders: When a template is used, the software recognizes placeholders and automatically replaces them with the correct information for the relevant applicant. Placeholders can be used for the applicant's first and last name, and for the description of the advertised job.
Gender variable: If your applicant's gender is stored in Personio, you can automatically set the software to make gender-specific (grammatical) adjustments to your emails. Note that the male gender variable is stated first by default.
You can attach documents to your email templates as required, for example directions on how to get to your office. Or you can attach other documents when emailing applicants.
Click here for helpful model email templates.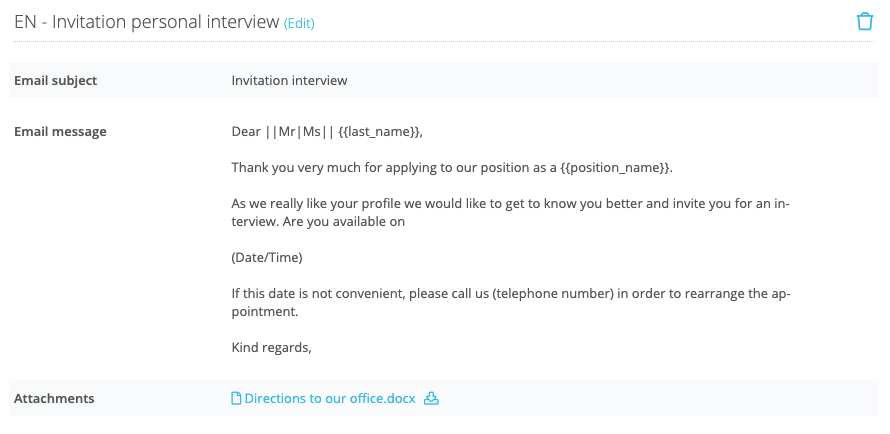 Remember that the gender is not yet stored in the Personio applicant profile when an application is first received. It is therefore best to use gender-neutral expressions in automatic acknowledgements of receipt. Click here to find out how to create acknowledgements of receipt for incoming emails.
Ensure that you and any other employees who may be sending applicants emails from within Personio have an appropriate signature. Individual signatures are automatically added to both freeform emails and messages created from email templates. For further information, please click here.
Using Email Templates
You are now able to make a selection from your email templates under Messages in the relevant applicant profile, which is accessed via the Recruiting area in the main menu. You can also attach documents and schedule the sending of emails.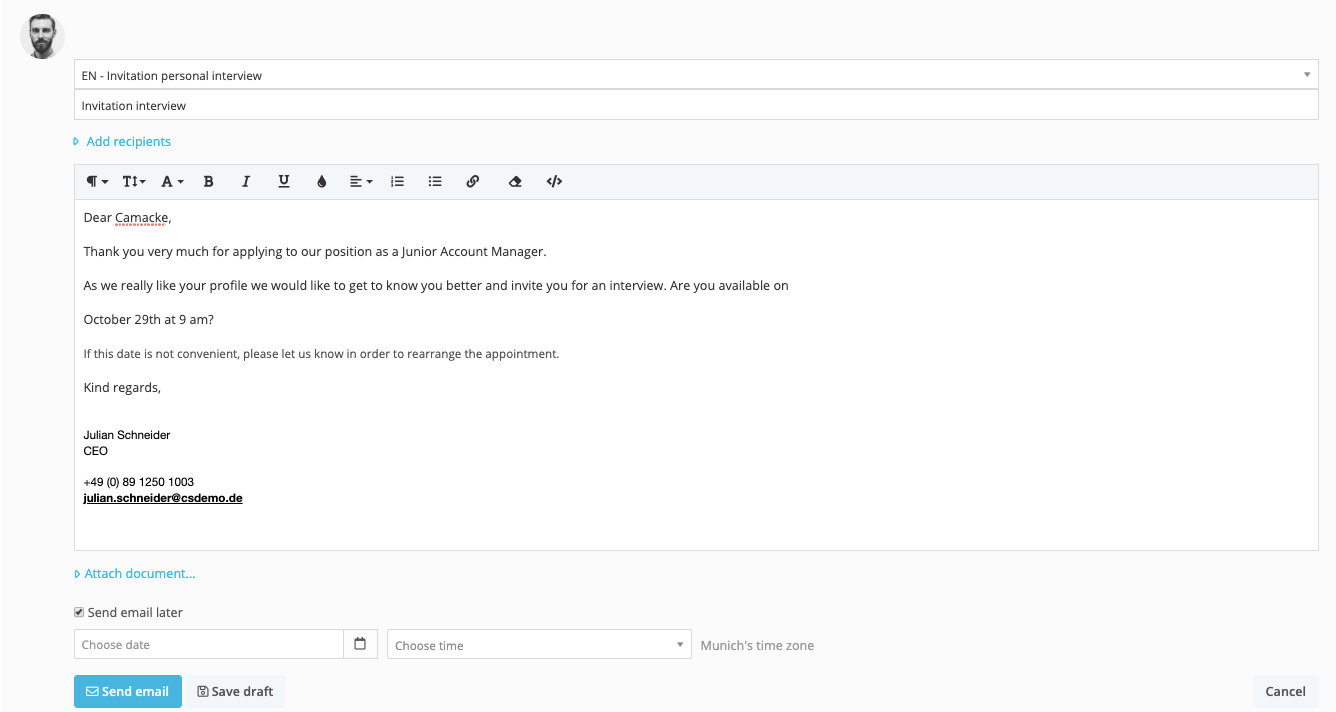 Click on the Applications tab in the Recruiting section to send batch emails to multiple applicants.
Can't find what you're looking for?
We are happy to help you! Just write us a message with your questions and we will get back to you as soon as possible.
Submit a request