Where to find Personio's Data Processing Agreement (DPA)?
In this article we will show you how to conclude and view your Data Processing Agreement (DPA) with Personio in your account directly and at any time.
According to the requirements of the General Data Protection Regulation (GDPR), a Data Processing Agreement must be concluded, if personal data is to be processed by Personio. To make the contract conclusion process as transparent and uncomplicated as possible, Personio offers the possibility to create and conclude the DPA directly in your account. This is in line with the GDPR, as the contract can now also be concluded in an electronic format.
Please note that all administrators of your account can view the DPA. A legally valid conclusion, however, can only be made by a person authorized to represent the company (e.g. management).
Creation of a DPA
Navigate to Settings > Plan & Billing > Data processing agreement (DPA). Enter all data necessary to create the DPA in the section Contract information and click on Generate.
The contract is created automatically and stored for you to download in the section Data processing agreement showing the status Pending.
If you entered incorrect contract details, you can still delete the DPA at this point and regenerate it after correcting the details.
If you would like to find out about the Technical and Organizational Measures (TOM) or the Subcontractors commissioned by Personio, please follow the corresponding links in the section Additional parts of the contract.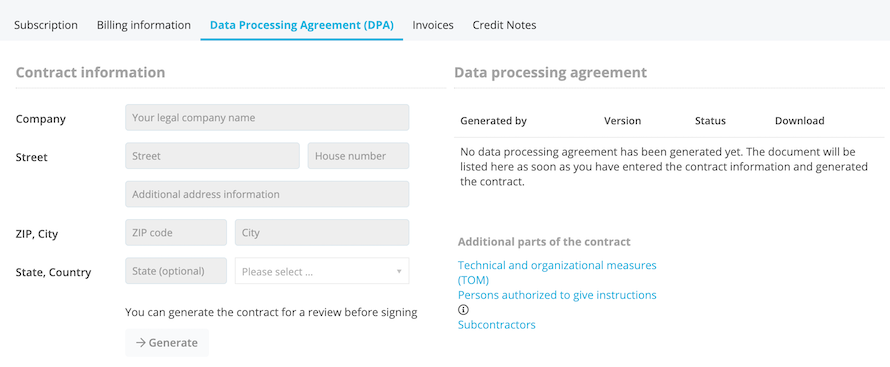 Concluding the DPA
By activating the respective checkbox and clicking on Submit, you agree to the previously generated DPA. The contract is stored together with the time stamp of the contract conclusion and the name of the employee who agreed to the DPA under Settings > Plan & Billing > Data processing agreement (DPA) and can be viewed here at any time.
Can't find what you're looking for?
We are happy to help you! Just write us a message with your questions and we will get back to you as soon as possible.
Submit a request