You will find detailed instructions on how to grant access to your account for the Personio support team in this article.
The reason for this task
If you contact our customer success team regarding some settings in your account or a problem, please make sure to grant access in advance, since otherwise, we will not be able to check any details. We will then be able to log on to your account, impersonating one of your administrators. We kindly ask for your understanding that this is a necessary feature with regard to GDPR, the new data protection law for the EU, which came into effect on May 25, 2018.
How to grant access
Only predefined authorized employees for support and instructions will be able to grant the Personio team impersonation access. The tab Impersonation access will only show up for these employees.
Navigate to Settings > Support > Impersonation Access, choose Edit and activate the switch (it is deactivated by default).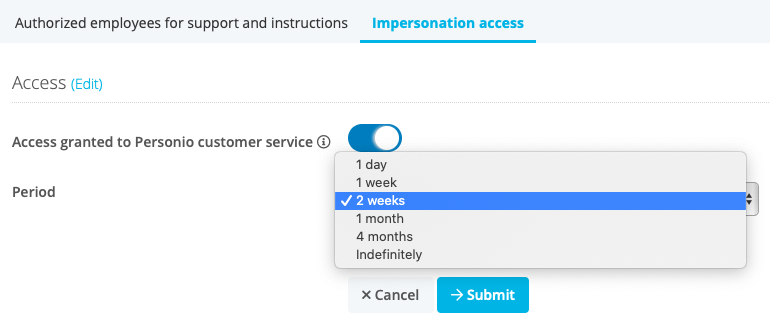 Now you choose for how long the impersonation access is to last:
1 day
1 week
2 weeks
1 month
4 months
Indefinitly
Should you contact our support team via e-mail and in case it is necessary to check your account to answer your request, we recommend a minimum access time of 1 week.
To offer the best possible service, we recommend you grant access for longer, for 4 months, for example: we will then be able to assist without any delay. Once you have granted impersonation access to your account, you do not need to do so again within that time frame.
Once you have saved your settings, the end date and end time of the impersonation access will be shown.
Please bear in mind that our impersonation access will be blocked immediately once this point in time has been reached.
Can't find what you're looking for?
We are happy to help you! Just write us a message with your questions and we will get back to you as soon as possible.
Submit a request