Set up the Integration of Your Company Calendar
This article explains how to integrate Personio with your company's calendar using Personio's subcontractor Cronofy. It will explain the benefits of using a calendar integration, and detail the requirements and configuration.
Important Information for a Successful Integration
Functionalities
The calendar integration with Cronofy offers different functionalities depending on the area.
Area
Functionality
HR Management

All absences entered in Personio are automatically transferred to your Company Calendar. Learn more about the Calendar Integration for Absences.

Recruiting

You can synchronize your employees' calendars and meeting room calendars with Personio, so you can directly see availabilities of interview participants in the calendar while scheduling the interview. Learn more about Scheduling Interviews Using the Integrated Calendar.
You can set up your availability for interviews and send smart scheduling links to candidates to choose from available interview slots. Learn more about Smart Scheduling of Interviews.
You can also integrate videoconferencing providers (such as Microsoft Teams, Zoom, etc.) with Personio to create the link for a video interview directly in Personio. Learn how to Schedule Interviews Using the Integrated Calendar.
Note When activating the calendar integration, all requested absence periods and interview appointments that were created in the recruiting section will appear in your external company calendar. These cannot be activated separately.
Calendars Available for Integration
Personio currently supports integration with the following three calendars:
Google Apps
Microsoft Office 365
Microsoft Exchange
Requirements
To integrate your company calendar with Personio, you need the following roles:
Personio account administrator
Company calendar administrator
IT administrator (optional)
Step 1: Accept Cronofy as a Subcontractor
Personio's calendar integration integrates software from the subcontractor Cronofy B.V.. Before you can activate the integration of Personio with your company calendar, you first need to accept that the data required for the provision of those services will be processed by Cronofy. You can prevent this processing of data by opting out of the usage of those features.
To agree to the Data Processing Agreement (DPA), follow these steps:
Go to Settings > Support > Plan & Billing.
Select the tab Data Processing Agreement (DPA).
Under Additional parts of the contract > Subcontractors, activate the checkbox next to Cronofy B.V.

For more information about the compliance and security standards of the integration through Cronofy, read our article on Data Privacy and Compliance at Cronofy.
Step 2: Activate the Integration of Personio With Your Company Calendar
Follow these steps to integrate Personio with any of the available company calendars:
In Personio, go to Settings > Work Hours and Absences > Calendars > Calendar Integration.
Optional: In the Scheduling Interviews area, tick the box Show details for events that have been set as private. This way, the employee who is scheduling an interview can see the details of the calendars of the employees they would like to invite to the interview.
Then click Activate Integrations.
Note You need to accept Cronofy as a data subprocessor (as described in Step 1) to be able to activate the integrations.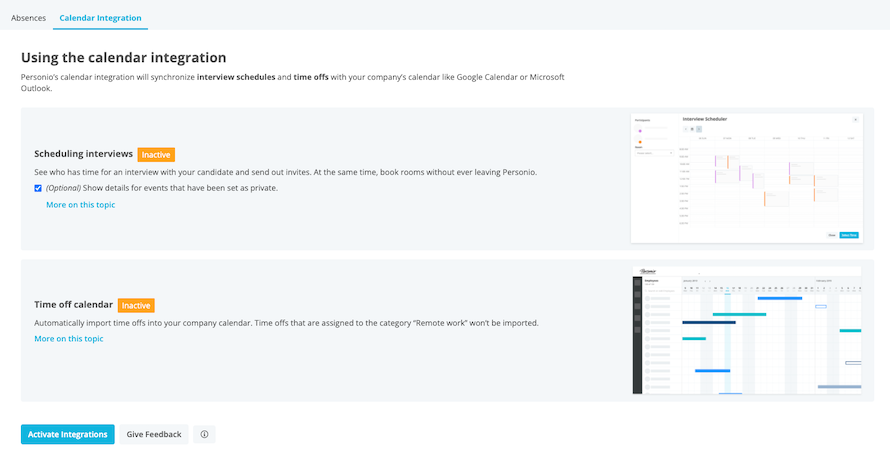 Step 3: Connect your Company Calendar
Once you clicked on Activate Integrations, you can choose which of the following calendars you want to integrate with Personio: Google Calendar, Office 365, or Microsoft Exchange.
Google Calendar
After clicking on Activate Integrations, select Google.
Install the Cronofy app on your GSuite domain. You can download the app

here

.
Authenticate with your Google Admin credentials.
Tick the box to confirm you installed the Cronofy app on your Google Workspace domain.
Tick the box to agree to the Cronofy Terms of Service and Privacy Policy.
Click on Link Google Workspace Domain.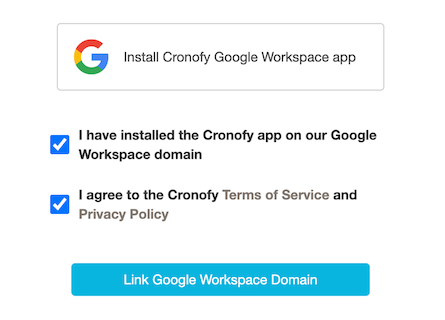 For further information on connecting your company calendar to GSuite, please see the Cronofy documentation.
Office 365
Create a Service Account in Office 365, that will be used to impersonate rooms or users when managing events.
Assign the

Impersonation Role

to the Service account you just created. So that events can get created directly in the user's calendar, the Impersonation Role requires full access to the user's calendar.
In Personio, after following the steps to activate the integration, select Office 365.
Tick the box to agree to the Cronofy Terms of Service and Privacy Policy.
Click on Link Office 365 Account.
Enter the email address of your Office 365 Service account.
Enter the password.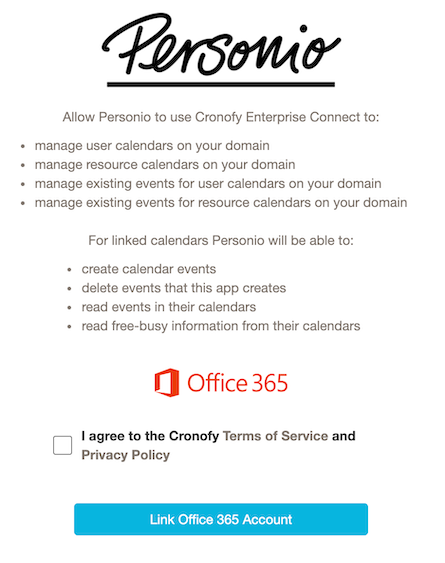 For more information, please visit Cronofy's help center article Enterprise Connect for Exchange and Office365.
Microsoft Exchange
Create a Service Account in Office 365, that will be used to impersonate rooms or users when managing events.
Assign the

Impersonation Role

to the Service account you just created. So that events can get created directly in the user's calendar, the Impersonation Role requires full access to the user's calendar.
In Personio, after following the steps to activate the integration, select Exchange.
Enter your service account email address and password.
Enter the email you will use to impersonate (another email from the same domain, that the service account can access via impersonation role).
Click on Link Exchange Account.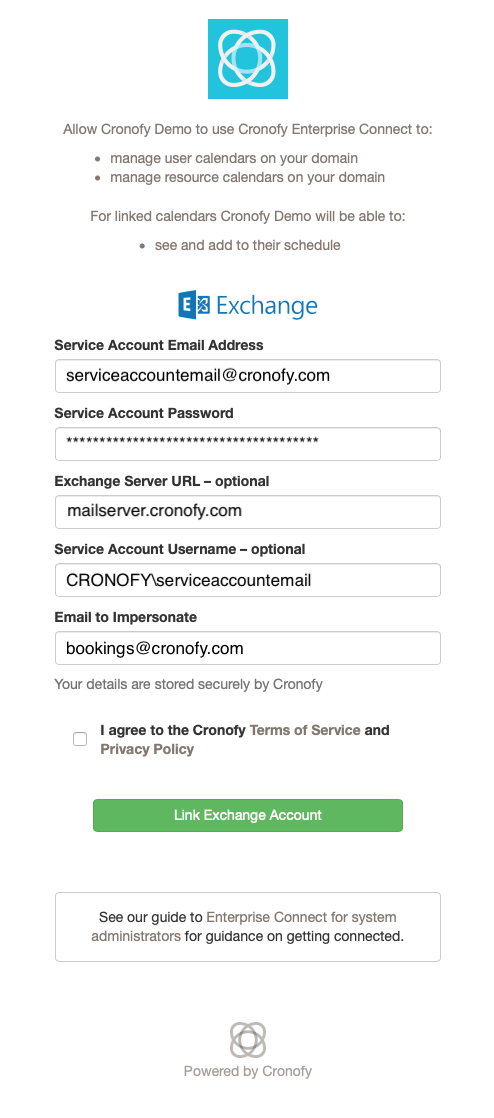 For more information, please visit Cronofy's help center article Enterprise Connect for Exchange and Office365.
Synchronize Employees and Rooms
During the initial synchronization with the calendar provider, all current users and meeting rooms are authenticated. This process may take a few minutes. To check if all employees and rooms have been successfully synchronized, go to Settings > Work Hours and Absences > Calendars > Calendar Integration.
Note If you see error messages for unsuccessful synchronization of employees, take a look at the Prerequisites for Employees to be Synchronized. Otherwise, see the different errors and solutions in our article to Troubleshoot the Company Calendar Integration.
Prerequisites for Employees to be Synchronized
The following prerequisites must be met so that employees can be successfully synchronized with the company calendar and Personio:
| | |
| --- | --- |
| Prerequisite | Example |
| The user's email address must already exist on the authenticated domain. | The company XY has integrated its calendars on their company domain XY.com. As a result, all users in XY with @xy.com email addresses are automatically authenticated. However, an external recruitment agent with the email address @hiringhelp.com would not be validated. |
| The employee must exist in the Company Calendar or have a company email address. | If a new user is added to Personio before their account has been created in the calendar application, you will receive an error message. In this case, the employee must be synchronized again after they have been added to the company domain. See Add new Employees. |
Add new Employees
When you add new employees to your company domain, they will automatically be authenticated in Personio. If any synchronization errors happen, you will receive an error message.
To synchronize an employee again in Personio, go to Settings > Work Hours and Absences > Calendars > Calendar integration and click Sync employees.

Add new Rooms
If you use Personio's recruiting feature, you can easily add meeting rooms for scheduling interviews. An information icon confirms that meeting rooms have been successfully synchronized. If you add new rooms under your company's domain, you need to synchronize them manually with Personio.
To synchronize new rooms, go to Settings > Work Hours and Absences > Calendars > Calendar Integration and click Sync rooms.
For more information and FAQ, read Cronofy's guide on Connecting Organization Calendars.
Topics of this article