What Does the Status of Job Postings Mean?
Administrators and employees authorized to access the Recruiting area can view and edit the status of job postings that have been published manually or via multi-posting. The current status is shown in the detail view of the job posting or under the Channels tab in the recruiting area.
The Four Job Posting Statuses
If you publish job postings via external job portals (manually or via multi-posting), Personio displays one of four different statuses to reflect the current state of these postings per channel/job portal. The statuses all refer to the respective start or end date of the relevant job posting:
Planned: The job posting has a future start date, e.g. because it is currently under review by the relevant external job portal (multi-posting). The position is not currently advertised on that channel.
Running:

The set posting period is running. The position is currently published on the relevant channel.

Stopped:

The publication of the job ad has been manually terminated or paused before the set end date. The position is not currently advertised online.

Expired:

The job posting was published until the end date entered and is now inactive.




Status of Manually Published Job Postings
For manually published job openings, the runtime of a posting is entered manually. It is therefore important to enter the correct start and end date for each posting to ensure that the status displayed is helpful. To do so, navigate to Recruiting > Channels and click on the relevant channel. Enter the runtime for the job posting under Postings > Add...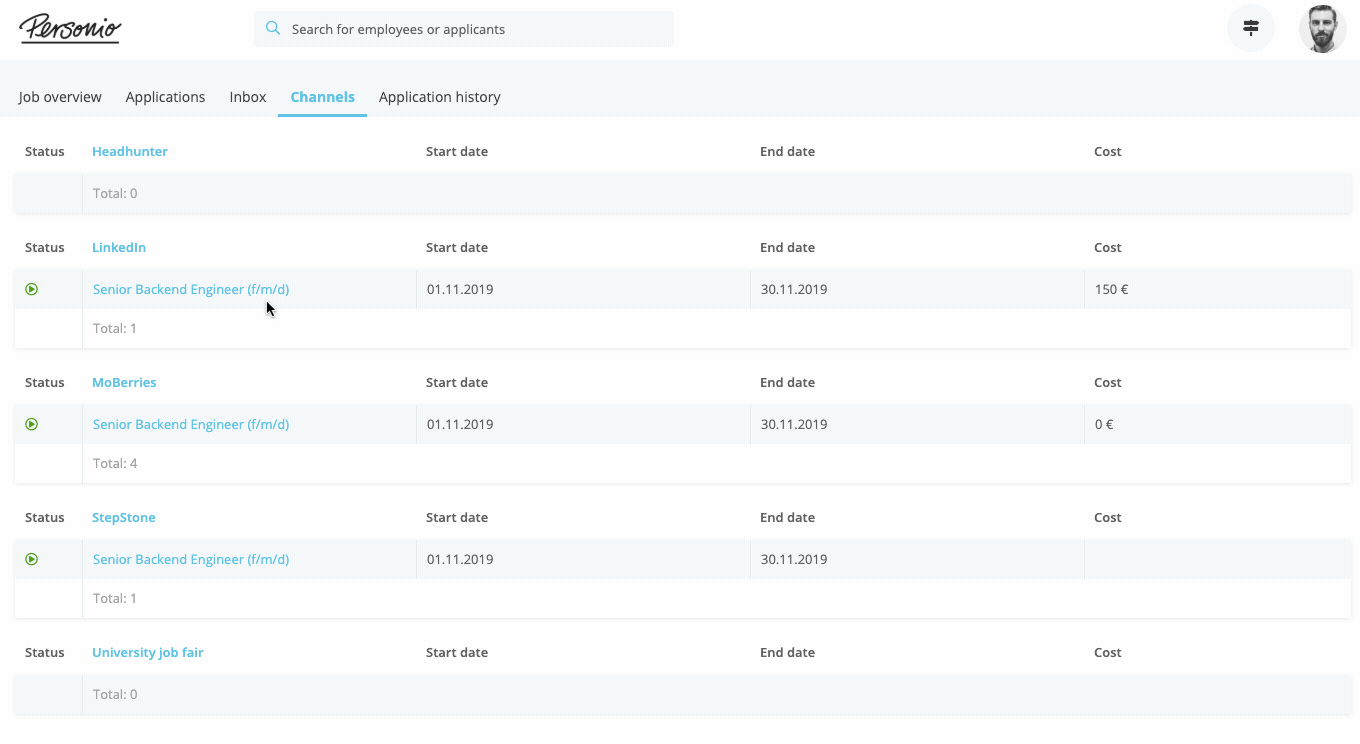 Please note that the manually stored runtime of a job posting does not affect its actual publication, which needs to be managed directly via the respective job portal in case of manually published job postings.
Status of Job Postings Published Via Multi-Posting
For job postings published on a number of external job portals via Personio's multi-posting, the status is updated automatically to show the current state of publication for the posting in each job portal.
Note that for the status Running, the job posting is active once it has been published by the respective job portal after a 1- to 2-day review period. The start date is adjusted to the delay caused by the review, if any. Once the job posting has been published, the URL column shows the direct link to the job ad in the respective portal.

Please note that the status of a job ad published via multi-posting cannot be changed manually. To terminate or cancel job postings early, use this link to send a relevant request. Please do not hesitate to get in touch via our contact form if you have any questions.
Can't find what you're looking for?
We are happy to help you! Just write us a message with your questions and we will get back to you as soon as possible.
Submit a request