Administrators and employees with access rights to the recruiting section can access and edit the status of postings published on external job portals via Multiposting.
If you use Multiposting to publish positions on external job portals, there are four statuses within Personio to inform you about the current status of such postings for each job board. The status is updated automatically and reflects the current publication status for the posting in each job board. To see the status of a posting, follow these steps:
Go to

Recruiting > Positions and click on the title of the respective position.
Select the Promotion tab.
Under My postings, you can click on a posting to see more details:

▶︎ status of the posting
▶︎ the date on which it was ordered
▶︎ the date on which it is scheduled to expire or has expired
▶︎ the price you paid for the posting
Note
You can also see this data for previous postings on the job portal.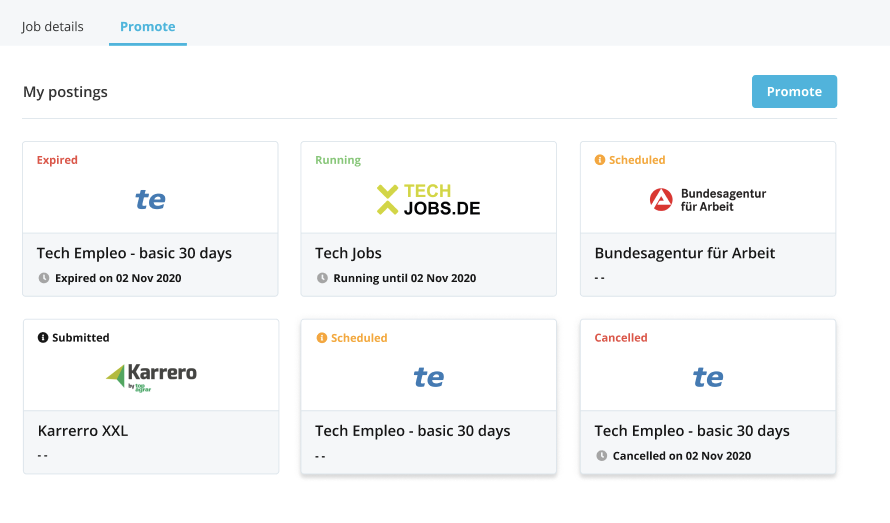 The different statuses are:
Status
Notes
Scheduled
The posting has been received by the external job portal and is being reviewed. Personio has not received any further relevant feedback. The position is not currently advertised on that channel. The invoice has already been created.
Running
The posting period entered is current, and the position is currently online at the respective channel. Clicking on the channel under My postings and then on To the job posting takes you to the posting as it is published on the respective portal.

Note The posting is active once it has been published by the respective job portal following review (usually after 1–2 days). The start date is automatically adjusted in keeping with any delay caused by the review.
Submitted

The posting has been submitted to the job portal, but no further status information has been returned to Personio by the portal. It is therefore unclear whether the posting is online already. You'll need to check this manually with the respective provider. This is usually the case with free job portals.

Canceled

The publication of the job ad has been manually terminated or stopped before the set end date. The position is not currently advertised online.

Expired

The posting was published until the end date entered and is now inactive.
Notes
▶︎ To terminate or cancel job postings early, you need to send a request to our promotion partner, GoHiring. Learn how to Cancel a Posting on an External Job Board.
▶︎ When you cancel a job posting, it can take a few days for it to be removed from the job boards.