In this article, we explain some tried-and-tested methods for setting up a talent pool in Personio. We provide you with step-by-step instructions as well as some additional configuration ideas that can be helpful.
"Talent Pool" as a Category
First, go to Settings > Recruiting > Categories. There, create a category called Talent pool or Candidate pool.
Phases
Any phases that you wish to use in your talent pool have to first be created by going to Settings > Recruiting > Create Phases and assigned to the Talent pool category under Settings > Recruiting > Categories.
Add the phases that you would like to use for your talent pool pipeline. For example, we recommend having a Waiting phase. To find out why this is useful, read the section Adding Applications from Another Position to the Talent Pool.
You can also use the phases of your regular categories for your talent pool. If you move a candidate from a regular category to your talent pool, they will automatically be put in the phase that is equivalent to the original phase. If you want to get in touch with the candidate after they have been in your talent pool for some time, you will know right away whether you have already been in contact with them as part of an interview, or whether you have so far only screened their documents.
For information on using phases to sort your applications according to when they have been received, see the section Using Phases further down in this article.
Autoresponder
For each category, you can set up automatic receipt confirmations (autoresponders). The following two options are available:
For applications via the online application module: Candidates who apply via the Personio career page receive an automatic confirmation receipt via email. This will not be relevant for your internal, unpublished talent pool.
For email applications: Applicants who, for example, send an unsolicited application to your Personio email address (host name-jobs@m.personio.de) receive an email response as soon as the application is assigned to the position Talent pool. This setting can be useful if you receive unsolicited applications and want to manage them in your talent pool.
Click here for more information about autoresponders.
"Talent Pool" as a Position
Create a position called Talent pool or Candidate pool under Recruiting > Job overview > Create position. Fill in all the mandatory metadata and assign the position to the category Talent pool.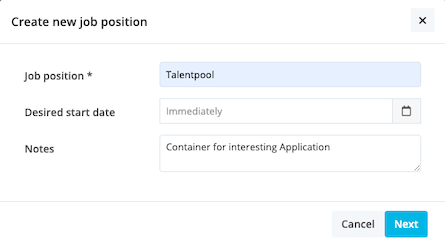 Don't publish the position, but instead use it as a place to store interesting candidates.
Alternatively, you also have the option of filling in the fields and publishing the position. For example, you could call the position "Stay in contact" or "Interested in working with us?". Candidates can then send unsolicited applications for your talent pool directly from your Personio career page. When using this option, remember to activate the autoresponder for Applications via application module. For information on how to publish positions, click here.
In certain cases, it may make sense to divide your applicants between several positions/talent pools. Where appropriate, applicants can be divided according to subject areas or offices. The form this might take depends very much on the complexity of your organization.
Adding Candidates to the Talent Pool
Moving Applications from your Inbox to the Talent Pool
When applications arrive in your Inbox that are not a good fit for any of your advertised positions, you can use the Process button to move them straight to your talent pool.

If you have configured an automatic receipt confirmation for email applications (as described under Autoresponder), the candidate will receive the confirmation after you click on the blue Process button.
Adding Applications from Another Position to the Talent Pool
To inform a candidate that they have been added to your talent pool, create an email template under Settings > Recruiting > Email. In the email, they will be asked to agree to or to reject being added to your talent pool. Advise the applicant what this means, e.g. :
Storing data
Anonymizing personal data on request
Sending regular email updates about open positions
Use the email template to send a message to the candidate. This would be a good point to move the applicant into an interim phase. As described above under Phases, this interim phase could be called Waiting.
After the candidate has accepted, in their profile, go to the button with the three dots and select Assign to another position. There, you can select your talent pool.
If the candidate is being moved from a phase that doesn't exist in your talent pool, they will automatically appear in the temporary phase Unassigned. This will no longer appear once you assign the candidate to another phase.
Classifying your Talent Pool Candidates Chronologically
To keep track of the applications in your talent pool, we recommend a structure that allows you to filter them. Below are two ways that allow you to find out quickly how long candidates have already been in your talent pool.
Using Application Tags
With application tags, you can easily and quickly mark candidates, e.g. to note in their profile in which quarter their application was moved to the talent pool. Create different application tags directly in the candidate profile under Add tag and assign them to the candidate.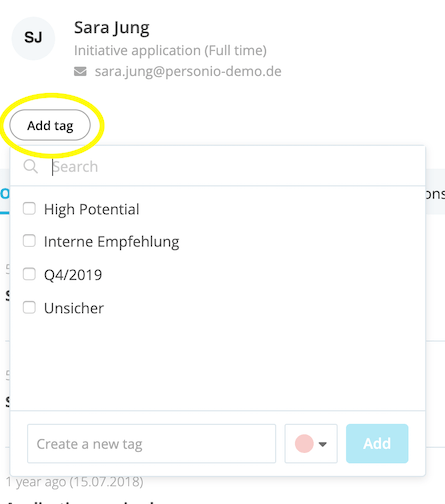 Alternatively, create application tags under Settings > Recruiting > Candidates > Application Tags. 
For more information on creating and managing application tags, click here.
Using Phases
Another option is to assign your candidates to phases that you name with a time period. Create them by going to Settings > Recruiting > Phases. 
The pipeline for your "Talent pool" position could then look like this:

Note that you would need 4 phases per year to reflect individual quarters. Alternatively, you could create a talent pool per year and then use "reusable" phases with each yearly talent pool (e.g. "Q1," "Q2").
Applications Overview
Go to Recruiting > Applications to see all of your applications in a list. Here, you can filter by Position or Category – for example, to have all the applications in your talent pool displayed.
You can also filter by Tags to get a more detailed view of the applications in your talent pool.
Use the Actions button to perform different actions, such as sending an email to all candidates whose applications arrived in Q4 2019, or anonymizing multiple applications at once.
A detailed description of the options available in the candidate list can be found here.
Can't find what you're looking for?
We are happy to help you! Just write us a message with your questions and we will get back to you as soon as possible.
Submit a request
Topics of this article