In this article, you learn how to integrate Workpath software with Personio. You will find an overview of all the prerequisites below, as well as instructions on how to set up the integration via the Personio employee data API.
What is Workpath?
Workpath is a cloud-based software for aligning, updating and keeping track of corporate, departmental and individual goals and targets (OKRs) on an ongoing basis. Workpath allows you and your teams to give each other feedback and to exchange information about learnings and progress towards goals and targets through regular check-ins.
How Can I Set Up the Integration of Workpath and Personio?
To start the activation in Personio, follow these steps:
Go to the Marketplace and search for the integration.
Click on the integration to open the drawer with further details.
Select Connect to start the activation process.
Click Generate new API credentials.
Copy the client ID and secret and click Go to website to finish the setup in the partner's service environment.
After you have generated the credentials, log in to your Workpath account as the account administrator. Navigate to Settings > Organization > Settings > Integrations, then select Personio from the list. Next, enter your Client ID and Client Secret generated in Personio. Click on Save & Import to import employees from Personio into your Workpath account.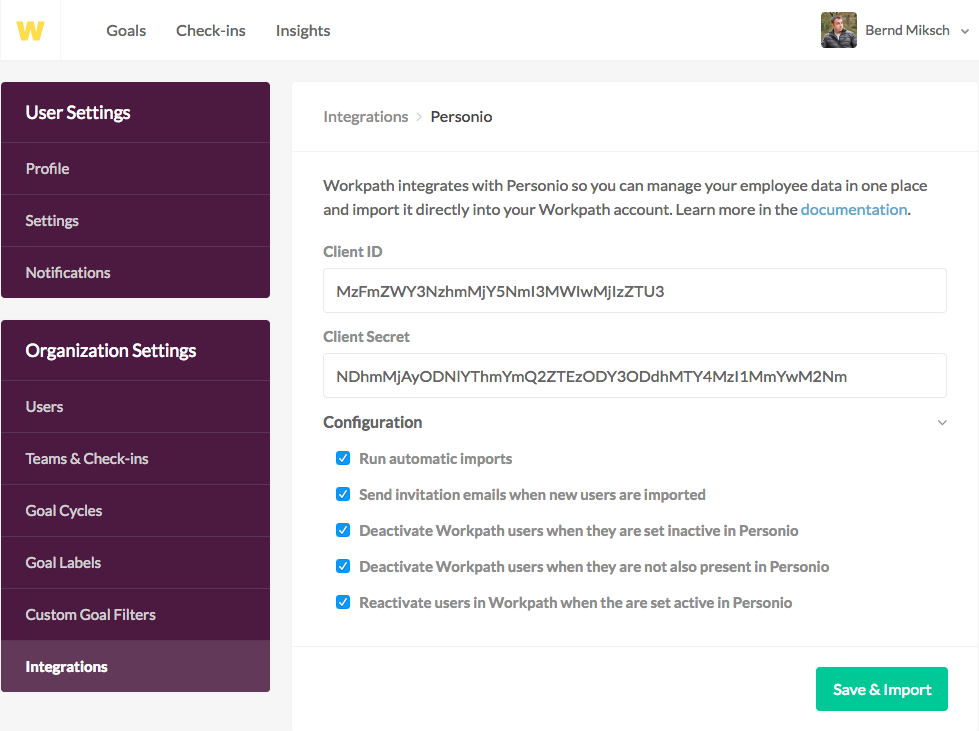 Which Data Is Transferred?
After integration, the attributes first name, last name, email address, supervisor and position are transferred to your Workpath account. During the integration, Workpath automatically creates employee accounts and sends invitation emails to all active employees once the import has been successfully completed. If you do not wish to invite employees directly to Workpath, you have the option to disable automatic invitations by deactivating the corresponding checkbox.
After the import, you can view the active employees in your Workpath account under Settings > Organization Settings > User.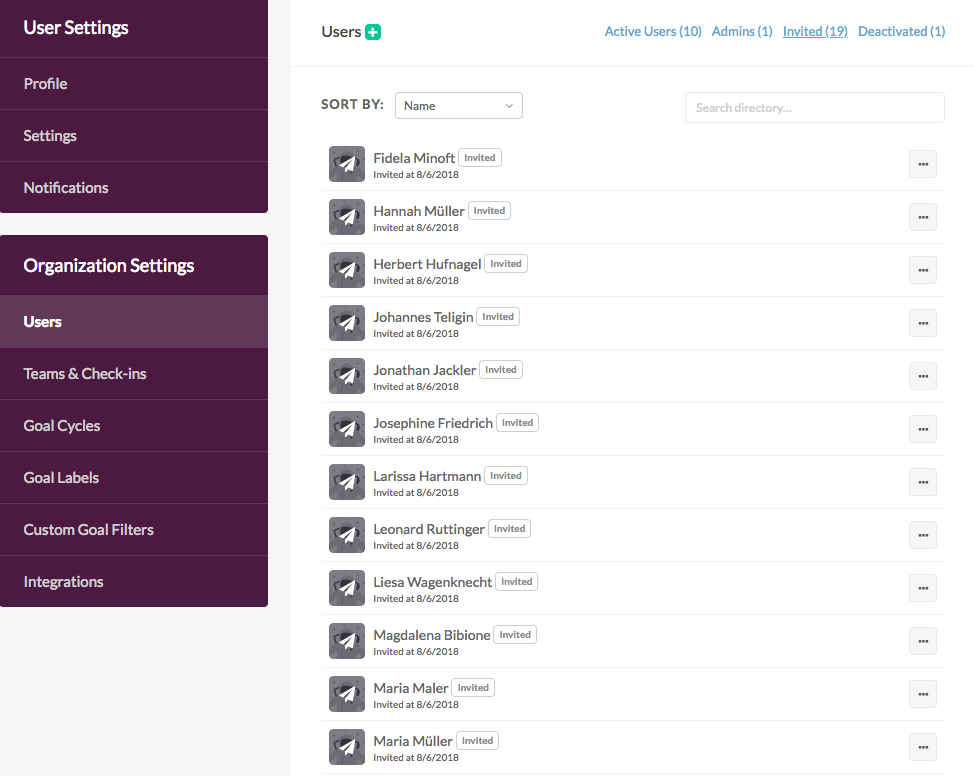 If the status of an employee in Personio changes to Inactive, they automatically lose access to the Workpath account.
How Much Does It Cost?
The price for using Workpath depends, among other things, on the number of employees in your company. Please contact Workpath directly by email to hello@workpath.com.
Who Should I Contact at Workpath?
Workpath can be reached by email to kontakt@workpath.com and by phone at +49 (0) 89 143 794 339. Click here for a more detailed overview of Workpath's features.