Storing Framework Contracts with External Job Boards in Personio
The following article explains how existing master contracts with external job boards can be stored in Personio, so you can use them when posting jobs directly via the Promote feature. You can also find more information on how to use customer specific job boards such as Stackoverflow or Stepstone's new products, and can request new job boards that are not yet supported in Personio's promote feature.
1. Submit the Framework Contract Data to Personio
Use this form to send all the relevant data concerning your master contract to Personio.
2. Necessary Information About the Framework Contract
In order to successfully log the framework contract, you will be asked to supply the following information about its contents:
Personio host name (you can find the host name in your URL: https://

customer

.personio.de)

Your email address

The job board product that the framework contract applies to

The framework contract ID
💡 If you don't know the framework contract ID, please enter the offer/order ID, contract number etc.

Optional: Further information on the framework contract

The type of framework contract (a fixed quota of postings or unlimited posting for a flat rate)

Quota level (if quota was selected under type of framework contract)

Your posting email address (the email address of your contact person at the job board)

The expiration date of the framework contract

Optional: posting price (for calculations, e.g. price per candidate)
You can then transfer the data to Personio using Submit or by pressing Enter.
3. Validate the Contract Data via Personio
First, Personio checks the master contract and validates the data with the external job board. The contract data is then logged in your Personio account. As soon as this has been done, our service team will send you a notification that your master contract was successfully registered.
4. Storing a Framework Contract
After the successful activation of your framework contract, you will find your booking details in recruiting under the job posting. In the relevant job position, select Promote and click on My frame contracts to see all the products that are part of activated framework contracts.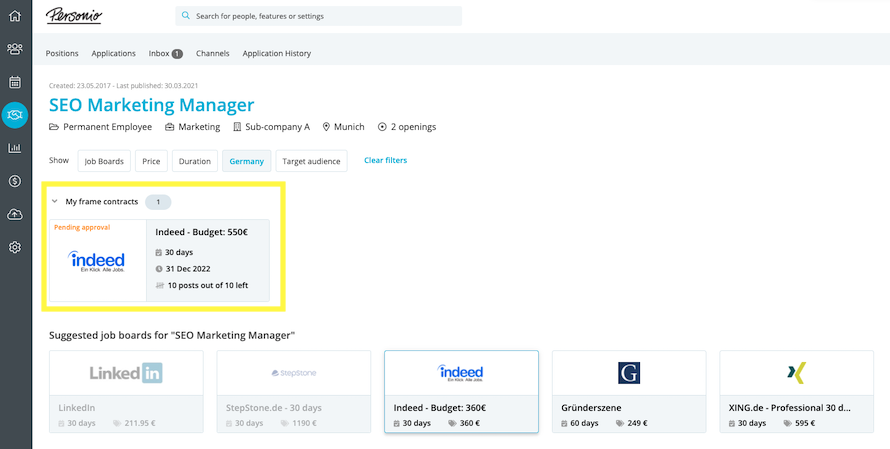 The duration and publication cost of the job posting will be displayed next to the product. Additionally, up-to-date information on the content of the framework contract will be shown – e.g. how many publications are still contained in the contract and the end of the contract.
The billing of the publication costs for a framework contract product is done directly within the job board.
5. Using Additional Job Boards
Some job boards might not be represented in the promote feature, either because there is no direct integration with this job board, or because the job board is not supported at all.
Add Stackoverflow or Stepstone products that are not part of the job board list
Some products of Stepstone such as Select, Select Plus, Pro, Pro Plus, Pro Ultimate, Pro Campus, Pro Chiffre, as well as the job board Stackoverflow, are customer specific job boards which are supported products that are not directly integrated into the promote feature experience, as they do not accept one time postings. To add your existing framework contract for these products to Personio you can fill in the form mentioned above and your Service Manager will configure the products, so you can see them in your promote feature.
Requesting a new job board that is not supported by a promote feature and is not a customer specific job board
In order to request a new job board that is neither part of the promote feature nor a customer job board, please use the form below. There, you can send a request for a desired job board to be added to Personio, and we will decide if this job board could be provided in the future.
Can't find what you're looking for?
We are happy to help you! Just write us a message with your questions and we will get back to you as soon as possible.
Submit a request
Topics of this article