How Can I Contact Personio?
This article explains what to do when you want to contact Personio's Customer Support or Customer Growth team.


Go to the Find Answers Section
The Find Answers section in Personio combines all of our support resources in one place, so you can easily find the answer to any question you may have. Go to Help > Support and Updates > Find Answers and select the option that best fits your needs to browse through the corresponding support materials.
If you can't find what you're looking for, Account Owners can get in touch with our Customer Support team while Contract Owners can contact our Customer Growth team. Everyone can ask questions in the Personio Community to get peer-to-peer support from experienced users.
Follow these steps to get in touch with one of our teams:
Click Get Support from the team under the relevant Personio topic.
Choose if you want us to get back to you by email, by phone, or by phone with screensharing.
A contact form will appear. Make sure to add a subject, a detailed description and any relevant screenshots, so that we can provide you with the best possible support.
Click Send to submit the request.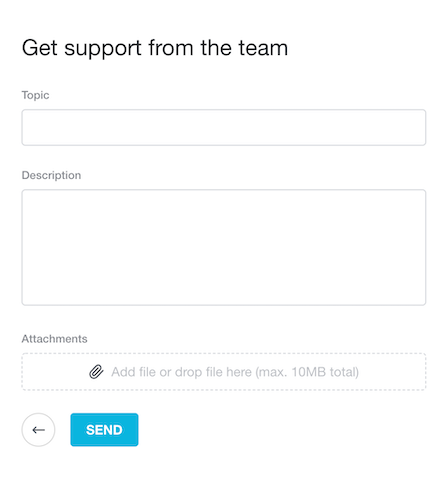 Submit a Request via the Help Center form
You can submit a support request via our Help Center form if you cannot use the Find Answers section for one of the following reasons:
No Account Owners, Contract Owners or Administrators are available.
There are issues with logging in.
There is an outage in Personio.
Since the requester cannot be linked to their Personio login credentials, any product-related questions filed via this contact form cannot be answered to ensure data privacy.
Impersonation Access by Personio
By default, Personio does not have access to your account or your data. However, if you wish to contact our Support team, you may need to share your account with our Customer Support staff so that they can check your account settings and discuss solutions with you.
Account Owners and Administrators can share access for a limited period. For further details and an explanation of how to share your account with Personio, read our article Impersonation Access by Personio.
Topics of this article