In this article, you will learn how to integrate the Small Improvements software with Personio. You will find an overview of all the prerequisites, as well as instructions on how to set up the integration via the Personio employee data API.
What is Small Improvements?
Small Improvements supports managers and employees to engage in a conversation and create a culture of continuous development. Small Improvements offers 1:1s meetings, performance reviews, 360-degree feedback sessions, goal setting, analysis of retention data, pulse surveys, and features to value colleagues.

Employees can set goals, share their appreciation of each other, give and receive feedback to and from colleagues, and complete easy check-ins.
How Can I Set Up the Integration of Small Improvements and Personio?
Even with the Essential plan, you can integrate one partner of your choice. If you would like to use more than one integration partner, this option is available from the Professional plan upward.
To set up the integration of Small Improvements and Personio, you will need the following information from your Personio account:
To create your Client ID and Client secret, navigate to Settings > API > Credentials. Here, select Generate new credentials.
A file containing the credentials you need for the interface will automatically start downloading.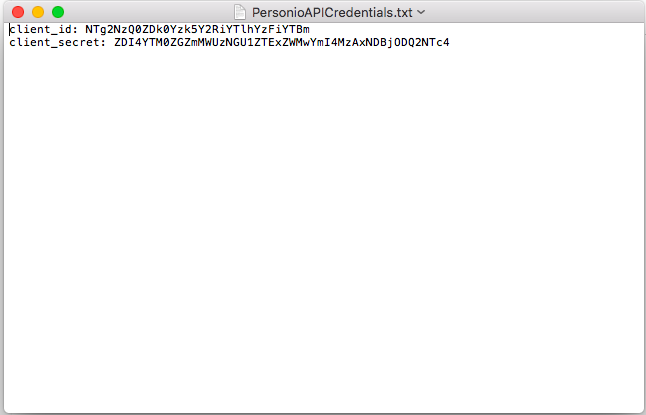 Please note that clicking on Generate new credentials will invalidate your previous credentials.
After you have generated the credentials, log in to your Small Improvements account as the account administrator. In your administrator role, navigate to Administration > Integrations > Personio. Now enter your Client ID and Client Secret generated in Personio under the Configuration tab. Also decide if you want automatic imports to be performed (changes in your Personio account will be automatically reflected in your Small Improvements account).
When you click on Import, specific employee data stored in Personio is imported into your Small Improvements account
Which Data Is Transferred?
The following data will be transferred from your Personio account to the Small Improvements account:
First name
Last name
Status (only active or passive)
Email
Gender
Position (job title)
Employee ID
Personio ID
Office
Department
Hire date
Supervisor
How Much Does It Cost?
There are no additional costs for using the integration. The cost for using Small Improvements is €7/user/month.
Who Do I Contact at Small Improvements?
Can't find what you're looking for?
We are happy to help you! Just write us a message with your questions and we will get back to you as soon as possible.
Submit a request
Topics of this article