This article describes how to store and manage hourly salaries in Personio.
In the context of managing main salaries, Personio differentiates between two salary types:
Fixed salary:
Salary payments are made each month in the same amount.
Details on how to manage fixed salaries can be found here.
Hourly salary:
Salary payments are made each month, but the amount is calculated based on the hours worked.
Storing the Hourly Salary
In the employee profile, select Salary > Edit > Add salary (or Salary > Edit > Add/edit salary) to store a salary per hour in Personio. Make the following settings:
Salary type: Select Hourly salary.
Change effective from: Enter the date from which the hourly salary applies.
Hourly salary: Enter the gross salary amount per hour.
Save your settings.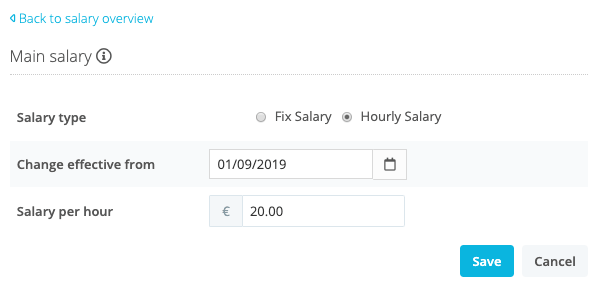 Calculating the Monthly Salary Payment
For employees who are paid on an hourly salary basis, Personio calculates the payment by multiplying the salary amount per hour with the hours worked during the payroll period.
The hours worked can be recorded in two ways:
1 Salary calculation via the salary overview in the Salary tab
In the Main salary column, click inside the cell for the current month, enter the hours worked and confirm your entry.




2 Via the Attendance tab in the employee profile
Here, your employees can enter their daily attendance themselves. Further information on this topic can be found here.
If you use the Attendance tab to record working hours, make sure you go to Settings > Salary & Payroll > Payroll Period and check that the correct Payroll period has been entered. This is important, because Personio calculates monthly pay automatically by adding up the hours worked during that payroll period and multiplying the sum by the hourly salary amount.

In the example shown here, all attendance hours entered between the 15th of the current month and the 14th of the following month will be included in the monthly salary calculation. For further information about Payroll and Payroll periods, please click here.
Note that attendance hours linked to an approval process must be fully approved so that a payout can occur. Further information on approval processes can be found here.
Under the Salary tab, you can review the payout amounts at any time and adjust them manually, if needed.

See the following links for additional information on hourly salaries:
Best Practice: Part-time Employees and Student Trainees