Manage recurring compensation
This article explains how to configure and manage recurring compensation in Personio.
Recurring compensation allows you to create salary components comprising a regular payment (monthly, quarterly, half-yearly or yearly) of a constant amount, such as Christmas bonuses or subsidies for the public transport system. For clarity, each compensation type is listed in a separate column in an employee's salary overview.

Set Up Recurring Compensation
First, define all the recurring compensation types that your employees receive at regular intervals.
Go to Settings > PAYROLL > Salary & Payroll > Recurring compensation types and create all the required compensation types using the Create new type field.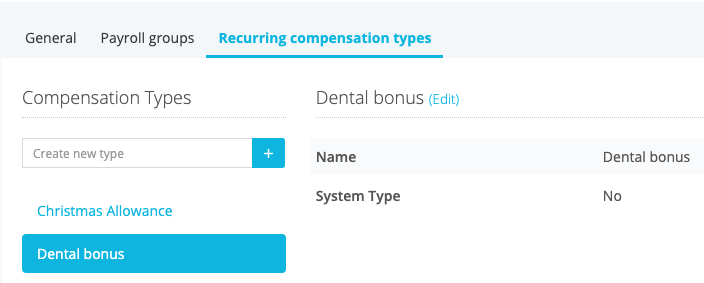 Manage recurring compensation
Go to the Salary tab of the employee profile and click on Edit > Add/change recurring compensation in the Salary components section.
Select the required compensation type and enter the following data:
Amount
Valid from: Enter the start date for the payout amount.
Interval: Define the payment frequency (monthly, quarterly, half-yearly or yearly).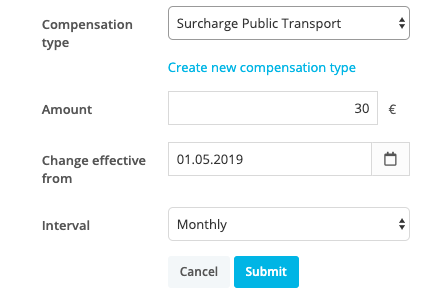 Click on Save once you have entered all the data.
Tip To end the regular payment of recurring compensation in Personio, repeat the steps listed above and set the payment amount to zero from the required date.
If you change the payment amount for a compensation type, review the preliminary payroll again afterwards before giving it to your accountant. If the payment amount for a recurring compensation type is set to €0, this change will only be visible in the preliminary payroll under Salary data. The change will not appear in the preliminary payroll's Personal data tab.
Import Recurring Compensation
To reduce the amount of data that needs to be entered manually, you also have the option of uploading recurring compensation into Personio via an import. Learn more about importing salaries in our article Step 3: Importing Salaries, and learn how to create and import one-time compensation.
Note All employees for whom recurring compensation has been enabled will be able to see this in their salary data overview – as long as they have viewing rights for their own salary data. Employees who do not receive any recurring compensation will not be able to see the compensation types in their salary overview.
View the Preliminary Payroll
In the preliminary payroll, all the compensation types that have been set up are assigned to the salary data and displayed in the salary tab.
Please note that changing the compensation amount to zero will only be displayed in the monthly payroll under employee data. Learn more about salary and payroll in our article Step 4: Configuring the Preliminary Payroll.
Example: Salary data in the preliminary payroll

Topics of this article