This article describes how to configure a special approval process (ruleset) in two steps. You can find more comprehensive information about approvals, including standard approvals, here.
Use rulesets to define an exception from the standard approval process or to set up different approval processes for specific employee groups. To configure approval processes, navigate to Settings> Approvals. Here, you will be able to see all the areas for which you can define an individual approval process.
1. Configuring Employee Filters
First, navigate to the desired tab and define the employees for whom the ruleset is to apply. To do this, go to Manage Employee Filter. Create a new employee filter by selecting Add new Filter and then clicking on the plus symbol. Define the desired filter criteria using Add Rule and save the settings as soon as you have selected all required criteria.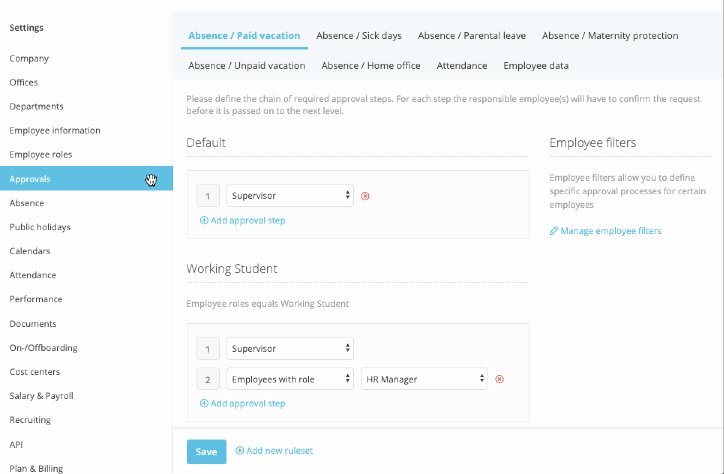 For all employees who do not meet the defined criteria, the standard approval process will automatically go into effect.
To avoid errors when creating employee filters and rulesets, please note the following:
At least one rule must be defined for each employee filter
An employee filter cannot store more than one equals rule for the same attribute. This is because filter criteria are always linked by AND-logic, so that the filter will only be applied to employees who meet all of the criteria entered. For example, if the rules in an employee filter are Department equals Marketing and Department equals Sales, Personio would search for all employees who are in both the Marketing Department AND in the Sales Department.
Within an approval area, there can be no overlap between multiple employee filters or rulesets. Each employee may only be subject to one ruleset.

Example:
You want to set up a special, non-standard approval process for leave requests for all Marketing Department employees. You would therefore create a ruleset for the filter Department equals Marketing (shown in blue in the example below).
You additionally want to define a dedicated process for employees at the New York office by setting up another ruleset. Do this by defining a ruleset for the filter Office equals New York (shown in white in the example below).
This combination creates a problem, though, in that the employees of the Marketing Department in New York are now included in two different filters. In this case, Personio cannot assign a unique approval process and falls back to the standard process.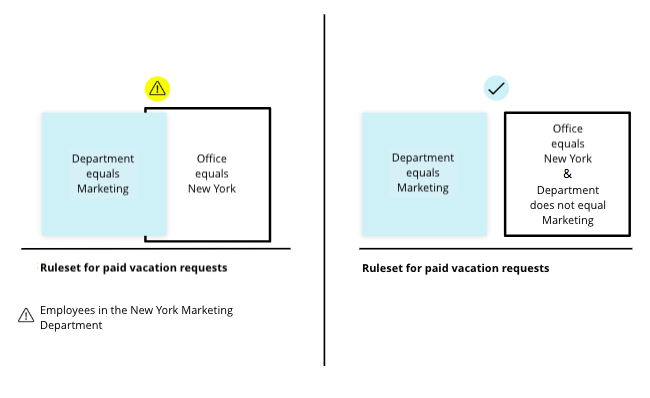 If no unique approval process can be assigned to an employee, Personio always automatically falls back to the default approval process. Therefore, please ensure that you always create an approval process for the standard setting.
2. Defining Rulesets
Now create a ruleset process for each configured employee filter. To do this, select Back to Approval Rules, click on Add new Ruleset, select the desired employee filter, and click on Add. To define the approval process, go to Add Approval Step.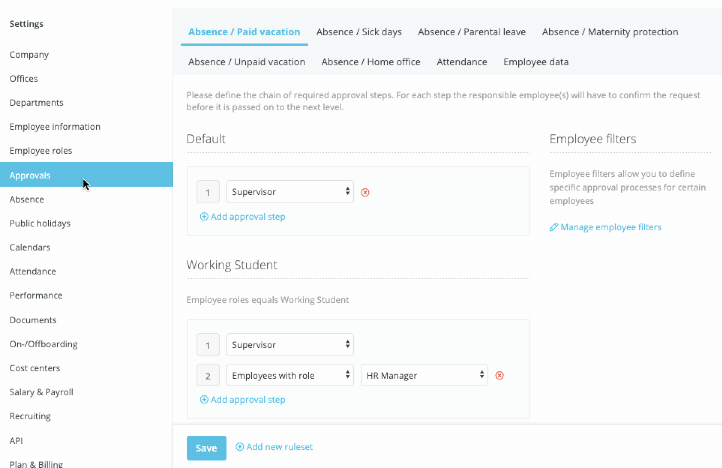 Choose from the following four options to create approvers:
Supervisor: The supervisor of the respective employee. Here, Personio uses the employee who has been entered into the requester's employee profile as their supervisor.
Supervisor's supervisor: The next supervisor up, as shown in the Orgchart view.
Employees with role: The employee(s) previously assigned to a particular role.
Note: All employees with this role receive the request for confirmation, but it only requires confirmation or rejection from one person in the role.
Specific employee: The employee responsible for approval can be directly selected here.
If you need to define another step for your process, select once again Add Approval Step.

Once you have created all the required approval steps, save your entries.
Please note that the approval process will only go into effect if the requesting employee does not have editing rights for the absence type selected. The approver only needs to have viewing rights for the requester's absence calendar.
You can find further details on roles and access rights here.
Can't find what you're looking for?
We are happy to help you! Just write us a message with your questions and we will get back to you as soon as possible.
Submit a request
Topics of this article