Configuring an Aggregated Absence Calendar
The following article provides instructions for configuring an aggregated absence calendar, a calendar which allows your employees to see when their colleagues have scheduled time off without showing the specific type of absence.
Make the following settings in Personio to configure the calendar and give your employees access to it:
Configuring an Aggregated Absence Calendar
Navigate to Settings > Calendar.
Determine the types of absences you want the calendar to display by checking the boxes for the relevant types of absence.
In the following example, all of the different types of absences have been selected and will be summarized in the 'Absence Timeline' calendar.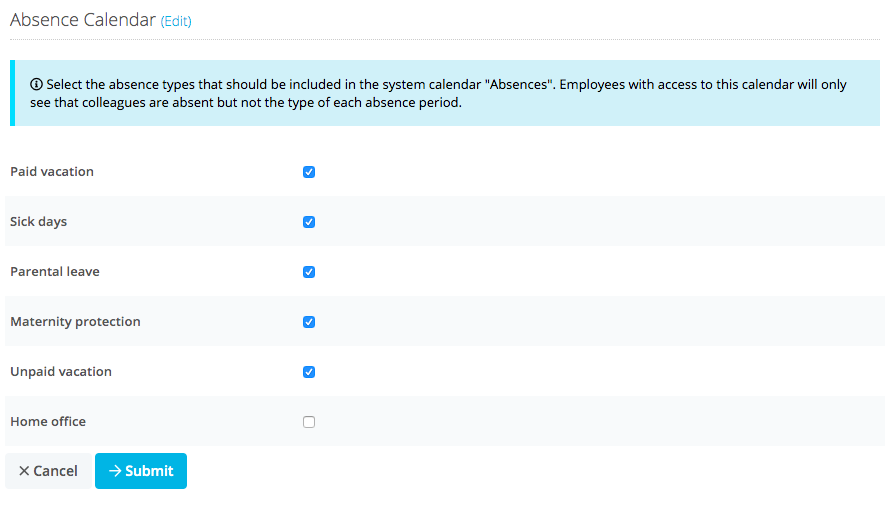 Configuring Calendar Access Rights
Once you have configured the absence calendar, you have the ability to assign access rights. It is worth noting that you can grant individual access to the calendar for every role defined under Settings > Employee Roles. Further information on configuring roles can be found here.
Now navigate to Settings > Employee Roles > Calendar. Here, you can decide for each individual role what type of calendar access particular roles should have.
We recommend that you initially set up calendar access for the role All Employees, since this is where people are most sensitive about privacy protection.
Decide which employee roles should be given access to the absence calendar. In the example below, you can see that all employees with the selected role have global access to the aggregated absence calendar for all of the company's employees.
By integrating all absence types into your calendar, as in the example above, you do not give access to individual absence calendars. The following shows an example of how calendar access rights could be configured: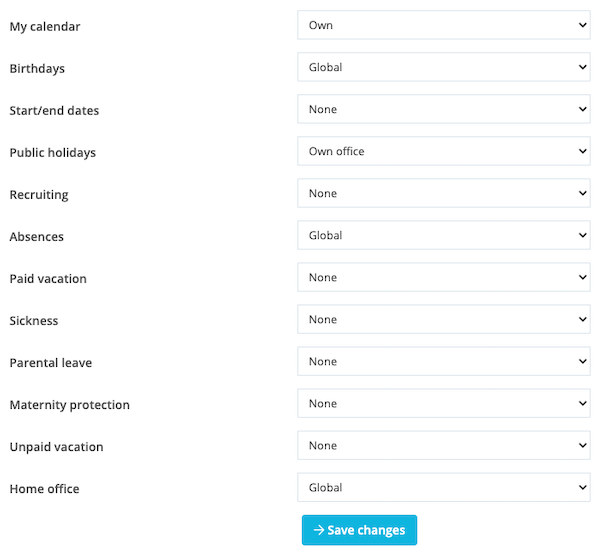 In some cases, it can, however, make sense to have a certain type of absence displayed separately. Under Settings > Employee Roles > Calendars, you are able to give your employees access to individual calendars, or remove a certain type of absence from the aggregated absence calendar if you wish.
As a result, there are many ways to offer your employees exactly the degree of transparency.
You can find additional information about managing individual calendars in the Employee Profile here.
Can't find what you're looking for?
We are happy to help you! Just write us a message with your questions and we will get back to you as soon as possible.
Submit a request