Setting Up Approval Processes for Sick Leave and Medical Certificates
In this article, we will explain how you can automatically request certificates for certain absences (e.g. illness) and set up approval processes accordingly. We will first look at how to activate certificates for absences, then at how to set up and conduct the approval process for the certificate, and to finish, we will take you through an example process from request to approval.
Activating Certificates for Absences
Navigieren Sie in Ihrem Personio Account zu Einstellungen > Abwesenheit, wählen Sie eine Abwesenheitsart (z. B. Krankheit) aus und klicken Sie auf Editieren. Über das Auswählen der Checkbox Attest benötigt aktivieren Sie Atteste für diese Abwesenheit und können folgend einstellen, ab dem wievielten (Krankheits-)Tag ein Attest angefragt werden soll.
Tragen Sie beispielsweise 3 Abwesenheitstage ein, so wird der Mitarbeiter ab dem dritten Abwesenheitstag (nach Tag zwei, also am Morgen des dritten Tages) aufgefordert das Attest hochzuladen. Das Wochenende wird in der Berechnung nicht inkludiert.
Setting Up the Approval Process
Sobald Sie Atteste für eine Abwesenheit aktiviert haben, wird Ihnen unter Einstellungen > Genehmigungen > Abwesenheit / "Abwesenheitsart" angezeigt, dass parallel zur Abwesenheitsanfrage nun auch ein Genehmigungsprozess für ein Attest ausgelöst wird. Dies geschieht automatisch, sobald die in den Einstellungen definierte Attest-Frist abgelaufen ist. Der Prozess beinhaltet grundsätzlich die gleichen Genehmigungsschritte wie der entsprechende Abwesenheitsprozess.
Im ersten Schritt wird allerdings zunächst der Mitarbeiter selbst über sein Dashboard (Meine Aufgaben) aufgefordert, ein Attest hochzuladen. Der Genehmigende (also z. B. der Vorgesetzte) erhält parallel eine Dashboard-Information, dass ein Attest für den Mitarbeiter aussteht. Sobald der Mitarbeiter sein Attest in Personio hochgeladen hat, erhält der Genehmigende eine entsprechende Information und kann das Attest nun prüfen und genehmigen (oder ablehnen).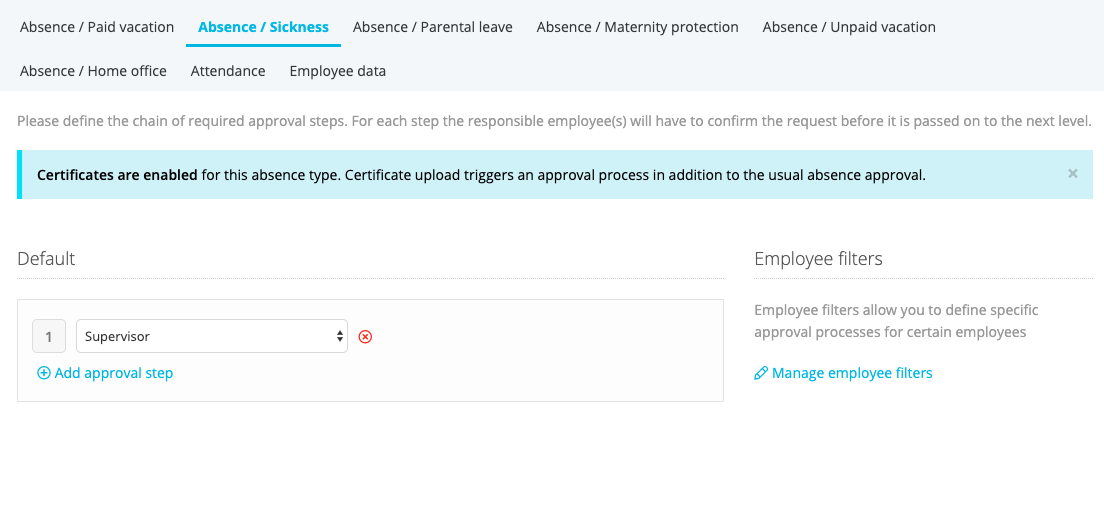 Die Genehmigung von Krankheitsperioden kann eher als Bestätigung der Kenntnisnahme über eine Abwesenheit gesehen werden, da i. d. R. krankheitsbedingte Abwesenheiten keiner Genehmigung unterliegen.
Note that under the Documents tab, employees must have been assigned proposal rights. This is the only way to ensure that they can import their certificate.
Example Process for a Request
The following example refers to the settings shown in the screenshots above. The employee Ludwig Krause is sick and uses Personio to send a notification of his sickness.
(1) First, the employee Ludwig Krause enters the sickness period under My profile > Absences.
(2) Ludwig Krause erhält auf seinem Dashboard die Aufgabe ein Attest für den angegebenen Zeitraum hochzuladen.
At the same time, his supervisor, Emma Roth, receives two to-dos (a) to confirm the illness-related absence and (b) the information regarding the pending doctor's note.
(3) Ludwig Krause lädt nun, sobald er das Attest vorliegen hat, einen Scan oder ein Bild von dem Attest hoch. Das Attest wird in Ludwig Krauses Profil unter Dokumente > Atteste gespeichert.
On his dashboard, a notification is displayed that the approval of the certificate is still pending.

(4) Emma Roth now sees on her dashboard that a doctor's note has been uploaded. She can view the certificate via the preview and then approve it.
This completes the process, and both the absence and the certificate have been approved. The process can of course be extended, for example, to also include the HR department in the approval workflow. For this, only the approval process itself needs to be adjusted.
To trigger a medical certificate request, the absence has to be entered as one single absence period. For example, if an employee is sick for three days, but enters a separate absence for each of the three days, the certificate process will not be triggered (if the setting specifies certificates to be requested with absences of 3 days or more).
In the case below, a certificate request will be triggered (certificates required from 3 days):
In the following case, a certificate request will not be triggered (certificates required from 3 days):
Can't find what you're looking for?
We are happy to help you! Just write us a message with your questions and we will get back to you as soon as possible.
Submit a request