Approval Processes and Reminders When There Are Several Supervisors
This article explains how to set up approval processes and reminders when either individual employees or entire teams in your company not only report to their functional manager but also, for example, to a project manager.
1. Adding Additional Supervisors
An employee's line manager had already been saved at the time the employee data was imported into the profile. There was no provision at that point to record more than one supervisor. In order to now add a project manager, or an additional functional manager, you need to set up individual employee roles for each project team. Go to Settings > Employee roles > Add new role and add a new role for each project manager or additional supervisor. Then filter for those employees that you wish to assign the role to, and add them by clicking on their names. Don't forget to save.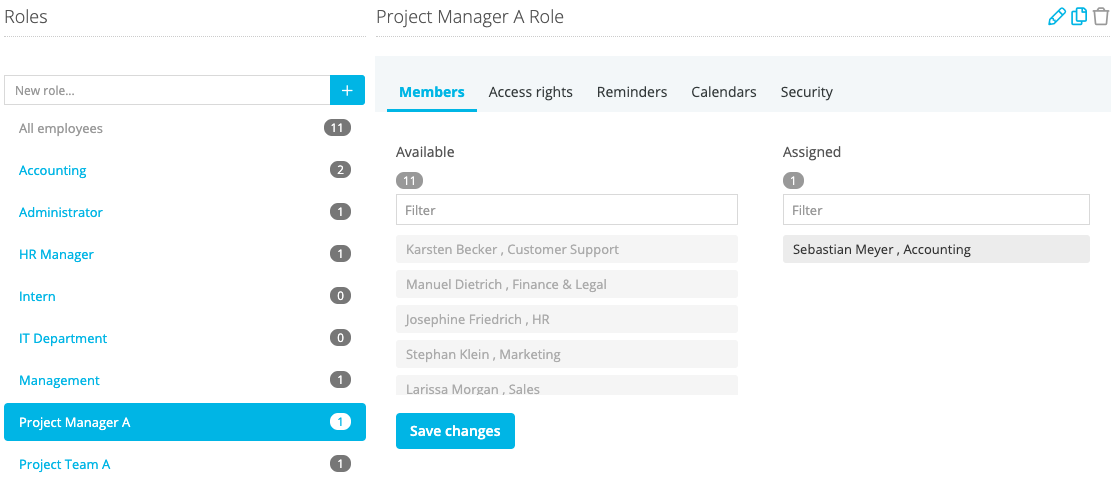 2. Adding Teams
It is necessary to add teams so that they can be used later for filters and approval rulesets, as well as to set up reminders. Personio provides two optional methods for assigning employees to specific teams:
Option 1: 'Project teams' employee roles
Just as with the supervisor roles created in 1), you can add the respective project team as a separate employee role. Add as many project teams as you need. Then assign the respective team role to all employees who are part of that particular project team. Save your settings.
Option 2: 'Team' attribute
Alternatively, to differentiate between teams, you can add another attribute with the List of options attribute type. This will allow you to assign employees to particular teams and to use this information afterwards to set up approval rulesets. To do this, go to Settings > Employee information > Attributes and add a new attribute in the section of your choice. In the next step, complete the attribute for each employee by assigning the respective team. This can be done with an import or by using the bulk editing function within the employee list to edit several employees at the same time.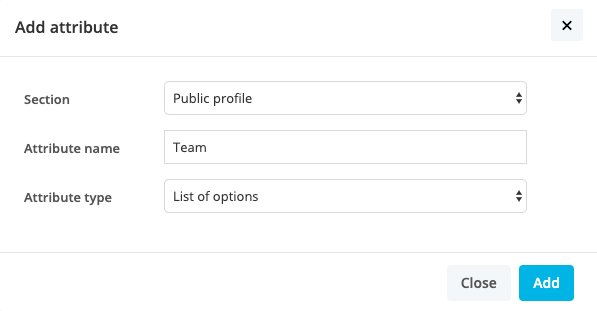 3. Setting Up Approval Processes
Now you are ready to set up the respective approval processes for your employees. For example, you can set it up in such a way that a request for annual leave has to be confirmed by both the disciplinary supervisor and the project manager before it is permanently saved in Personio.
Under Settings > Approvals > Add new ruleset you can create an approval ruleset that will only apply to certain groups of employees, such as single project teams. To do this, select an employee filter that defines which employees the approval ruleset will apply to. The filter settings depend on the method you have chosen under 2) to create project teams:
Option 1: Employee Filter – Employee Roles
Navigate to Employee filters > Manage employee filters and select the previously created employee role the approval ruleset should apply to. Then click Save.

Now click on Add new ruleset and select the employee filter you created. You can now add the approval steps using the appropriate project manager role (see 1. Adding additional supervisors):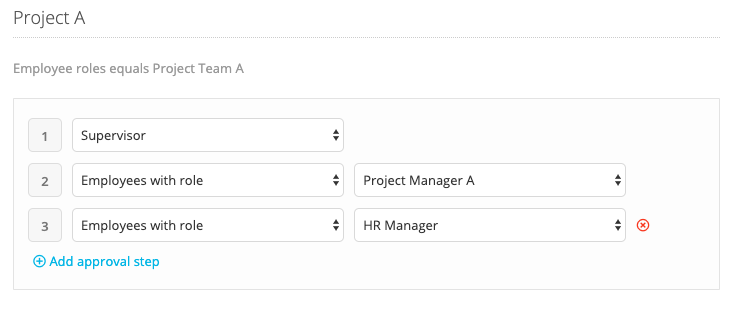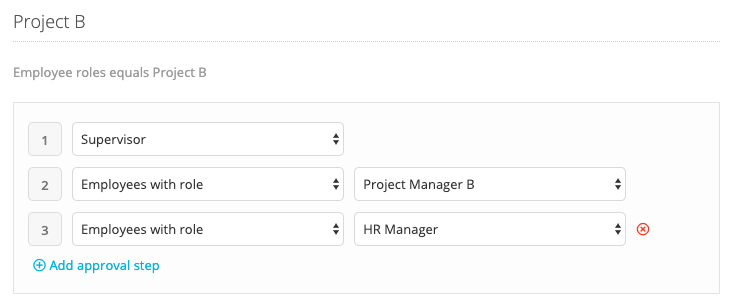 Option 2: Employee Filter – Attribute
If you decided earlier on the second option, navigate to the employee filter and select the attribute you had created to identify the project team. Then click Save.

Add the approval ruleset in the same way as described under option 1, but using the employee filter that you just defined. Adjust the approval steps according to your requirements:


3. Setting Up Reminders
In addition to editing approval processes, you can also set up reminders for supervisors in relation to their respective teams. For example, supervisors can be notified of upcoming birthdays of their team members. New reminders are easily set up via Settings > Employee roles > Reminders > Add reminder. Generally, reminders that are received either before an event or on the same day will remain on the dashboard until one day after the event. Reminders that appear after an event will automatically disappear from the dashboard one week later. If, for example, you would like to remind a supervisor of birthdays in their team, you can apply the following settings: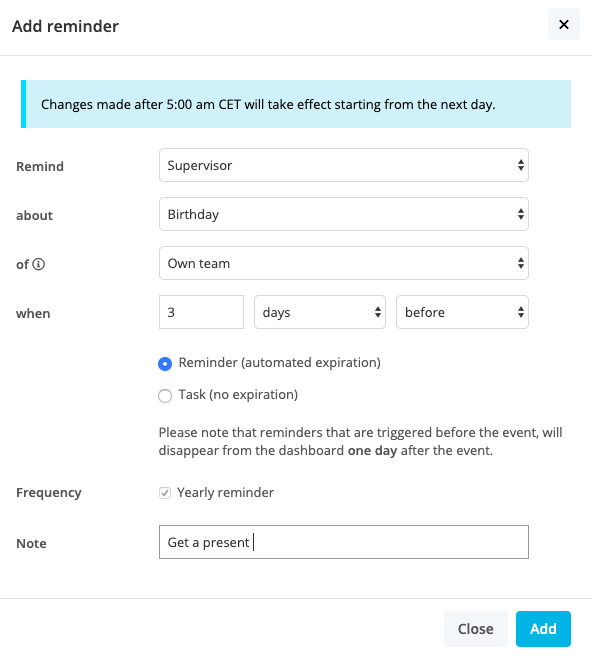 To remind a project manager, however, you first need to add a special employee filter and then select the corresponding project team. Just as with the approval rulesets earlier, the filter settings depend on the method you have chosen to identify the project teams.
Option 1: Reminder – Employee Roles
If you decided on option 1, i.e. you have defined individual employee roles for the project teams, the reminder setup for the project manager could look as follows: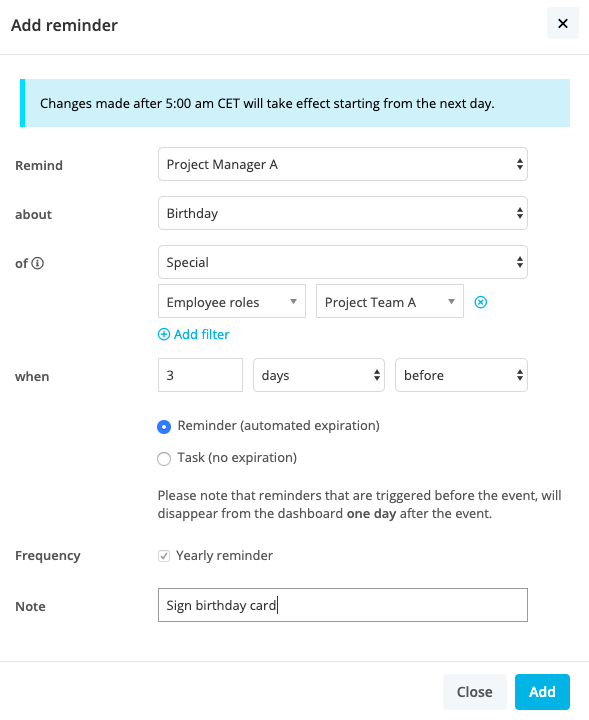 Option 2: Reminders – Attribute
If you decided on option 2 and added another attribute to the employee profile in order to group employees into teams, the reminder to the project manager could be as follows: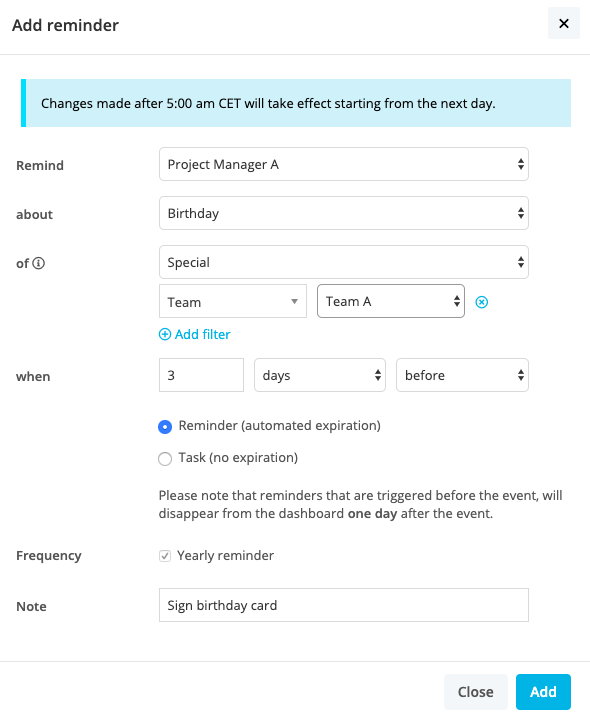 Can't find what you're looking for?
We are happy to help you! Just write us a message with your questions and we will get back to you as soon as possible.
Submit a request