This article explains how to set up custom candidate attributes and how to add them to the application form on a Personio career page. The default application form contains the attributes Name, Email, Phone, and Documents. These are then transmitted to your Personio account. If you would like to collect additional information, such as your candidates' Expected salary or their Desired start date, you can configure these in the settings.
Creating Custom Candidate Attributes
First, think about what information you would like to request from the candidate.
Go to Settings > Recruiting > Attributes > Add a new attribute to create any number of custom candidate attributes. Choose whether the attribute will be created in the Candidate profile or HR information section, depending on whether the attribute contains sensitive data. Simply drag a custom attribute and drop it over the name of the section on the left sidebar.
Use the recruiting roles to control your employees' access to this information in the candidate profile.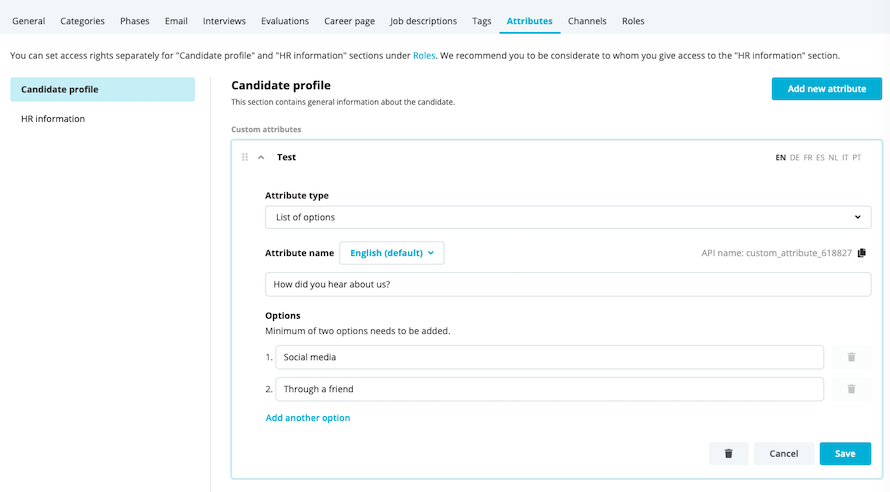 You can find more information on how to create custom candidate attributes here.
Adding Custom Candidate Attributes to the Application Form
Now you can edit these attributes in the respective candidate profiles. Additionally, you can include them directly on a Personio career page. To do this, go to Settings > Recruiting > Career page settings and select the desired fields for the application form.
The application form will look like this on the candidate side: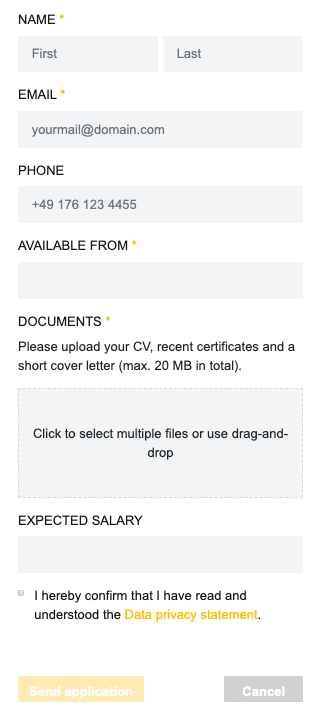 If you add the gender attribute to the candidate application form, you will then be able to add gender variables to the email templates so that they automatically adapt to the candidate gender. You can read more information here.