How do I delete an employee?
Please note that deleting an employee is an irreversible, permanent process that cannot be undone.
If you are certain you really do want to delete an employee (rather than changing their status to inactive), please visit the Employee overview to see the list of all your company's employees.

Select the employee you wish to permanently delete from your Personio account by clicking on their First name and open their profile. Select the ... button in the top right corner and select Delete employee: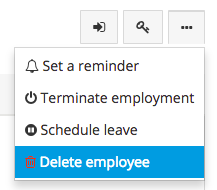 Should you be uncertain as to whether or not to delete the employee and all their data permanently and irreversibly, you can change their status instead: open the employee profile, look up and edit the employee's HR information. You can choose "active," "inactive," or "onboarding." Employees whose status was set to "inactive" can no longer access their Personio account and do not count into your Personio package.