First Steps with Personio for Employees
Welcome to Personio. In this article, we explain how you can log on to Personio for the first time and perform essential functions within the application.
Activating your Personio account
To activate your Personio account, first click on the link in the activation email we sent you. Register with your email address and set your personal password.
Please note that your password needs to meet the following requirements: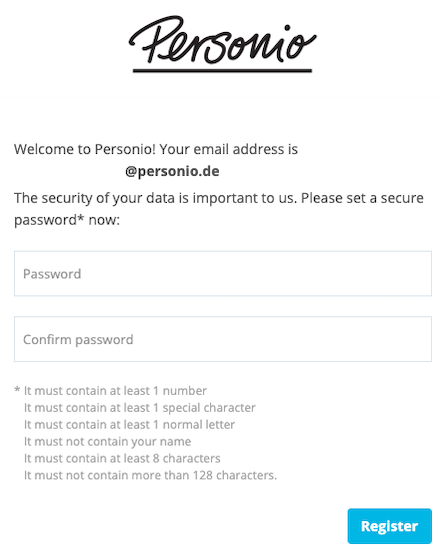 Once you have completed the activation, your browser takes you to the dashboard of your Personio account. Use the Personio login screen to log in again by entering your email address and the password you have just set.
Your login URL is: myaccount.personio.de
Overview of Functions
Read on for a brief description of the main functions in Personio.
Please note that the scope of functionalities available in your Personio account will depend on your access rights and the functionalities used by your company. The following elements may therefore look different from your personal profile.
Your Dashboard
Once you have logged on, you'll be taken to your dashboard. Alternatively, click on the "Home" icon to navigate to your home screen in your Personio account. The My tasks section provides you with an overview of all pending to-dos and reminders. Click on any notification, and Personio takes you directly to the respective task, for example your personal information on your onboarding screen, if you haven't yet completed this step. Click here for more information.
Go to the Attendance and Absence sections in My profile to see relevant requests. Click on the links (shown in blue) to go directly to these sections. The All approvals section shows all pending requests for approvals (attendances and absences, absence certificates and employee data).
The Today's Time Tracking widget allows you to quickly and efficiently enter work and break times without having to navigate to the Attendance tab in your profile. Please note that you can only write complete entries. If you wish to enter your time partially, it is only possible to do so in the Attendance tab. If break rules have been specified, you will see a warning if insufficient breaks have been entered. In case overtime and deficit hours are enabled, the tracked time will be marked purple and indicated by a clock symbol.
Please note that the widget only allows you to add work and break times. Project times and comments are only possible in the Attendance tab.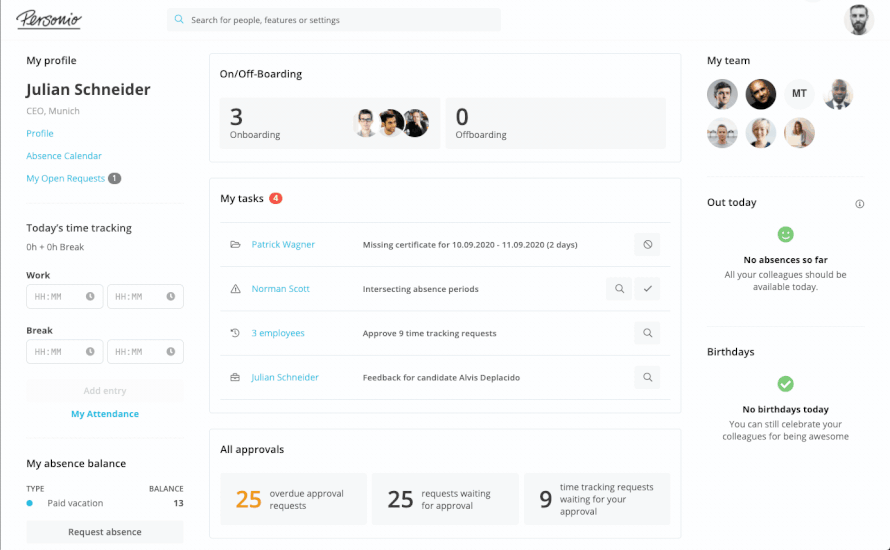 Personal Settings
First, adjust your personal settings by navigating to the avatar in the top-right corner of your screen. Click on Personal settings and select your language preference. Personio is currently available in German, English, Spanish, French, Italian and Dutch.
Click on Notifications to choose whether you would like to receive reminders in your dashboard only or also via email. We recommend that you activate email notifications.
Clicking on Reminders takes you to a list of all reminders which have been predefined for you. This is also where you can create and store additional reminders.
Finally, click on Email to create and save your personal signature, if you are involved in your company's recruiting processes.
Employee Profile
You can access your profile directly from your dashboard. To do this, click on the Profile heading in the My profile section. Alternatively, you can access your profile via your profile image in the top right of the screen: Click on the image and then on My profile to access an overview of all functions available from your employee profile.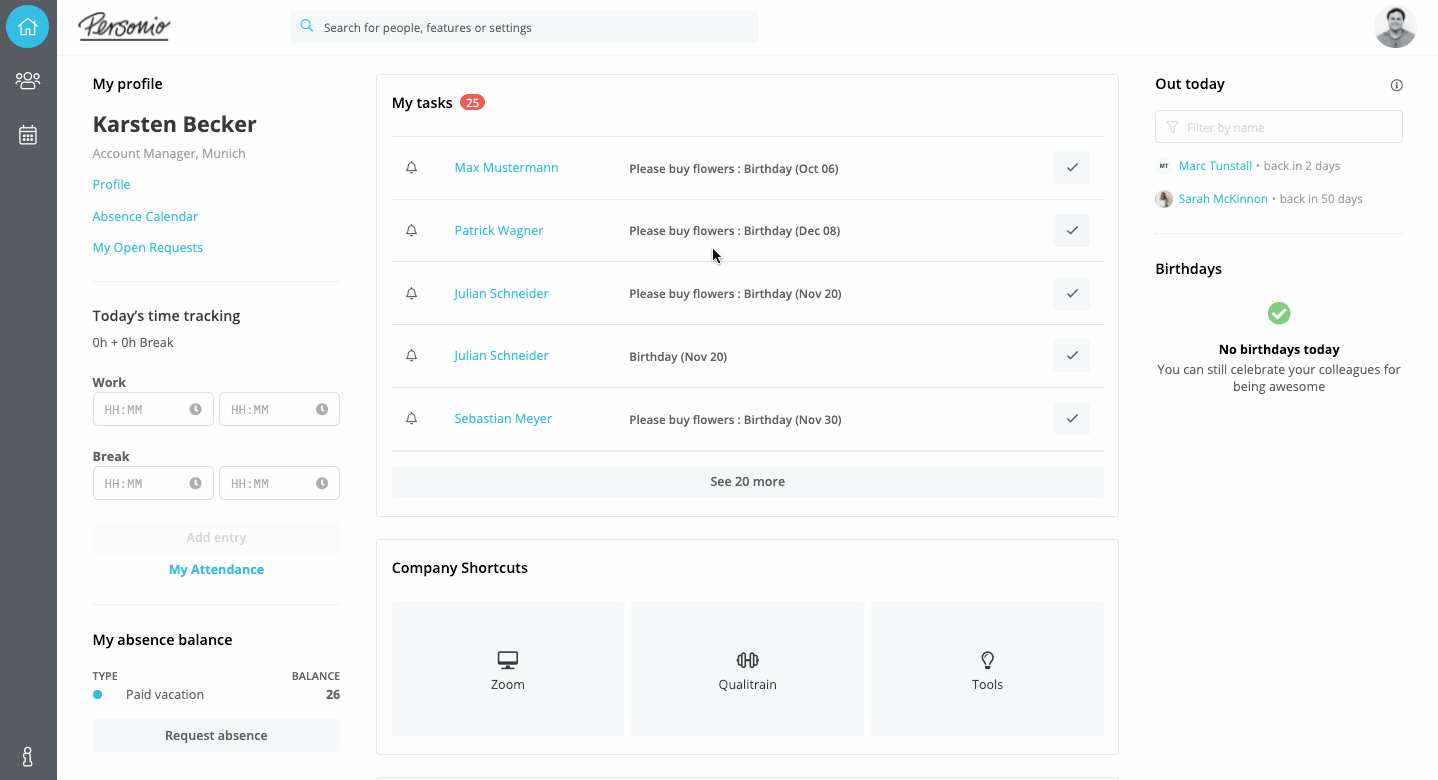 Start personalizing your profile by uploading a profile picture. Click on the avatar and select a photo, then click on Upload to save your profile picture.
Personal Data
The Personal data section in your employee profile contains your personal and employee data. Depending on your access rights, you may be able to propose, edit or schedule changes here.
Salary
Click on Salary in your employee profile to access an overview of the components that make up your current salary. Click on Detail view to see a history of your salary changes.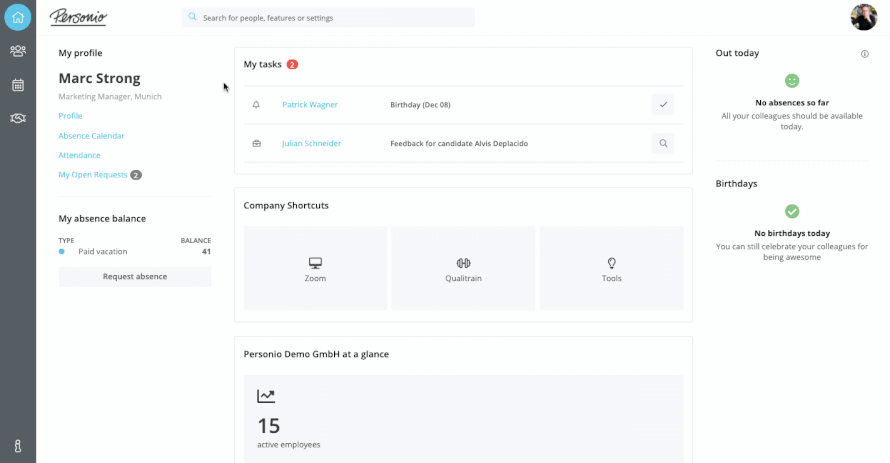 Documents
Depending on your access rights, you may be able to upload personal documents to the Documents section within your employee profile and access documents stored there. These include contracts, references and absence or other certificates, for example.
Your company may also have decided to file your payslips in the Payroll category.
Attendance
In the Attendance tab, you can get an overview of your working hours, overtime and deficit hours if they have been recorded, as well as your working days and weekly hours. You can record attendance in the monthly overview. To do so, click on a day to enter the start and end times of your working day, as well as the length of any breaks. You can also optionally assign the attendance to a project or add a comment.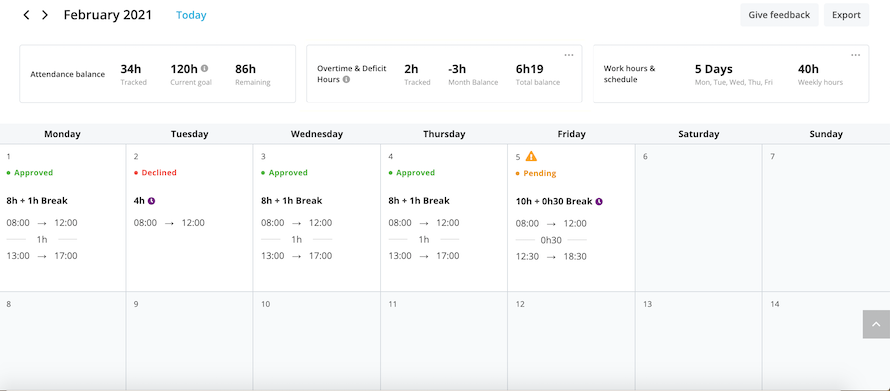 If break rules have been specified, an orange warning triangle will indicate any insufficient breaks. You will see a purple clock icon if there are any overtime or deficit hours.
If an attendance has been entered but is marked as Pending, it still needs to be approved. Approved attendances are marked as Approved, while rejected entries are shown as Declined. You can edit declined attendances and resubmit them for approval.
Tracked time for whole working days can also be copied to other days within the same month. Simply hover over the cell for a pending or an approved day in the calendar, and click on the Copy hours icon located in the top-right corner.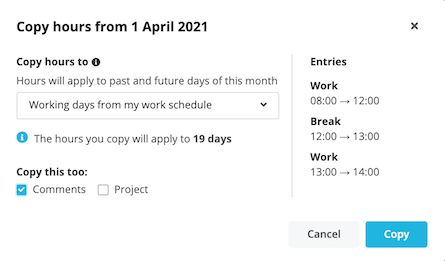 In the pop-up window, either select Working days from my work schedule to copy to all days of the month or Specific days of the week to copy only to selected weekdays for the whole month. You also have the option to copy comments and projects. Once you have confirmed your selection, a new entry will be created for each chosen day.
Note that hours cannot be copied to public Holidays, days with approved absences and days with other time tracked.
Absences
Go to your employee profile and click on Absence to view your absence balances, e.g. your paid vacation entitlements. Use the Add absence period function or select absence days directly in the calendar to request absences. Next, select the correct absence type such as Paid vacation, the specific absence period and a substitute as internally agreed (if applicable). You can optionally add a comment to your request. Click on Request to submit your leave request.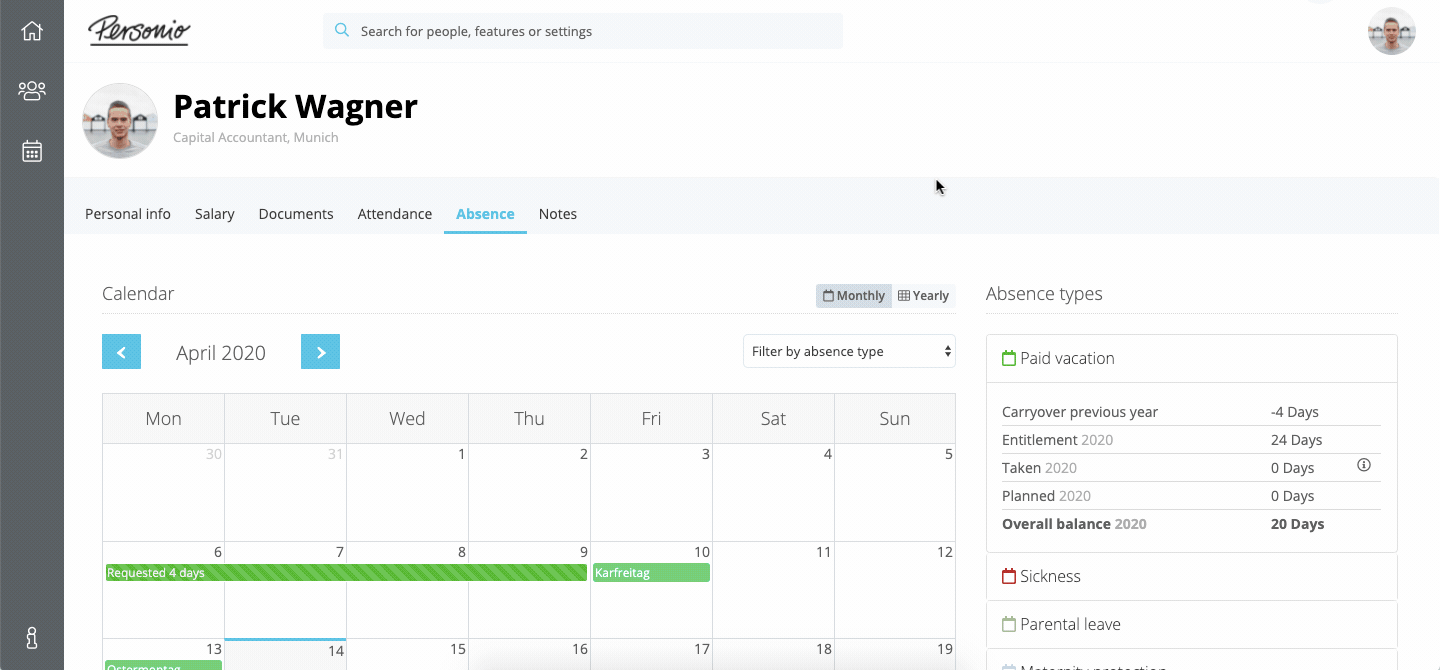 Once a request has been approved, your leave account is updated, and you receive an email confirmation. The account overview also shows any accruals carried over from the previous year, your leave entitlements from the current year, the total of leave days already taken and planned during the current year, and the total leave days available in the current year.
If an absence certificate is required for a particular absence after a specified number of days, e.g. for sick leave, Personio requests the certificate both from within the application and via email. Click on Upload certificate to upload a certificate. Once uploaded, the document can be found in the Documents tab in the Certificates category.
See the following videos for more information on time off for illness or vacation in Personio:
If you need to change or delete future absences which have already been approved, this is easily done in the calendar view. Click on the absence period you wish to change and adjust the start and end dates, or delete the entire period. Any change you make triggers another approval process and will therefore only be shown in your account once it has been confirmed.
Performance
The Performance section in your employee profile provides you with an overview of all feedback, performance meetings and goals for the current period. Clicking on an entry allows you to view additional information such as the content of the feedback, the details of the meeting or the description of the goals.
Note that to write and publish feedback, edit rights for the performance section are required.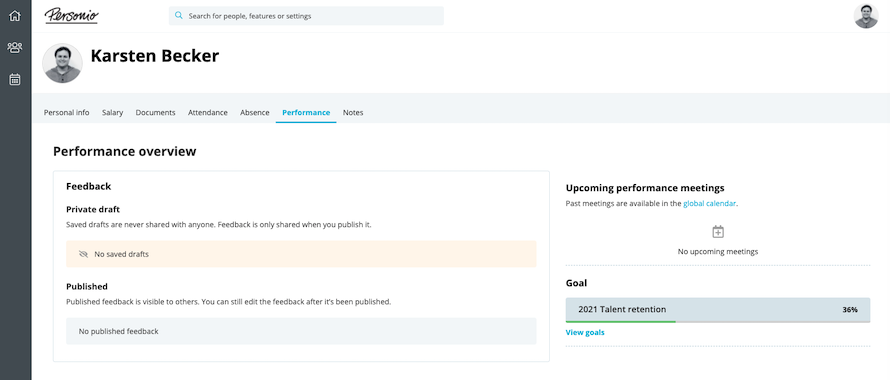 Onboarding
The Onboarding section in your employee profile contains all the tasks which you need to complete as a new employee, depending on your access privileges. The due dates indicate the deadlines for the various tasks you have pending. Personio sends emails and additionally creates to-dos on your home screen to remind you of pending onboarding processes.
Notes
The Notes section in your employee profile allows you to store personal notes and reminders in your Personio account.
Please note that employees also need to at least have viewing rights for the Manage accounts section to access reminders.
Company Calendar
Finally, Personio provides an overview of the company calendar integrated into the software. To access the calendar, click on the calendar icon in the left menu bar. There are two different views available for the company calendar: an overview of absences and an events calendar.
The absence calendar shows an overview of all absences you are permitted to see. You can apply various filters to this view, for example to select by absence type, department, office or sub-company.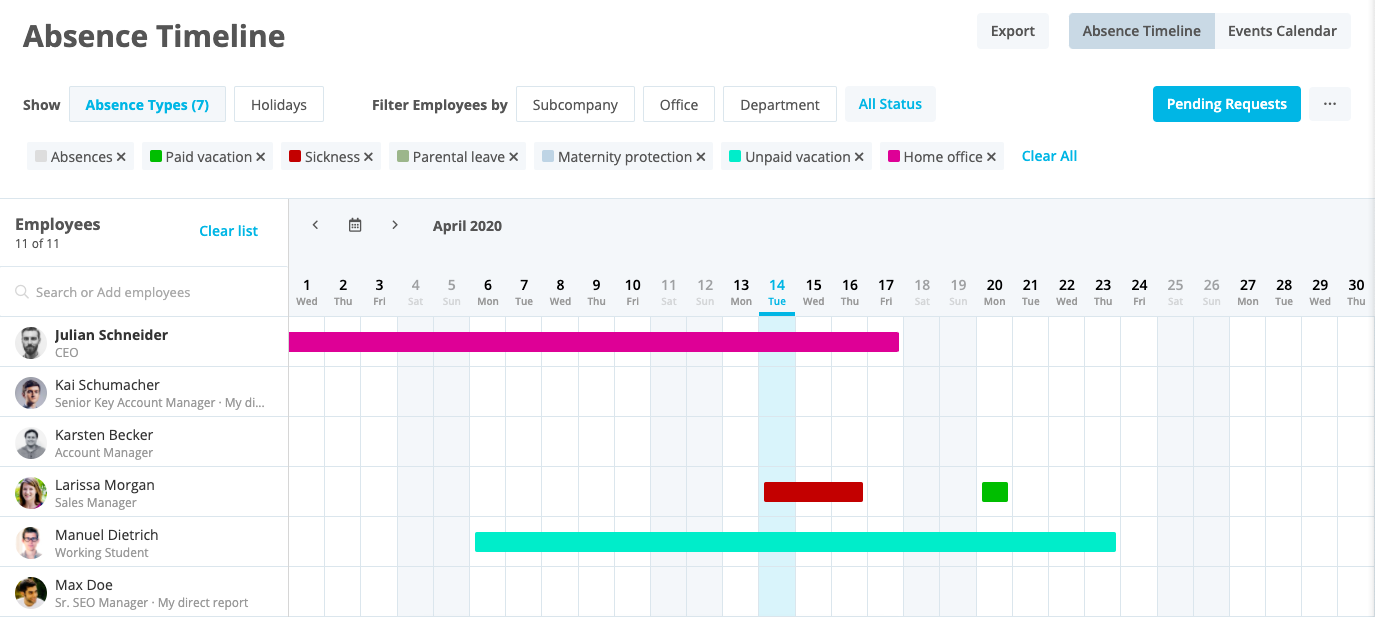 The events calendar shows the following: interview and feedback meetings you are invited to, your personal reminders and birthdays, and public holidays at your office. Click on the other calendars available for viewing to have the respective entries displayed in the calendar overview. Use the filter function to again have the calendar displayed for individual sub-companies, offices, departments or teams.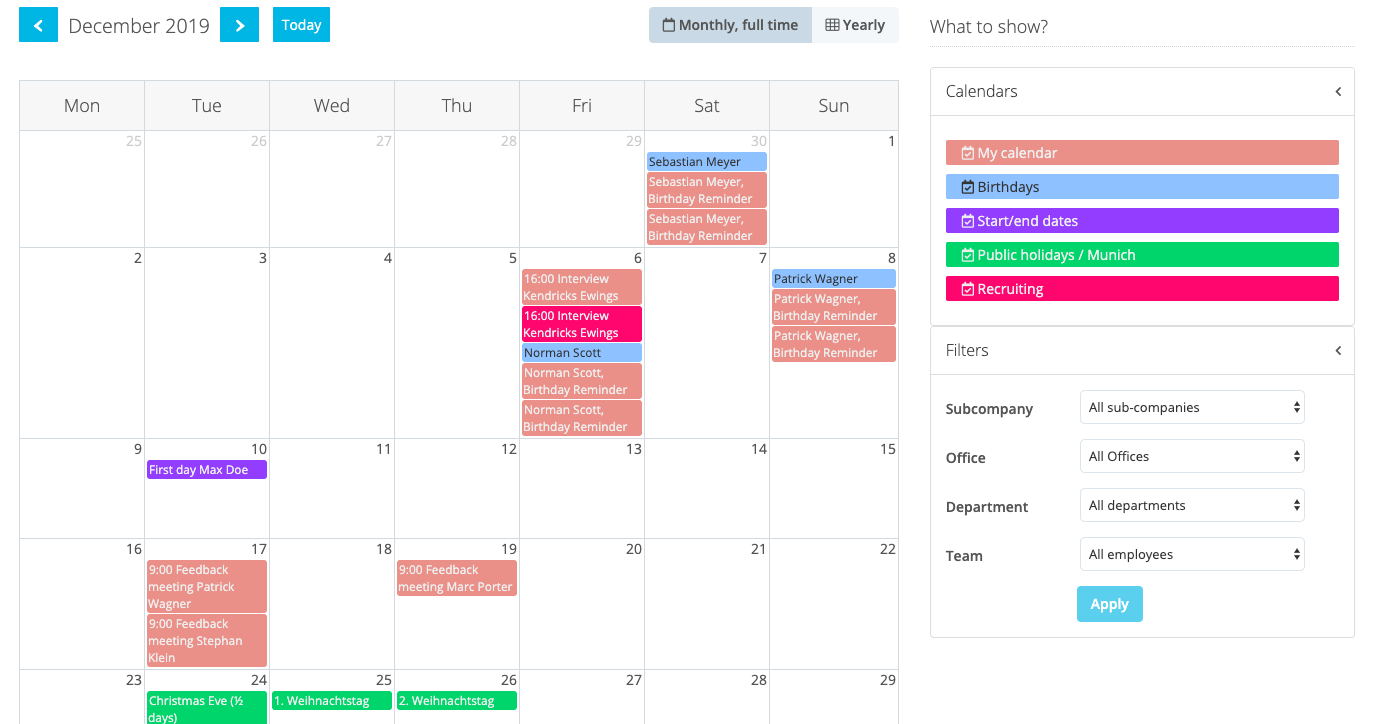 Use the iCAL function to integrate the calendar with an external application, such as a Google or Outlook calendar. To do this, click on the export button and select the calendar(s) you wish to integrate into your own calendar. If you like, you can filter the iCAL calendar by a selected department. Next, select the link that has just been generated and embed it in your external calendar. Click here for more information.
Can't find what you're looking for?
We are happy to help you! Just write us a message with your questions and we will get back to you as soon as possible.
Submit a request
Topics of this article