First Steps with Personio (for employees)
This article explains how to activate your Personio account for the first time and describes its general features.
Acti

vate

your account
To activate your Personio account, follow the link provided to you in the invitation email from Personio. Register with your your email address and choose a password.
Please note that the following restrictions apply when setting a password.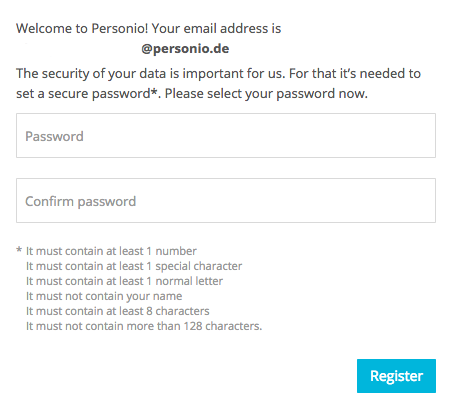 General Features
Navigate to Personal Settings at the top right of the screen to set your preferred language, create reminders, set up your email signature, and determine your email notification settings.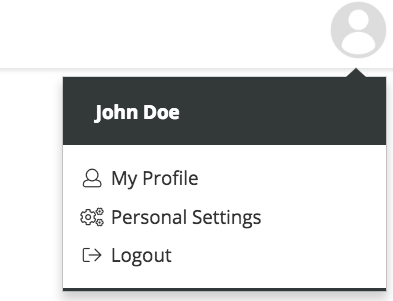 The Home Screen (Dashboard)
After logging in you will be taken to your home screen or dashboard. Alternatively, navigate to the dashboard icon to switch to the home view of your Personio account. In the box Your ToDos you get an overview of all open tasks and reminders. By clicking on the corresponding notification, you will be forwarded directly to the task.
The Newsfeed is visible to all employees and shows all recent changes, such as new employees or position changes. Depending on your company settings, the Newsfeed can also be switched off.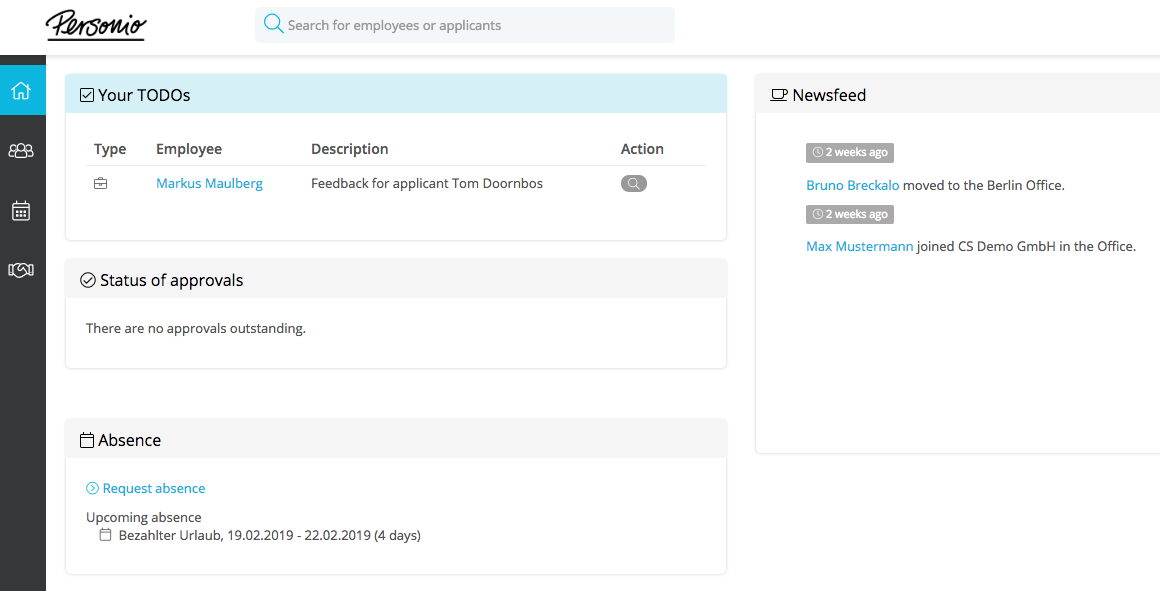 Your Employee Profile
Personio offers employees significant advantages: Your Employee Profile doesn't just manage your personal data, but also simplifies the process of registering your presence or absence at work.
The Employee Profile includes the categories Personal info, Salary, Documents, Attendance, Absence, Performance, Onboarding, and History. Depending on which of these functions your company uses, you may only see some of these categories.
Personal info
Under Employee Profile > Personal info you will find all the relevant personal information required by your company. Depending on your access rights, you can change this information independently or propose changes to HR. This way, it is easy to keep your digital personnel file up to date.
Salary
Under Employee Profile > Salary you get insight into your salary information and possible compensation options.
Documents
Under Employee Profile > Documents you can upload and view employee documents. This could include, for example, contracts, certificates, licenses, and diplomas.
Attendance
Under Employee Profile > Attendance you have the possibility to enter your attendance times. This simplifies timesheet management, especially for employees with an hourly wage.
Absence
In addition to tracking attendance, Personio simplifies the management of absences. Under Employee Profile > Absence you can apply for and check the status of absence requests. Absence includes sick days, vacation days, as well as company-related absences such as business trips.
To request an absence, select the corresponding type of absence and enter the duration of the absence. You also have the option to designate a substitute for the duration of your absence. Your request is transmitted to your supervisor or another specified employee and who can confirmed your request from within his or her Personio account.



Under Employee Profile > Absence > Absence types you can view both planned absences and remaining absence days. Please note here, that planned absence is already included in absence taken.
In addition to entering your sick days, you can also upload your doctor's certificate directly to Personio under Illness > Certificate missing > Edit.


Calendar
The Calendar provides a complete overview of all absences. However, the visibility of these depends on your access rights. You can select from different calendars, which are linked to the company's internal calendar. This way, you can quickly see whether colleagues are available on any given day.


Performance
Under Employee Profile > Performance you can view all performance reviews or results from feedback meetings. This is especially relevant for employees with performance-related bonuses. In addition, you have the ability to view comments about your performance goals and schedule feedback sessions.
Onboarding
As a new employee, you can view all the relevant onboarding steps under Employee Profile > Onboarding and keep track of your current onboarding progress. Any current onboarding to dos are displayed here. In addition, you see deadlines and reminders for remaining tasks to complete the onboarding process.