This article provides information about attribute types for the employee profile, as well as how to create and store them in sections. Finally, it provides an overview of all employee sections and attributes, which have proven useful, together with helpful examples.
To store information about your employees in Personio, you can create individual employee attributes in your account and group them within sections. The attributes will then be displayed in the employee profile on the Personal info tab.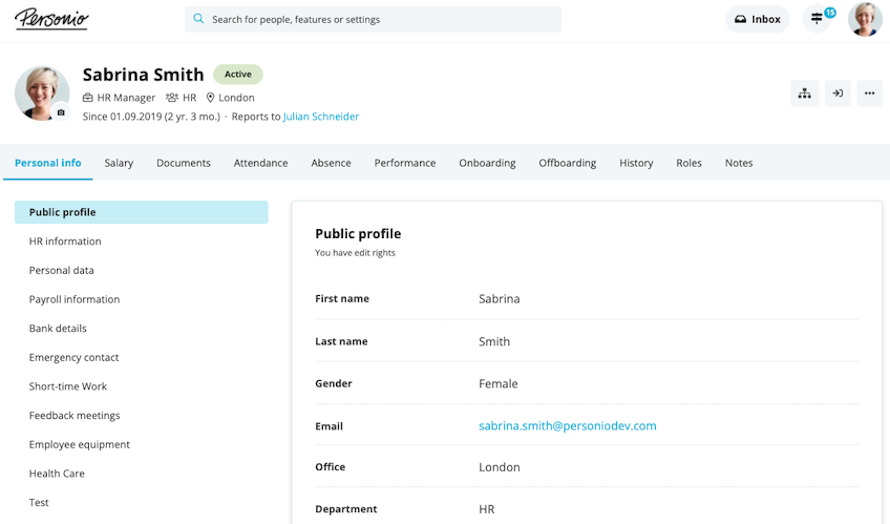 Add sections and attributes
To create, edit, or delete sections and attributes, go to Settings > People > Employee Information. The left side of the screen shows a list of all the sections. You can create further sections using the Create a section button.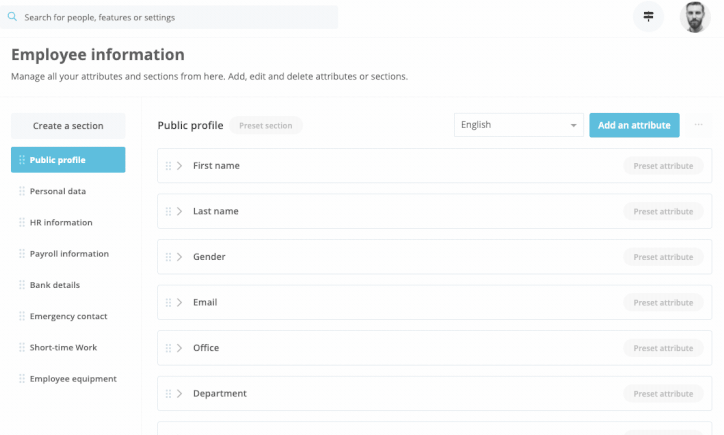 The attributes assigned to the selected section appear on the right. Attributes shown with a gray Preset attribute note are system attributes that cannot be renamed or deleted. All other attributes are user-defined and can be freely edited and deleted.
If you wish to create a new attribute, do so directly under Add an attribute in the selected section. Please note that this action can only be performed in the company language set in Settings > Organization > Company > Company information. Name the attribute and select an attribute type.
Attribute types
The following attribute type options are available for selection:
Attribute type
Description
Standard
A simple text field for short texts such as names, email addresses, ZIP codes, or telephone numbers.
Multi-line text field

A multi-line input field in which you can enter longer texts such as comments. The character limit is 2000 characters.

Number (integer)
Numbers without decimal places, such as the Employee ID.
Number (up to two decimal places)
Numbers with one or two decimal places, such as the child allowance and monetary amounts or percentages (you determine the number of decimal places in the settings, under Edit.)
Date

For each employee's important dates, such as their date of birth or their certificate of study's expiration date, you can create an attribute that is formatted as a date. You can also create reminders for all

attributes of this type.
Here, you can enable the option Hide year from public.
Link
Links allow you to, for example, store your employees' LinkedIn or Onlyfy profiles.


Correctly stored links open directly in the browser window via hyperlink.

List of options

Use the List of options attribute format to define options for the selected attribute. Lists ensure that attributes cannot be filled out arbitrarily and thus prevent errors. For attributes of this type, only one of the stored

options can be selected. This is useful for yes/no queries, for example.

Tags

Also define the available options for multiple selection attributes.

However, be aware that several options can be selected simultaneously. This allows, for example, skills such as languages spoken to be entered.
Tip For the attribute types Standard, Number (integer), and Number (up to two decimals), you can also specify whether the attribute you have created should be used for the unique identification (unique ID) of your employees. To do so, tick the corresponding checkbox. Please note that the system already defines employee email addresses as unique IDs.
Arrange sections and attributes
All attributes can be moved within or between sections using drag and drop. This gives you a free hand to arrange your employee information as you see fit.
Note
If you move an attribute to a new section, you need to be aware of the access rights that are granted for the attribute's new section. For example, if you move an attribute to the Public profile section, it may be displayed to all employees.
Translate custom sections and attributes
Preset sections and attributes are created in several languages and are available in English, German, Spanish, French, Dutch, Italian, Swedish and Finnish. For custom sections and attributes, you can upload your own translations into the above languages as required.
Note It is not possible to store translations of the available options for the attribute types List of options and Multiple selection. This functionality will be added in the future.
Your company's account language always forms the basis for your translations. Your account language is marked as (default) in the top right of the language menu. If no translation has been added yet for an attribute, the attribute appears in the default language in employee profiles.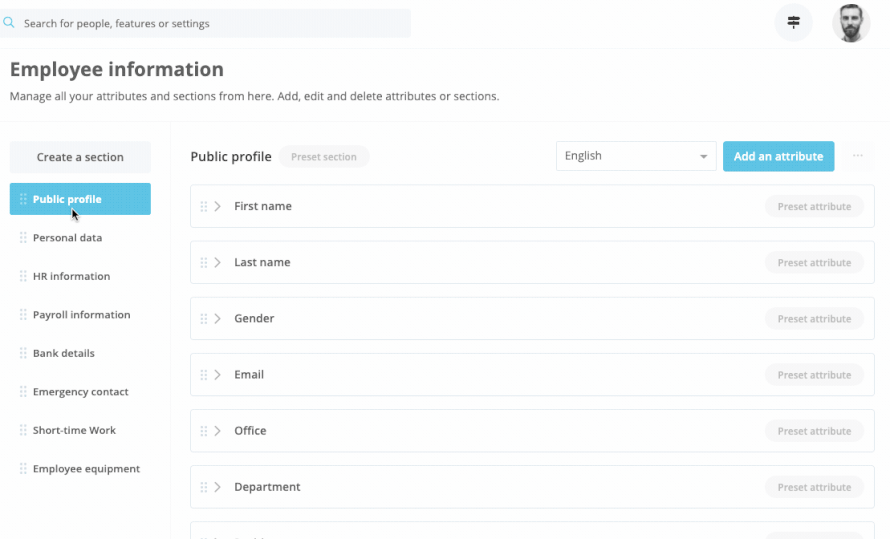 To add translations for your custom attributes, first select the relevant language from the drop-down menu. Attributes for which no translation has yet been entered are marked with a yellow alert sign.
Click on the attribute you want to add a translation for, enter the translation in the text field, and click on Save. The translation will then be shown in the relevant language selection above the original text in your company language. For employees, the attribute will be displayed in the language they have selected in My Profile > Personal Settings.
Note Sections and attributes can only be added, moved, or deleted in the default language. If your settings are for a different language, both the Create new section and Add attribute buttons are grayed out and these actions cannot be performed.
Best practices
The following table provides an overview of commonly used employee sections and attributes, as well as corresponding examples.
Section
Attribute
Attribute type
Example

Public Profile

First name

Last Name

Gender

Email

Sub-company

Office

Department

Position

Work phone

Mobile phone

Preset

Preset

Preset

Preset

Preset

Preset

Preset

Preset

Standard

Standard

John

Doe

Male

john.doe@personio.de

Personio Professionals

Munich

Customer Success

CS Manager

089 123789456

089 123789456

HR Information

Status

Employment type

Hire date

Contract ends

Cost center

Supervisor

Lenght of probation

Weekly hours

Children

Notice period

Personnel number

Nationality

Preset

Preset

Preset

Preset

Preset

Preset

Preset

Preset

Preset

Standard

Number

List of options

Active

Internal

01/01/2017

31/12/2018

125

Erika Smith

6 months

40 / 40 (100%)

Mary, James

3 months

189

Irish

Personal data

Birthday

Birth name

Place of birth

Country of birth

Street

Number

Addition to address

Zip code

City

Private email

LinkedIn

Onlyfy

Skype name

Private phone number

Food preference

Food allergies

Date

Standard

Standard

List of options

Standard

Standard

Standard

Standard

Standard

Standard

Link

Link

Standard

Standard

List of options

Standard

>01/01/1980

Doe

Munich

United Kingdom

Sample Street

10

3rd floor left

80634

Munich

john.doe@sample.com

https://www.linkedin.com

https://onlyfy.com/en/

john_doe

089 123456789

Vegetarian

Gluten

Payroll information

Tax identification number

Social security number

Tax category

Marital status

Religion

Child benefit

Further activity

Type of health insurance


Note
If you are a Germany-based customer and have the DATEV integration enabled, you will need to create this attribute directly from the Payroll settings.

Health insurance

Child allowance

Religion of the spouse

Wage tax allowance per year

Severe disability

Degree of disability

Highest level of educational

Highest level of education

Main / secondary occupation

Standard

Standard

List of options

List of options

List of options

List of options

List of options

Standard

List of options

Number

List of options

Standard

List of options

List of options

Standard

Standard

List of options

12345678901 

80010180D000

1 

Married

Protestant

0

None 

Statutory health insurance

Sample insurance 

0

Protestant

0

No

0

Baccalaureate

Master of Science

Primary employment

Bank details

Account holder name

SWIFT Code

Bank name

Payment method

IBAN

Standard

Standard

Standard

List of options

Multi-line text field

John Doe

ABCDEFG123

Sample Bank

Bank transfer

IR12345678901234567

Emergency contact

Name of emergency contact

Mobile of emergency contact

Relationship to the employee

Landline of emergency contact

Standard

Standard

Standard

Standard 

Erika Smith

0176 0987654321

Wife

089 0987654321

HR 
Contact

Contact person

Email

Extension number

Standard

Standard

Standard 

Maria Maier

maria.maier@personio.de

1234

Company pension scheme

Pension type

Total monthly amount

Employer share in €

Employee share in €

Starting date

Receiving institution

Contract number

Standard

Standard

Standard

Standard

Date

Standard

Standard 

Direct insurance

180 €

40 €

140 €

01/01/2017

Sample insurance 

1234567890-A

Talent management

Programming languages

Languages

MS Office

Multiple selection

Multiple selection

Multiple selection

JavaScript, PHP, C++

German, English

Word, Excel, PowerPoint

Trainings

First aid course

Safety briefing

Sales training

Product training

Rhetoric course

Human Resources Management

Date

Date

Date

Date

Date

Date

01/01/2017

23/06/2017

14/05/2017

28/08/2017

11/11/2017

01/03/2017

Languages

Irish

English

French

Spanish

Dutch

Italian

Portuguese

Swedish

Finnish

List of options

List of options

List of options

List of options

List of options

List of options

List of options

List of options

List of options

C2

C1

A2

A1

A2

B1

B2

A2

C1

Skills management

Self-competence

Social skills

Methodological skills

Management skills

Expertise

List of options

List of options

List of options

List of options

List of options

Good

Average

Good

Average

Good

Employee
Equipment

Key ID

Handover of keys

Laptop ID

Laptop delivery

Smartphone identification

Smartphone handover

Other hardware

Date of issue

Standard

Date

Standard

Date

Standard

Date

Standard

Date

11

01/01/2020

12345678

01/01/2020

0987654ABC

01/01/2020

Headset, mouse, keyboard

01/01/2017

Tools

Ticketing

HRM

PAYROLL

Web conference

Workflow

Multiple selection

Multiple selection

Multiple selection

Multiple selection

Multiple selection

Software X, Software Y

Personio, Software Z

Software 2

Software 1, Software 3

Software A, Software B

Clothing sizes

T-shirt

Shoes

Pants

List of options

List of options

List of options

XS; S; M; L; XL; XXL

36; 37; 38

XS; S; M; L; XL; XXL

Company car

Brand

Model

License plate

Date of acquisition

1st service after x km

2nd service after x km

Standard

Standard

Standard

Date

Standard

Standard

Volkswagen

Golf

M-HR-1234

01/04/2020

2000

15000

Vacation/ long-term absences

End date of parental leave

Date

31/08/2020

Anniversary

1-year anniversary

5th anniversary

10th anniversary

Date

Date

Date

01/04/2021

01/04/2025

01/04/2030