How do I set up a feedback meeting?
In Personio you can easily track the progress of your employees by defining targets, writing performance reviews, and scheduling feedback meetings.
In this article, you will learn how to set up performance feedback meetings.
Create a Feedback Meeting
To create a feedback meeting, navigate to the Performance tab in the employee profile. On the right side select Feedback meeting from the drop-down menu and add a category and a date.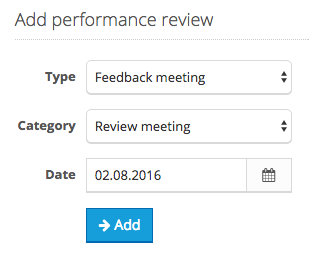 After you have created a feedback meeting, participants can be added, the date can be modified, a location can be specified, and you can also leave notes.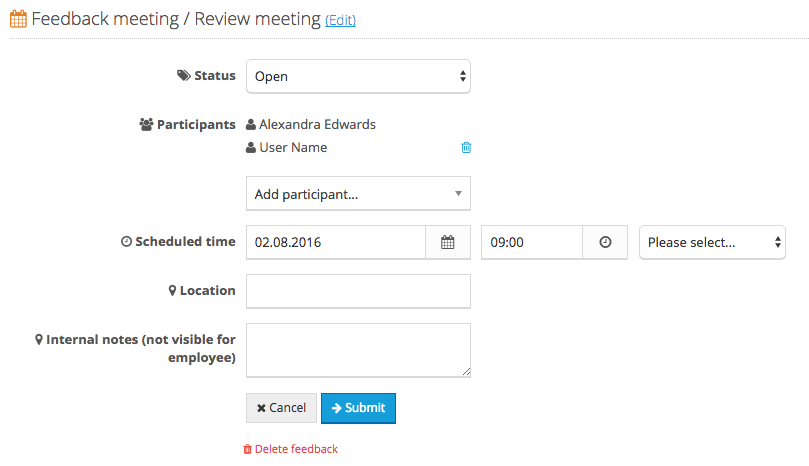 After you have adjusted all the settings, you can change the status from open to scheduled in order to send invitations to all participants. The following table provides an overview of the different statuses.
| | |
| --- | --- |
| Status | Effects |
| Open | Default status immediately after creating a feedback meeting |
| Scheduled | iCal invitations will automatically be sent to all participants |
| Completed | The feedback categories previously selected in the account configuration can be filled out and saved |
| Cancelled | iCal cancelation notifications will automatically be sent to all participants |
Receive feedback results
After a feedback meeting you can change the status to completed and view the feedback categories you previously specified. Here you can obtain the key results from the meeting and, after saving them, view them again at any time.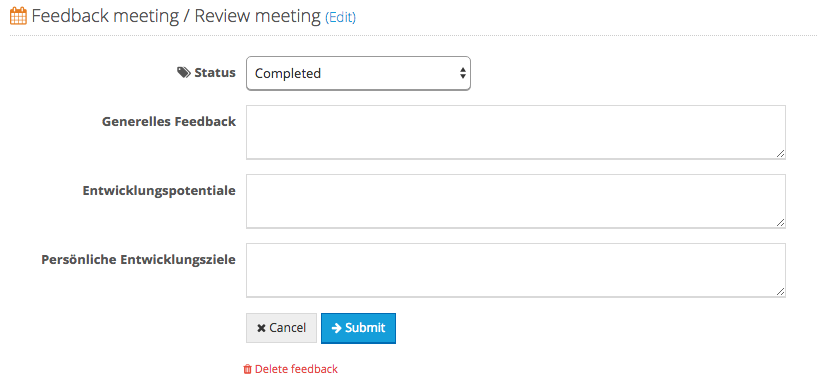 Define feedback categories and attributes
To individually tailor feedback sessions to your needs, you can customize what should be obtained in the meetings. Under Configure account > Performance > Feedback categories you can specify any number of types of Feedback meetings and in turn add attributes whose contents can be saved after completing a meeting.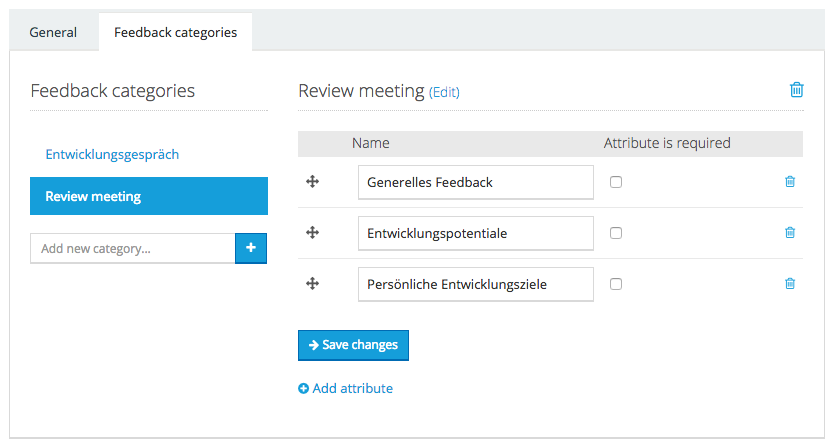 Can't find what you're looking for?
We are happy to help you! Just write us a message with your questions and we will get back to you as soon as possible.
Submit a request