How do I use questionnaires to evaluate applicants?
Configurable questionnaires with reusable sections allow the structured review and evaluation of applicants by several employees, for example, after an interview.
Configuration
Under Configure account > Recruiting > Evaluations, different evaluation forms can be created. These in turn consist of reusable sections that can be added by clicking on the "+" button and arranged in any order using drag and drop:

The sections Key Take Aways and Overall Recommendation are integral parts of each evaluation form to clearly and concisely summarize a rating.
The reusable sections may be composed of the following elements. Additional text information can be added to scales and text fields to later serve as a guide for the evaluation:
Title
Titles allow the structuring of questionnaires in individual blocks.
Scales
Scales consist of a descriptive text (title), the labels for minimum and maximum rating (labeling) and a weighting (weight). With a weighting value between 0 and 1, the importance of individual issues can be determined.
Text field
Text fields are used to enter qualitative feedback.

Applicant evaluation
Evaluations will be issued in three ways:
Through the applicant's Evaluations tab
Click on Add evaluation, to select, complete, and submit an evaluation form

Through a review request
By clicking on the magnifying glass icon in the applicant overview, you can request feedback from an employee. After selecting Evaluation form as the Review type an existing evaluation form can be selected. When you submit the request, the employee receives a notification e-mail as well as a dashboard To-Do.


Through an interview event
When creating recruiting interview events through Personio, you can select both the employee participants and an appropriate evaluation form under the heading Evaluation. After the interview, the employees are asked to complete an evaluation in the same way as described in point 2 above.
Individual fields in a questionnaire may be omitted, if for example, they do not apply for an applicant.
Viewing the results
Individual evaluations are summarized chronologically and displayed in the applicant overview. Aggregated reviews can be found under the Evaluations tab.

Evaluations will be groups by type of evaluation.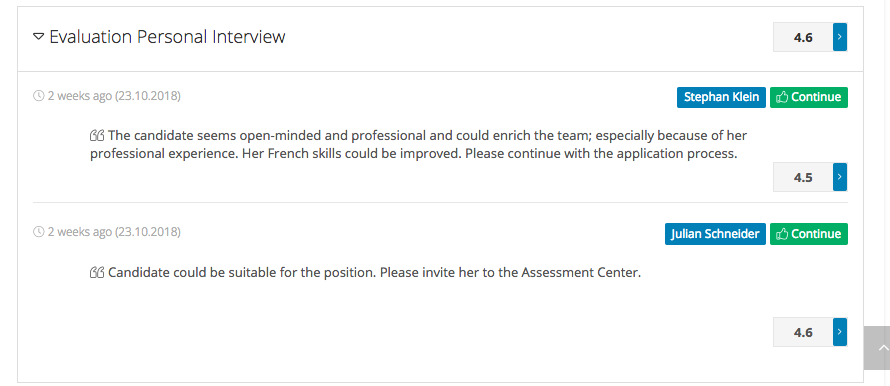 By clicking on the value in the title, the aggregated results of an evaluation are displayed: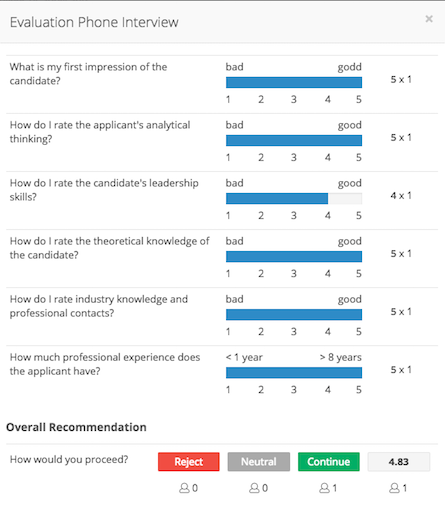 Can't find what you're looking for?
We are happy to help you! Just write us a message with your questions and we will get back to you as soon as possible.
Submit a request