How to send an e-mail from the company's own SMTP server
In this article, we will give you an overview of the settings that need to be made in order for you to send emails from Personio via your company's SMTP server.
To make the communication with your applicants even more efficient and clearer, you have the possibility to handle them completely via Personio using your company email address.
Process of applicant communication
The process represents a continuous cycle:
An applicant sends an application to your company's e-mail address. A redirecting/forwarding function ensures that the application automatically ends up in your Personio Inbox. After receiving an application in Personio, you can manage it there.
The e-mail communication with the applicant now takes place directly in Personio. So that the applicant receives your messages from your company-owned e-mail address, these must be routed via your own e-mail server.
In the following screenshot you can find a visualization of the process: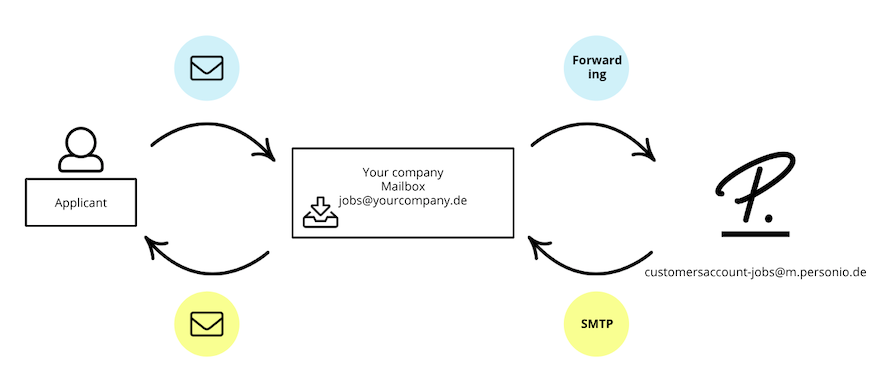 To set up thee-mail communication, follow these three setup steps:
1. Set up the redirecting/forwarding of applications
To be able to manage incoming applications in Personio, you must configure a redirecting/forwarding to the Personio inbox address in your company's e-mail inbox. Here, it is important that the original header of the email will be transferred while at the same time saving a copy on your own mail server. In case you are not entirely sure about the settings, please consult your internal IT department. The incoming mail address can be found under Settings > Recruiting > General > Incoming Mail Address.
2. Set the sender's e-mail address
Under Settings > Recruiting > General > Custom inbound email address, enter the e-mail address to which your applicants send their application documents. After a redirecting/forwarding has been set up (step 1), the applications automatically end up in the Personio Inbox and the sender's address is recognized as the transmitter of the application.

In the next step you define your SMTP settings to send outgoing messages from Personio from your company email address.
Without the SMTP settings your messages will be sent via the Personio email address (here: webdemo-jobs@m.personio.de).
3. Set up connection

to the SMTP server
Under Settings > Recruiting > E-Mail you enter the information required for the connection setup. The SMTP settings ensure that the e-mails sent by Personio are sent to the applicant via your internal server. In case of problems with the SMTP setup, find information here.

Can't find what you're looking for?
We are happy to help you! Just write us a message with your questions and we will get back to you as soon as possible.
Submit a request