How does the selection of a substitute for absences work?
The function of selecting a substitute for absences of a certain type must be activated in the account configuration. More information can be found here.
Important: Permission, roles, or access rights are NOT transferred to the substitute.
If the substitute function is activated for an absence, employees can choose a substitute in the absence request. Supervisors, peers with the same supervisor, and all team members can be selected in this step.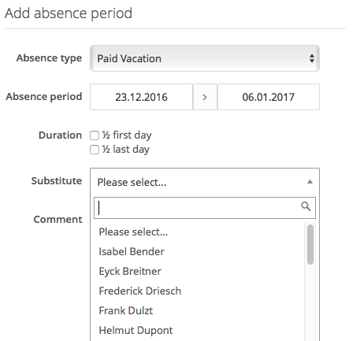 The requested substitution may then be accepted or rejected on the TODO list or calendar view:

If there is an approval rule defined for the type of absence, the absence request must first be approved before it continues on to the selection of a substitute.
In addition, the substitution information is noted in all relevant calendar items:

Can't find what you're looking for?
We are happy to help you! Just write us a message with your questions and we will get back to you as soon as possible.
Submit a request