Configuring and Using Recruiting Categories
This article describes how to organize positions by category. Read on to find out how to configure and optimally utilize recruiting categories.
Configuring Recruiting Categories
You can use recruiting categories to map different application processes. Navigate to Settings > Recruiting > Categories and create all of the recruiting categories that are relevant for your company. You may want to create categories by employment type (e.g. full-time, part-time), position (e.g. Junior, Senior) or department (e.g. Marketing, IT), for example. They not only offer a clear overview of your open positions, but also reflect specific recruiting processes.
Define the phases of the recruiting process for each category. To do this, click on the corresponding Category > Edit and add as many recruiting phases as required. If necessary, adjust the order via drag & drop.
Please note: If you do not assign any phases to a category, all phases will be applied by default.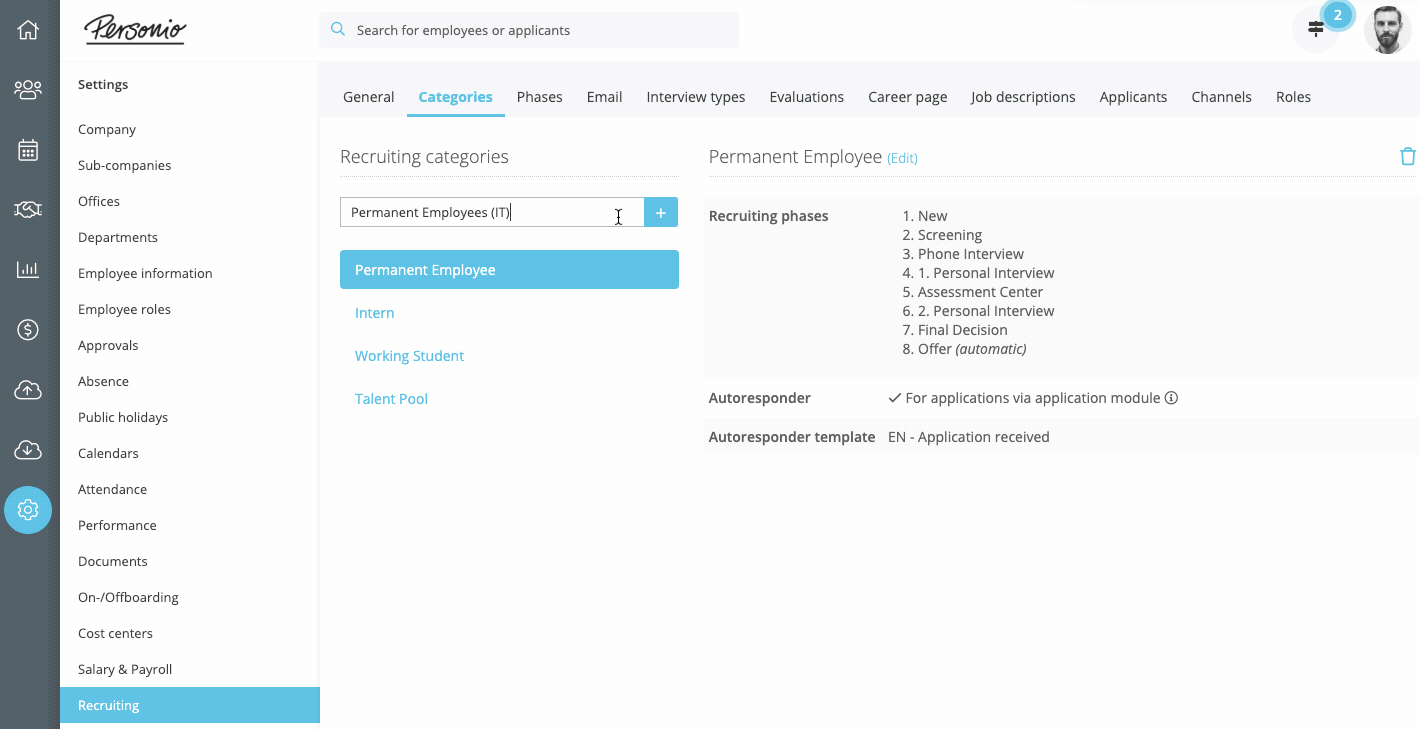 You can find further information on phases in this article.
Configuring Automated Email Responses by Category
The Productivity Plus add-on gives you the option of sending automatic, category-specific receipt confirmations to candidates. Select the appropriate category, navigate to Edit and, under Autoresponder, define whether candidates should receive a receipt confirmation when applying via the online tool and/or when applying by email. Opt for a previously created Email template and select a Sender address. Complete the process by clicking on the Save button.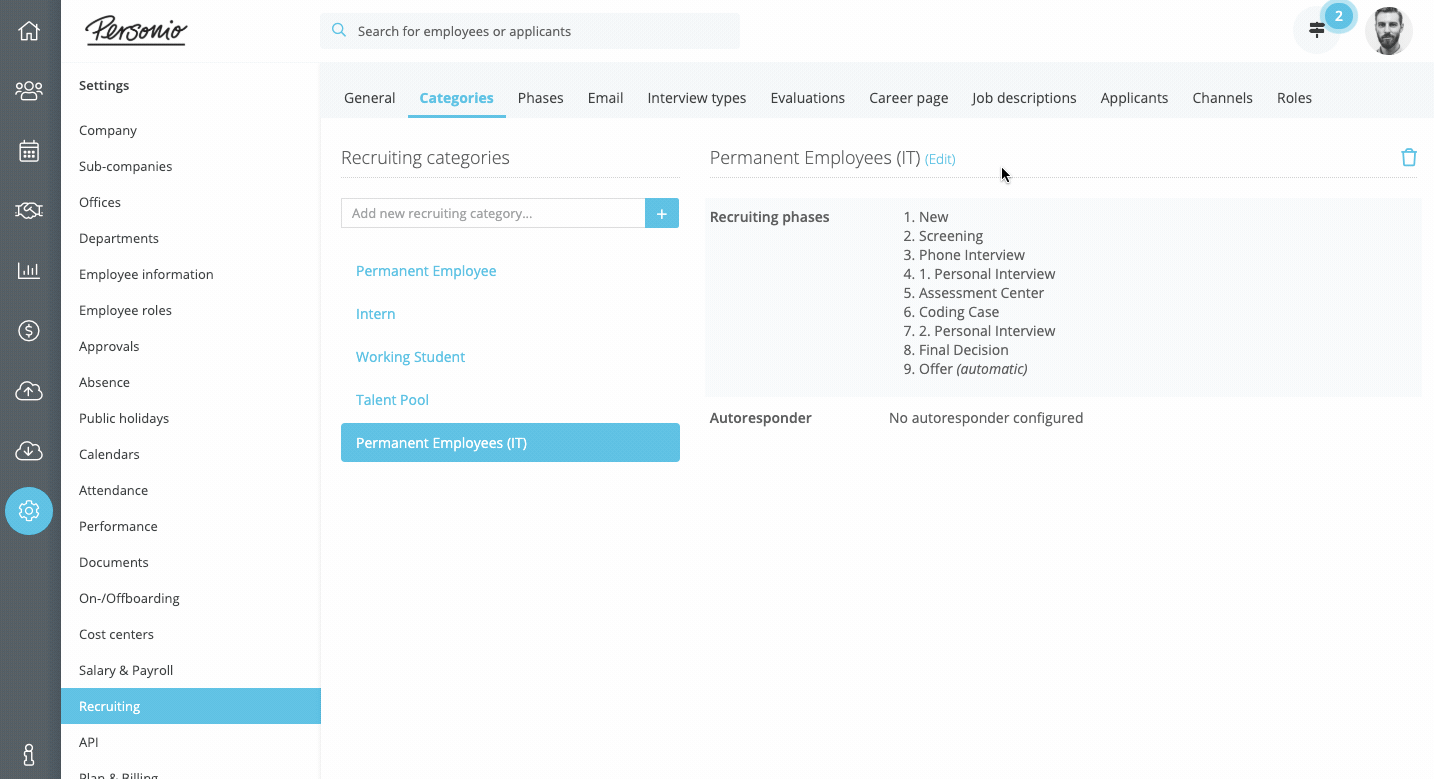 You can find further information on email preferences in Personio here.
Displaying Positions Grouped by Category
In Personio, all positions are grouped by their assigned category.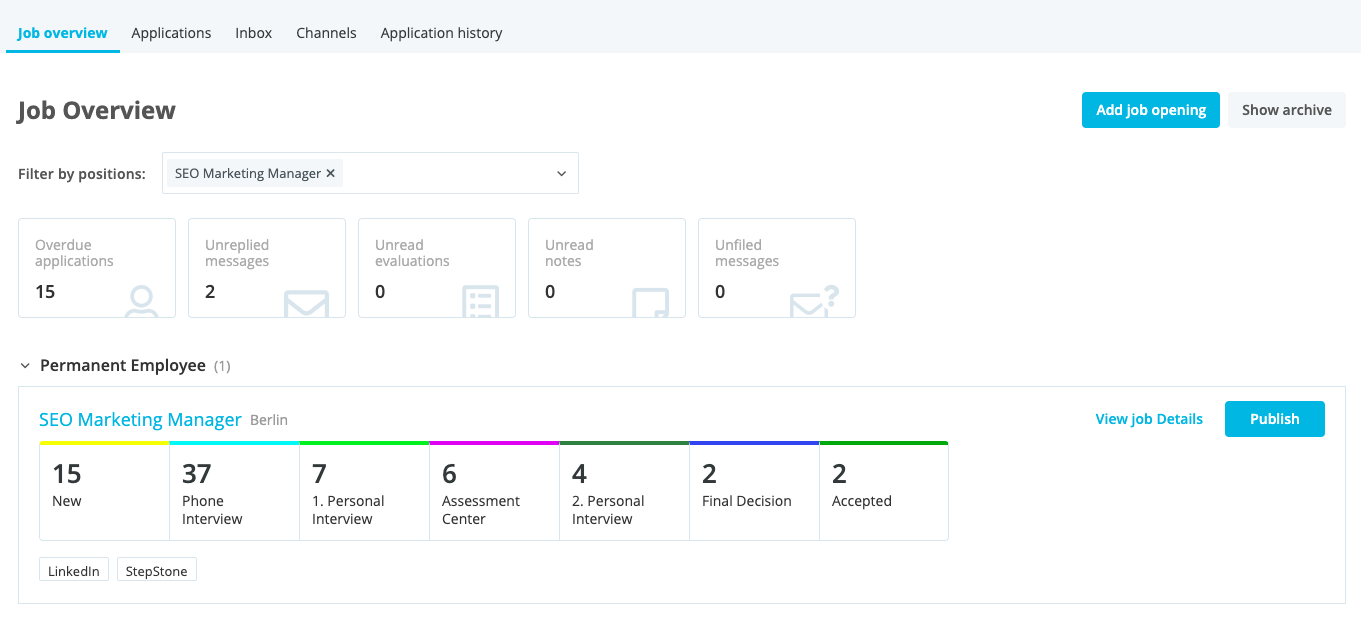 In addition, you can display published positions grouped by category on your Personio career page in order to facilitate the job search for candidates. The option of grouping positions by category is available both on your Personio career page and when integrating jobs into your company website. You can find further information on integrating positions into your career page here.

Can't find what you're looking for?
We are happy to help you! Just write us a message with your questions and we will get back to you as soon as possible.
Submit a request
Topics of this article