Calculation of vacation reserves
To build vacation reserves, we offer you a transparent way to calculate the vacation days each of your employees carries over to the next year. 
Creation and configuration of an export
Create a new export under Exports with the name "Vacation reserves" and add the absence attributes listed below to the export by choosing Edit configuration.
Absence entitlement
Absence carryover from previous year
Absence expired days from carryover 
Absence taken days current year 
Absence planned days current year 
Absence in this regard is a placeholder for the corresponding absence type, such as vacation or paid vacation, depending on how you have named it. The export should look similar to the following screenshot. Create your data manually using the Run export now button. 
Of course, you can also add other attributes, such as the personnel ID, which you may need to assign employees, locations or departments.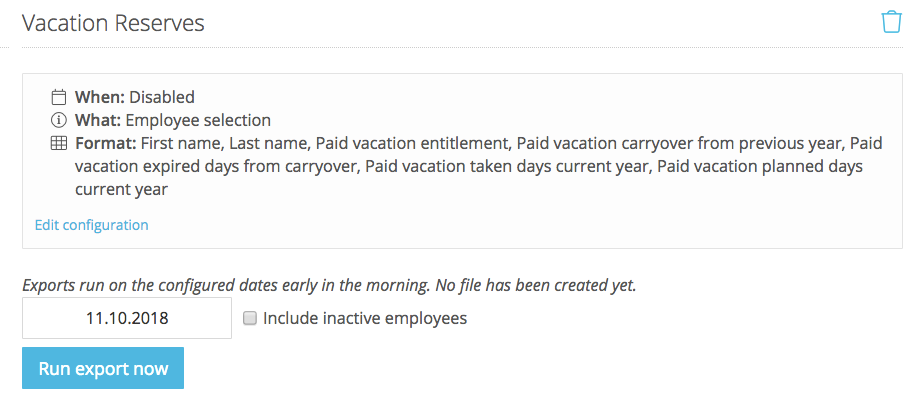 Processing of the export data
You can now export the data as an XLS file and further process it in a spreadsheet program (e.g. MS Excel, OpenOffice Calc). To calculate the vacation carryover for each employee from the exported data, proceed as follows:
Absence Entitlement
+ Absence carryover from previous year
- Absence expired days from carryover Tage aus Übertrag
- Absence taken days current year 
- Absence planned days current years
= Absence carryover to the next year