Configuring Applicant Attributes
In the recruiting section, you have the option of creating additional applicant attributes. You can also add these to the applicant interface on your career page. To find out how to add custom applicant attributes to the career page, please click here.
You can also use recruiting roles to grant employees access to specific sections only, and thus to applicant attributes. In this way, you can actively involve your employees in the application process without giving any insight into wage expectations or other sensitive applicant data.
System Attributes in the Applicant Profile
First of all, consider which additional applicant attributes should be displayed in the applicant profile. The following applicant attributes are systematically set up in Personio:
Name
Email
Phone
City
Birthday
Channel
Gender
Application date
Available from
Expected Salary
Applicant attribute information such as Name, Email, Phone, Location, Birthday and Gender are automatically transferred to the employee profile when the applicant is "accepted."
Creating Additional Applicant Attributes
Under Settings > Recruiting > Applicant > Applicant attributes, any number of custom applicant attributes, such as a LinkedIn profile, can be created. Decide in which of the two sections (Profile or HR information) you would like to create the attribute and click on the blue Plus symbol to save the setting.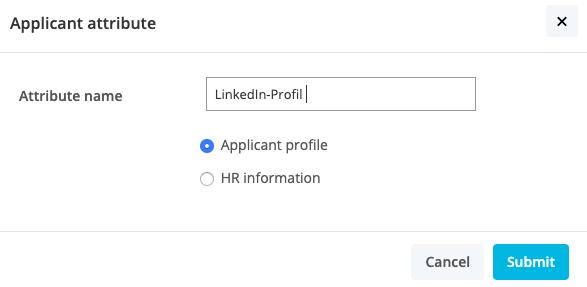 Managing Applicant Attributes
Finally, you have the option of differentiating between the Profile and HR information sections. Individual applicant attributes can be moved between the two sections using the drag & drop function.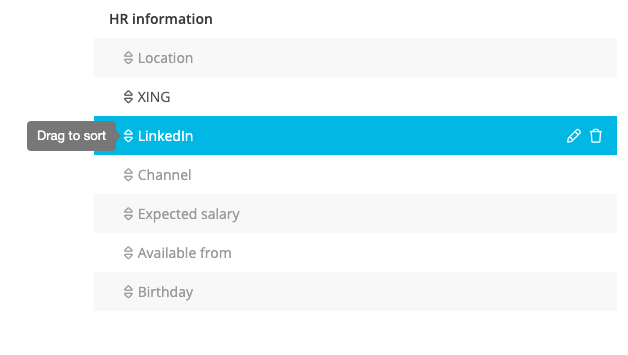 Use HR information to make sure sensitive data is not visible to employees via the recruiting roles. To find out how to create and edit recruiting roles, please click here.
In the Applicant tab, under Settings > Recruiting, you can also create additional applicant tags you can use to highlight applicants. For further information, please click here.
Can't find what you're looking for?
We are happy to help you! Just write us a message with your questions and we will get back to you as soon as possible.
Submit a request