Configuring Company Information
This article describes the settings available in Settings > Company and their effects.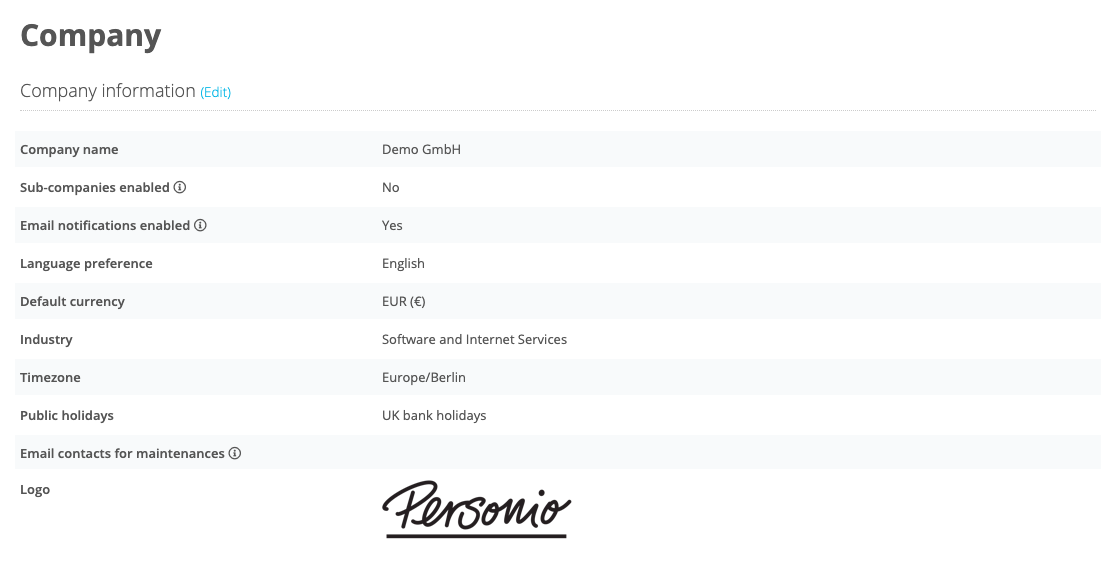 The settings selected for Currency, Timezone and Public holidays have important implications, which are described in the relevant sections below. The information stored in these settings represents the initial default values for the company but can be overwritten for each office.
Click on Edit to be able to make changes to the following:
Company Name
The company name is shown in the top left of your Personio account, below your logo. If you use the recruiting tool, the company name is also shown in the sender's address of recruiting emails. Please click here for further information.
Sub-Companies
If you have sub-companies activated, you can manage them in the settings. The Sub-company system attribute is additionally shown in employee profiles and can be used for any type of filter. Furthermore, payroll accounting generates a separate worksheet for each sub-company, and you can assign different access rights for each sub-company.
Email Notifications
Use this option to activate or deactivate email notifications for users. When this option is activated, each user is able to define in their personal settings the events for which they wish to receive email notifications, such as requests for approval or reminders. If this option is deactivated, no employee in the entire company receives email notifications from Personio.
Language Preferences
The specified language becomes the default language for employees once they are invited to Personio. However, your employees are able to change their language preferences for their individual accounts. Invitation emails and other email notifications continue to be sent out in the language defined by you.
Currency
This is where you can store the currency to be used for your company. If you work with several currencies, please define a currency for each office. Currencies are shown in individual employee profiles (under Salary) and in payroll accounting. Click here for further information on configuring offices.
Industry
If you wish to use Personio's multi-posting functionality as part of your recruiting, please enter the industry your company works in here. This is important for job portals. Click here for further information on multi-posting.
Timezone
This is where you can store the timezone to be applied to your company. If you work across several timezones, please define a timezone for each office. Timezones are significant for import processes and for sending email reminders from Personio.
Public Holidays
Here, you can select a public holiday calendar created by Personio or by yourself. If you have several offices and therefore need several public holiday calendars, store your national public holiday calendar here. Then navigate to Settings > Offices to store your office-specific public holiday calendars. For more information about creating public holiday calendars, please click here.
Email Contacts for Maintenance
The contacts stored in this section receive notifications about maintenance works from Personio. We recommend that you enter a contact each from your HR and IT departments.
Logo
Email notifications sent out by Personio, such as approvals or reminders, contain your company logo, which you can store here. The logo is also shown in the top left of your Personio account.
Can't find what you're looking for?
We are happy to help you! Just write us a message with your questions and we will get back to you as soon as possible.
Submit a request