Step 10: Configure On- and Offboarding Processes

Personio offers you the option of storing standardized processes for on- and offboarding employees to ensure that these events are completed successfully. This can ensure, for example, that workplaces for new employees are set up in time or that work materials are returned in due course. The relevant processes can be defined with any number of templates and steps under Settings > On-/Offboarding.
Please note that onboarding processes are configured in the same manner as offboarding processes.
Create onboarding steps
Start by creating any number of onboarding steps. You only need to create these once and can then reuse them in different onboarding templates. Consider the tasks that need to be performed as part of onboarding a new employee in your company. Decide whether to create a General step or an Email action. Enter a name for the onboarding step in the relevant field and click on the Plus button.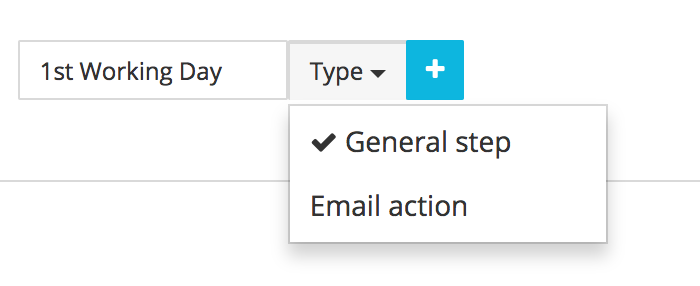 An onboarding step can comprise a number of different items. These can include requests that employees upload a profile picture, complete their personal data or upload certain documents, for example. You have a choice of eight different item types, which can be freely combined to create a step. The following table gives an overview of all available options:
| | |
| --- | --- |
| Item type | Description |
| Text information | Displays a text that can serve as an explanation for completing the remainder of the form. URLs are automatically converted into links. |
| Document for download | Select a document that the employee will be asked to download. |
| Employee attribute | Link to a specific employee attribute that will be auto-filled. |
| Profile picture | Upload a profile photo for the relevant employee. |
| Checkbox | Displays a check box which the employee can (or is required to) activate. |
| Fill textfield | Displays a text box in which the employee can enter text. |
| Enter URL | Displays a text box in which a valid URL needs to be entered. |
| Upload document | Displays a form in which a file can be uploaded and linked to a document management category. |
You have the option of granting employees edit permission for the Employee attribute item type. You can additionally define certain items as Required, i.e. employees can only mark the relevant step completed once the item task has been performed.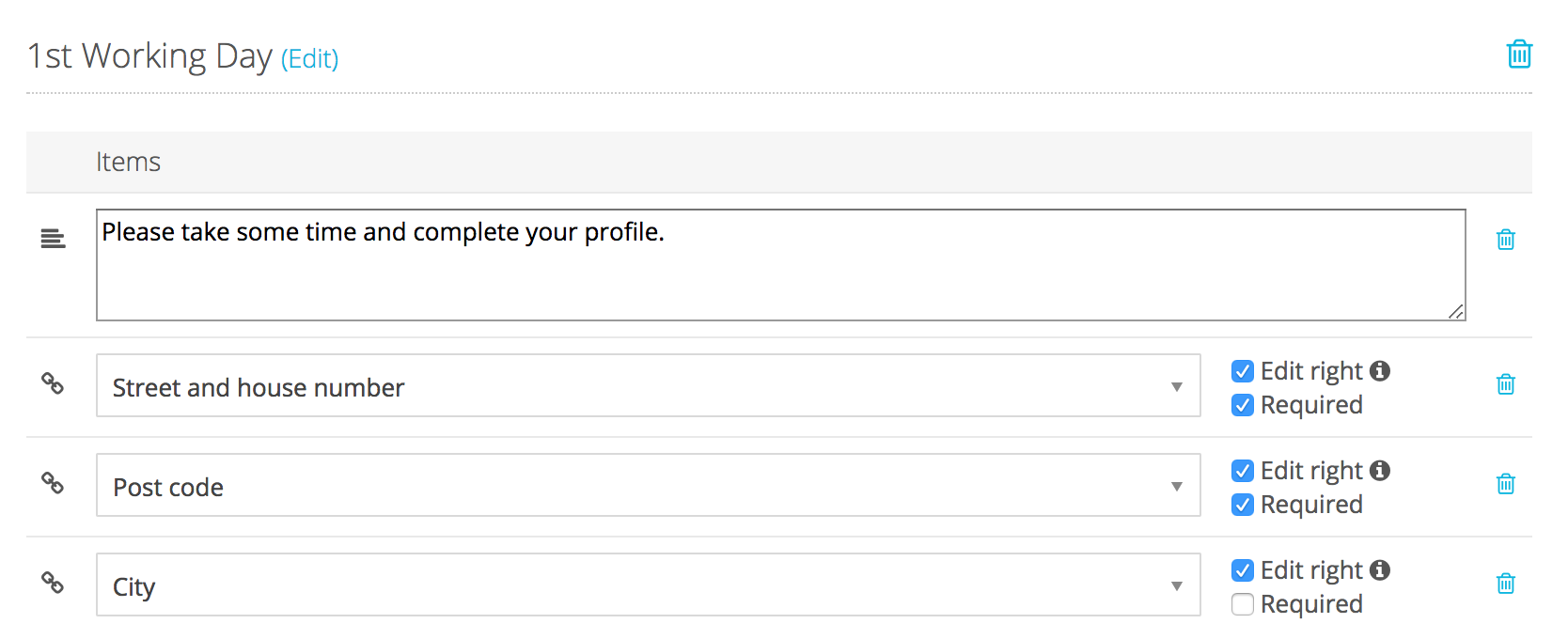 Many steps are identical for all new employees, for example the creation of an employee file or a welcome letter. These steps only need to be created once and can then be used in any number of templates.
Create onboarding templates
You can now create any number of onboarding templates, for example to create customized welcomes for employees in different departments or offices, or for employees with different types of employment contracts. Enter the name for the new template in the box New template and click on the Plus button to save. Then add any number of previously created onboarding steps to the template to reflect the relevant onboarding process. Select a person responsible for this step and a deadline for completion.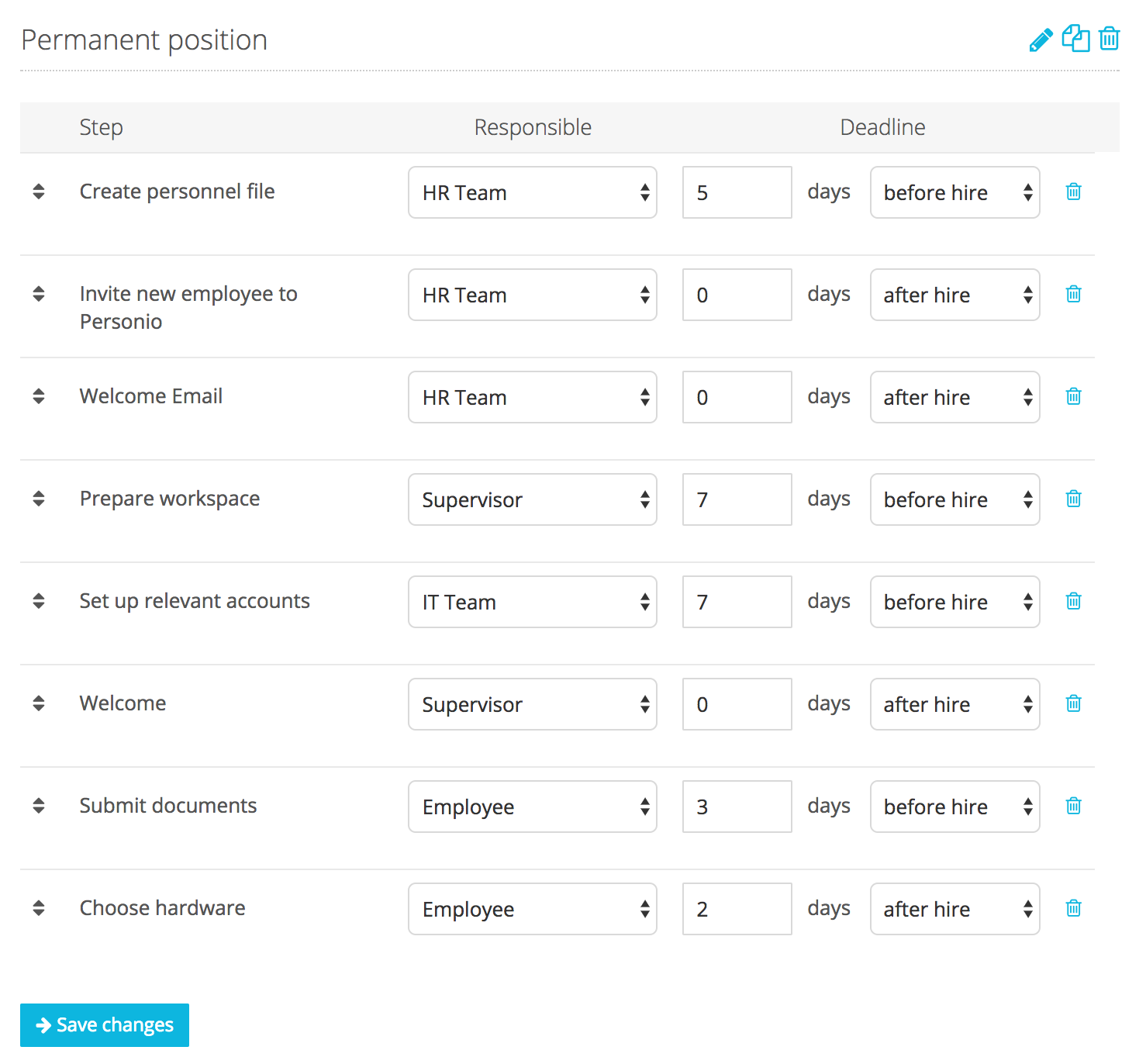 The steps to be completed by a responsible person are sent to that person's dashboard as a task 7 days before the deadline expires, together with an email reminder. Different departments can be easily integrated into the onboarding process by simply selecting a team as responsible persons. The composition of teams can be defined under Teams. Onboarding teams are configured in the same manner as employee roles.
You have the option of duplicating existing onboarding templates, renaming and then editing them in line with your specific requirements.
Activate onboarding processes
Navigate to the Onboarding tab in the relevant employee's profile and select one of the onboarding templates displayed. All previously created onboarding templates are listed here.



Once you have allocated a template, a list of all required onboarding steps is displayed, together with their relevant deadlines and statuses. If you want employees to see only the steps for which they are responsible, make sure to leave the View access right in the Onboarding section deactivated. For further information on access rights, please click here.
This is how the various responsible persons are allocated tasks and are then able to complete them one after the other. The color coding allows you to track the progress made at each of the steps.
Can't find what you're looking for?
We are happy to help you! Just write us a message with your questions and we will get back to you as soon as possible.
Submit a request