Step 7: Configure Recruitment Roles and Access Rights

Once you have configured an application process in Personio in keeping with your company's needs, you can define individual recruitment roles. You can, for example, involve your employees in the recruitment process by granting them access to entire job ads or individual applications for job openings.
Setting up Recruiting Roles
Consider first which recruitment roles you wish to map in Personio and what sort of access rights and notifications these roles are to be granted and provided with respectively. Navigate to Settings > Recruiting > Roles to edit these settings.

The roles Hiring Manager, HR Manager and Recruiter are predefined in Personio for easier overview. Create any number of additional roles by clicking on Add new recruiting role. Click on Edit to select the notifications that the individual roles will receive. You can define which roles will be notified of new applications, of new communications from an existing applicant or of new internal notifications or feedback regarding applicants. Click on Submit to save any changes.
As a next step, you need to assign access permissions to the roles you have just created. You can assign View or Edit rights.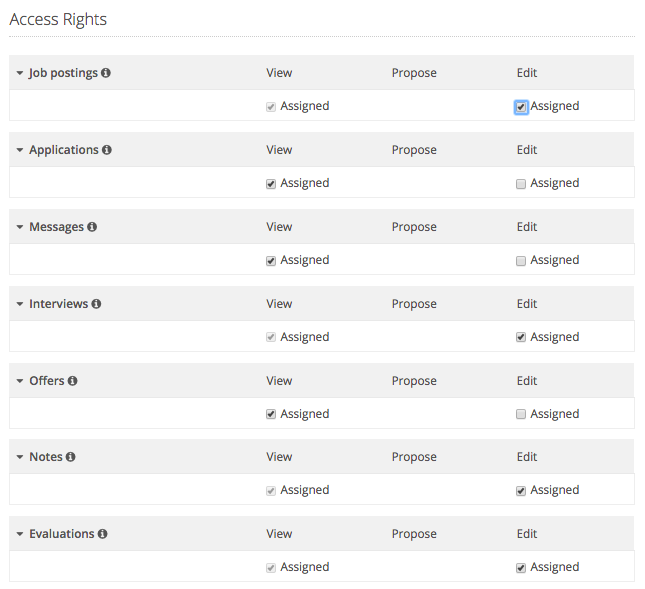 If a role has view rights for a job opening, for example, employees assigned this role can view the relevant job opening. If they have additionally been granted edit permissions, employees assigned this role can also edit the relevant job opening. Access rights can additionally be configured for applicant management and communications, interviews and applicant notes and evaluations.
Allocate recruiting roles
Personio provides for three options for integrating employees in the recruitment process by allocating recruiting roles to them.
1. Access to entire job openings
Open a job opening and navigate to Edit position. Select an employee under Add responsible and assign an appropriate recruiting role to the employee. Employees who have been added as responsible persons for a job opening will be able to see all applications submitted in response to the relevant opening.



2. Access to individual applicant profiles
If you wish to grant employees access to individual applicant profiles only, use the Interviews tab or Request review function.
2.1. Interviews
In the applicant profile, navigate to the Interviews tab and add an interview. Select the relevant employees via the Add participants function and again assign appropriate recruiting roles.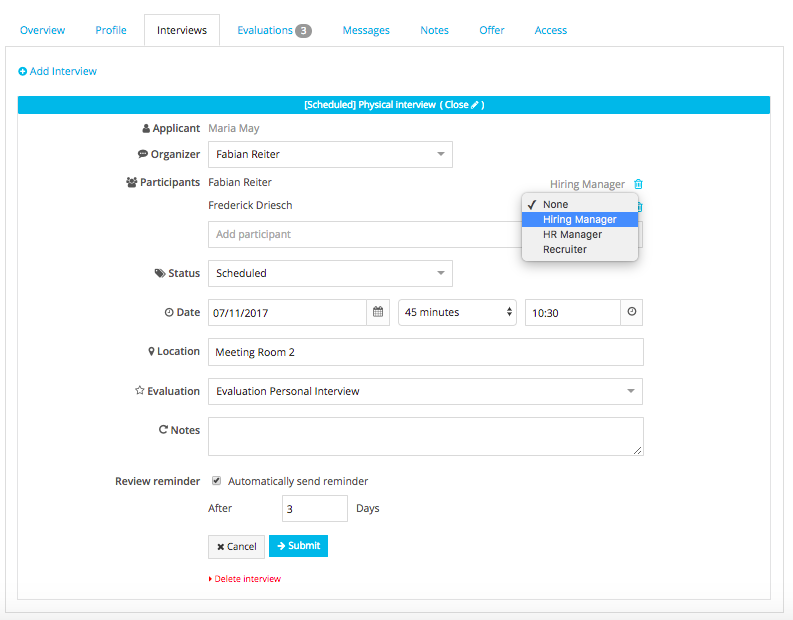 2.2. Request review
Click on the Request review button to send feedback requests to any employees and give these employees access to the relevant applicant profile at the same time.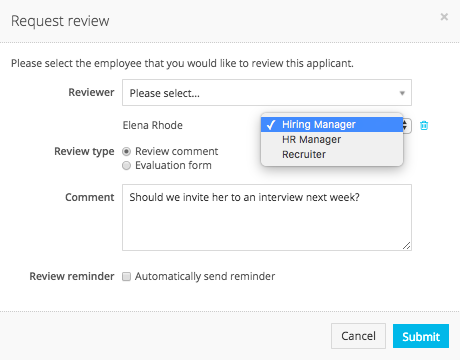 Can't find what you're looking for?
We are happy to help you! Just write us a message with your questions and we will get back to you as soon as possible.
Submit a request