Personio gives you the option of publishing your job openings in several languages. Personio currently supports the creation of job openings in German, English, French, Spanish, Dutch, Italian and Portuguese.
Set up your company profile and job description attributes
Access Settings > Recruiting > Career page > Translations and click on Edit to create your company profile in all required languages. Your company description appears in all published job openings by default.
If you do not want to fill your job postings with the field About us, leave the corresponding field of the Translations blank. The field About us will only be displayed and published if you have filled it with content.

Access Settings > Recruiting > Job descriptions to define the fields which your job descriptions should consist of and map them to one of the following four categories: Job description, Qualifications, Further information, Contact information. You can create any number of job description fields. Make sure that the job description fields are created in all languages in which the positions are to be advertised.
The categorization of job description fields allows Personio to transmit your job openings to external job portals in an ideally structured way. The job description categories are not displayed on your Personio career page, but are used exclusively for internal organization and structuring.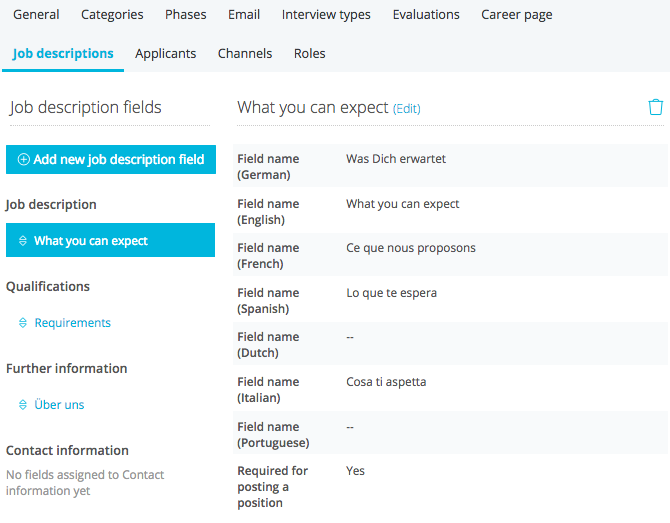 Create job openings
Create new job openings in the Recruiting area by clicking on Job openings > Add job opening. This is where you define not only the job title, but also the category in which the job opening is to appear. To find out how to configure recruiting categories in Personio, please click here. Also, define the location and the department for the position to be advertised. You can also optionally add the planned start date and an internal description for the position. Click on Create to create the position in Personio only for the time being.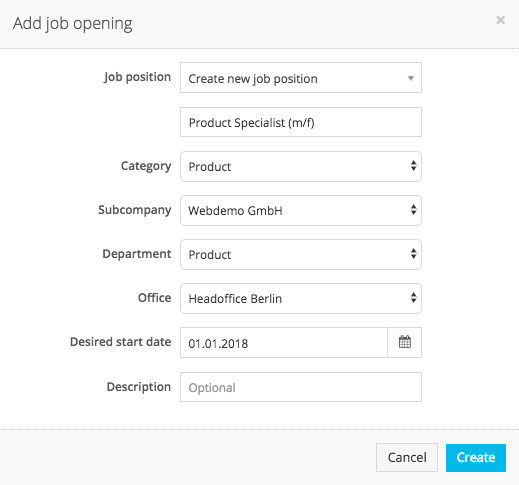 If a position is to be filled with several people, click on Add job opening to add any number of additional openings, even with different start dates.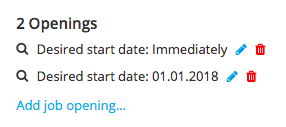 Then click on Edit to provide further specifications for the job openings. Complete the job description fields created in the settings with the information relevant for the respective position. You can also add employees in various recruiting roles as responsible persons and thus grant them access to the job ad here. To find out how to configure recruiting roles, please click here. Information on the salary budget is only visible internally for employees with access rights to the job opening.
If you do not want to fill your job postings with all job description attributes, leave the corresponding fields of the job posting blank. Only fields that you have filled with content will be displayed and published.
Use the language menu to switch between different versions of the job opening and create the opening in various languages.



If you do not want to advertise your job postings in different languages, leave the corresponding fields of the job posting blank. Only translations that you have entered for the respective language will be displayed.
How you add external publications and track application channels you can here.
Can't find what you're looking for?
We are happy to help you! Just write us a message with your questions and we will get back to you as soon as possible.
Submit a request