This article explains how to create a new position which you can then publish on the Personio career pages or promote via the Promote feature.
What is a Position?
In the Personio recruiting section the term position refers to a vacancy, its description and description translations, its advertisement either on the Personio career page or on external job boards, as well as the management of applications and candidates. The position is the focal point of all recruiting activities related to it, which can be viewed under the position details as well as in recruiting reports such as the Application Process System Report.
Adding a New Position
You can create a new position either from the Positions section in the recruiting area or by duplicating an existing position via the Position actions button with three dots in the upper right of the position details.
If you duplicate a position, all information including meta-information, openings, responsibles, job descriptions and their translations are automatically added to the new position.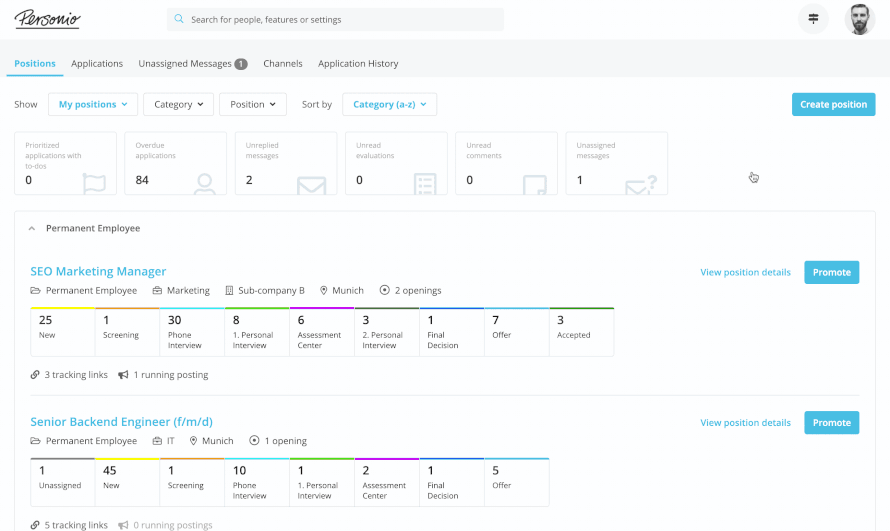 To create a new position, follow these steps:
Navigate to Recruiting > Positions, click on Create position and enter the title of the new position, select the desired start date and, optionally, add a note. Then click on Next.

In the next window, add all required metadata such as recruiting category, or sub-company and click on Create.
The position will open on the Details page where you can add openings, and responsibles for the position. Via the buttons on the top right, you can add position documents, or use the Position actions button to edit the position's metadata, add an Internal comment with a Salary budget and perform further actions. Click here for more information on these sections.
Go to Job description to provide further specifications for the position, set up the default language in which the position will be displayed on Personio career pages and add translations, if required. Click here for more information on the translations. The About us section will be added by default to every position. You can edit it via Settings > Recruiting > Career page > Translations.

If you do not want to include all the job description fields in your posting, simply leave the ones you do not require blank. Only the fields that you have filled out will be displayed and promoted.

Click on the button Publish at the top right to publish your position on the Personio career pages.
Finally, go to the Promote tab to either promote your position on external job boards or via tracking links. Click here for more information on the different options.
Can't find what you're looking for?
We are happy to help you! Just write us a message with your questions and we will get back to you as soon as possible.
Submit a request
Topics of this article