Multiupload of Employee Documents
This article describes how to upload multiple employee documents at once and save them to the respective employee profiles.
It is possible to upload multiple documents simultaneously and to have them automatically assigned to the correct employees and document categories.
To ensure that the documents will automatically match the employee profiles, including the appropriate document category and date, please use the following format for the file name: firstname_lastname_category_ddmmyyyy or
firstname_lastname_category_dd.mm.yyyy or
employeeid_firstname_lastname_category_ddmmyyyy or
employeeid_firstname_lastname_category_dd.mm.yyyy or
employeeid___category_ddmmyyyy (instead of the firstname and lastname please insert 3 underscores) or
employeeid___category_dd.mm.yyyy (instead of the firstname and lastname please insert 3 underscores)
If you use the employee ID as an identifying attribute, make sure that the corresponding attribute is named in the same way as one of the following options:
Mitarbeiter ID
Personalnummer
Employee ID
Employee Number
If your file name only consists of firstname_lastname (or firstname lastname) or the employee ID it will still be automatically assigned to the according employee, however you will have to add the document category and date manually.
Upload File
Under Imports, select Employee Documents (Multiupload) as file type and then either click on the file box to upload your documents or drag & drop them into the box. You can upload up to 100 documents at once.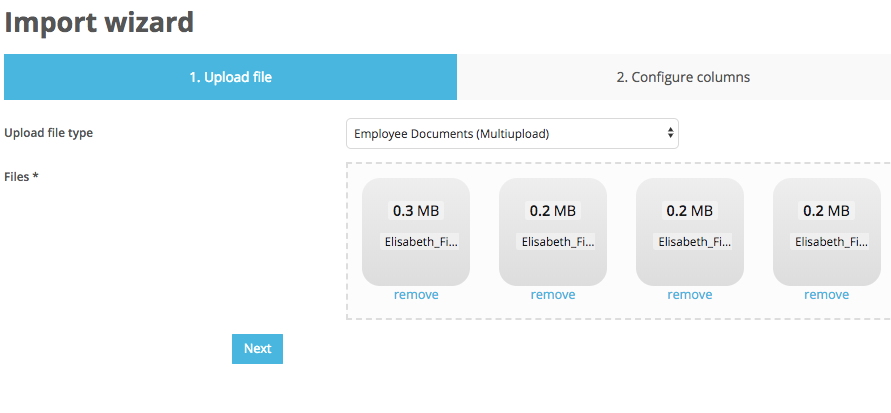 Configure Columns
Assign a document category to the documents and change the document date if necessary. The documents are automatically assigned to employees via the file name.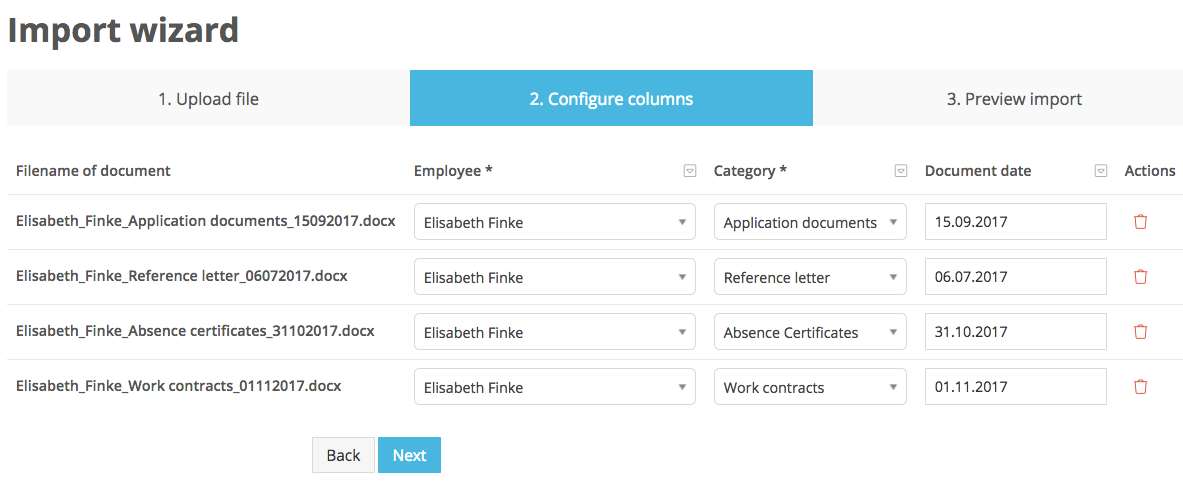 Click Next to see a preview of the import.
Preview Import
In the final step of the import process you are asked to check the matched documents one last time before importing them to your employees' profiles.

After importing, you will find the documents in the respective employee profiles under the Documents tab in the respective Category.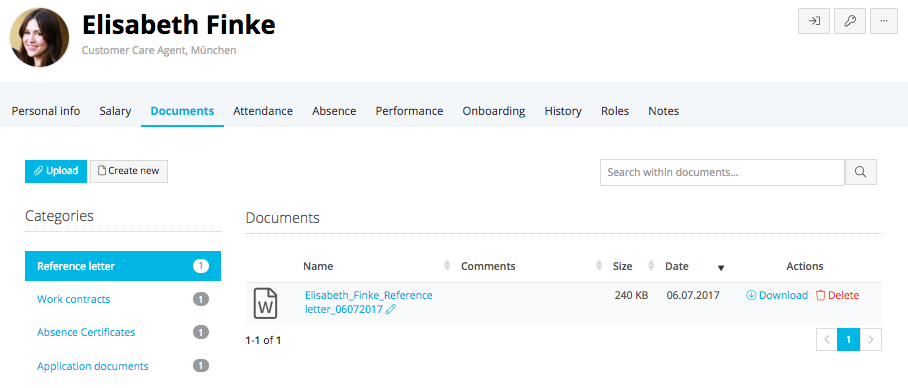 Can't find what you're looking for?
We are happy to help you! Just write us a message with your questions and we will get back to you as soon as possible.
Submit a request