In this article, we will introduce you to common accrual policies and how to configure them.
Learn here how to configure accrual policies step by step.
Best Practice 1: 30 Days per Year (With Waiting Time, First Application "Monthly Prorated")

The employee receives the full annual vacation entitlement from the hire date; this includes the prorated calculation during the first six months of employment (Section 4 of the German Federal Leave Act). Detailed information on waiting time is available here.

During the waiting time, the employee receives their first entitlement (in this example: 2.5 days) on the last day of the employment month. Any unused prorated annual vacation entitlement is only assigned after the first six months have passed.
Best Practice 2: 30 Days per Year (Without Waiting Time, First Application "Monthly Prorated")
The employee shall receive their full yearly entitlement from the hire date. By selecting the Monthly prorated setting, the employee is granted vacation days only for fully completed months of employment (01-31).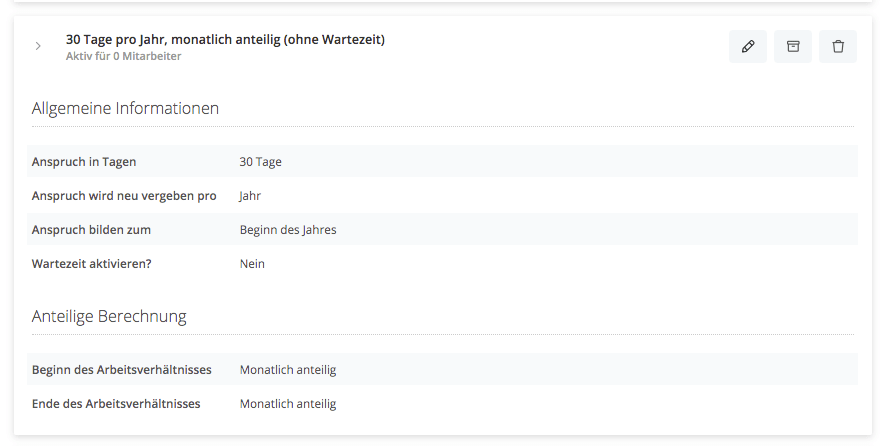 Best Practice 3: 30 Days per Year (Without Waiting Time, First Application "Daily Prorated")

Under the policy described in Best Practice 2, employees who commence their employment during the month (e.g. on 15/09) will only receive 7.5 vacation days for the current year (no entitlement for September, and 2.5 days for each October, November and December), because they have not been employed for the whole of month of September. If, for that first half month of employment, entitlements are assigned, you can apply a Daily prorated setting; the entitlements will then automatically be calculated pro rata.

Best Practice 4: 2.5 Days per Month (Student Trainees and Interns)
For the duration of their employment, the employee receives vacation entitlements on a monthly basis. This accrual policy is particularly suitable for employees that will not be credited an annual entitlement, such as student trainees and interns.

In this example, Personio calculates the entitlement for the first month of employment on a daily prorated basis. So, an employee who has been hired from the 15th of a month, for example, will receive a prorated entitlement for that first month.
Best Practice 5: 28 Days per Year (Waiting Time), Increasing at the Beginning of the Accrual Period that Follows
The employee will receive the prorated monthly accrual during the waiting period, and the entitlement will increase by one day at the time it is assigned.

In this example, the employee receives a monthly accrual during the first six months of employment. When a new accrual is assigned, the employee receives an additional vacation day.
Best Practice 6: 10 Days for 6 Months from Hire Date
In this example, the employee shall receive vacation entitlements for a limited-term employment of 6 months. 10 vacation days are assigned for that period, from the hire date. This means that for the Beginning of employment, the No proration option should be selected.

This method can be useful for student trainees, temporary employees and interns who will receive a defined number of days for a certain period.
Best Practice 7: 0 Days with Manual Assignment of a Corresponding Number of Days
In this example, the employee shall be assigned a certain number of vacation days manually, depending on the work hours performed. This model can be useful, for example, for student trainees and mini jobbers who work flexible hours per week and consequently don't have a fixed entitlement.

A mini jobber, for example, may be assigned days according to the hours performed over the last three months. You can do this by adjusting the accrual balance by the desired amount.