Configuring Absence Types
To manage absences, you will need different absence types in Personio. This article describes how you create and configure different types of leave, such as 'paid vacation, 'sick leave' and 'home office'.
In the case of an absence request, only the days defined as working days in the assigned attendance model are accounted, depending on the variable "valid on".
Creating Different Absence Types
To set up a new absence type, type its name (e.g. paid vacation, sick leave, home office, etc.) into the appropriate field and then click on the Plus button.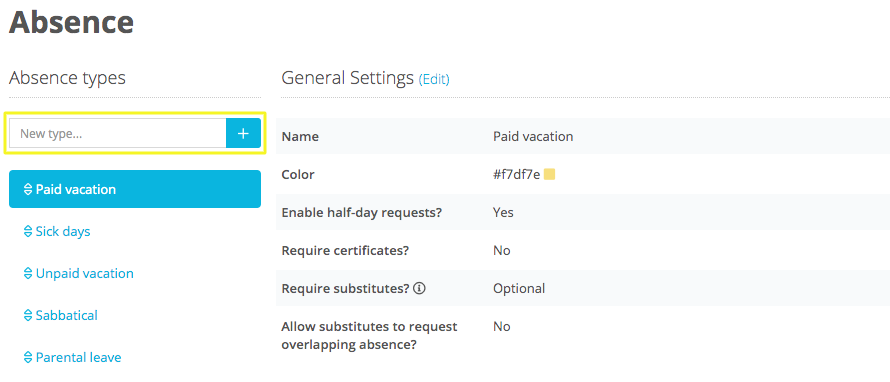 Configuring Different Absence Types
Now click on Edit to configure the absence type you have just created.
Using the Valid on field, choose which days of the week should be counted when calculating absence days.
You can also specify whether Half days, a Substitute, Medical Certificates or similar options are required or possible for the absence type you are setting up.
Activating the function Consider attendance days during absence period as overtime means that all hours worked during a period flagged as an absence in Personio will be counted as overtime. This requires that the employee enter their time worked (attendance) into Personio.
It is generally useful to activate this option for absence types such as 'paid vacation' and 'sick leave'.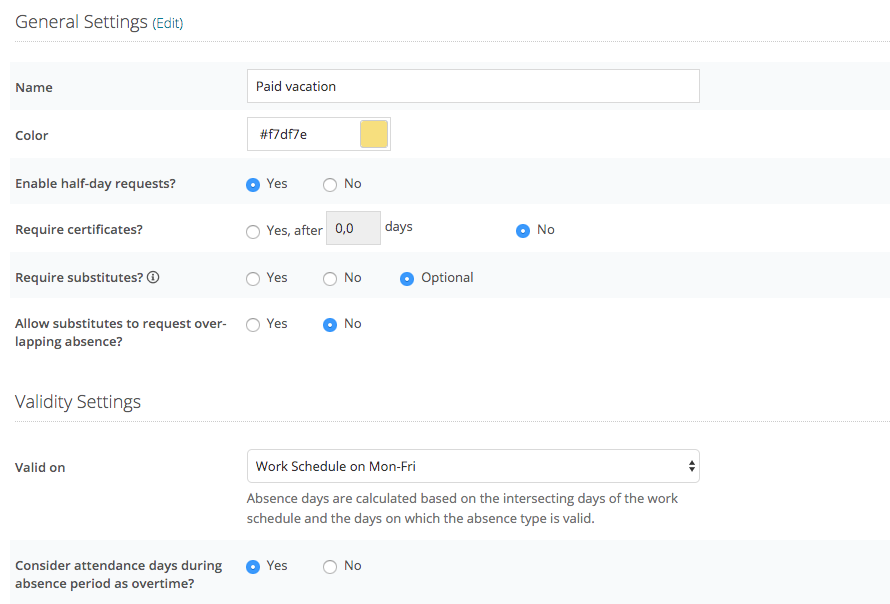 Absence types differ fundamentally in whether there is a specific accrual of days off, such as, for example, with paid vacations, or if days off are unlimited, which may be the case with sick days.
For absence types that are accrued, you still need to create accrual policies so that the system calculates the correct number of days.
Can't find what you're looking for?
We are happy to help you! Just write us a message with your questions and we will get back to you as soon as possible.
Submit a request