Administration of overtime
This article explains how the attendance account is structured and which functions are available to manage overtime in Personio.
The Attendance Balance
The attendance balance is found in the Attendance tab in the employee profile. It provides an overview which compares the target working hours to the hours already worked in the respective month. The target hours are derived from the assigned working hour schedule. Click here for further information on the attendance balance, including on how each of the figures is calculated.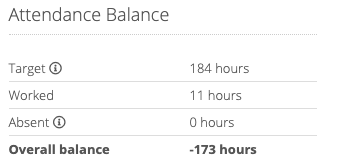 Please note that for employees paid on an hourly basis, certain workday absences such as paid vacation or sick leave are automatically included in payroll calculations, provided that the function Absence is time off has been activated for the respective absence type/s. Please click here for further information.
The Overtime Account
Once you have activated overtime tracking in Settings > Attendance individually for each working hour schedule, the overtime account is shown in the Attendance tab of the relevant employee profiles.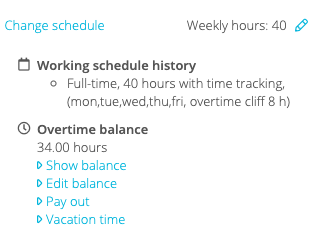 The overtime account provides the following functions:
detail view of your employees' monthly overtime and deficit hours

overtime balance adjustments

overtime payments

overtime credits as leave
Detail view
Click on Show balance to access the detail view of the overtime account, where you find comprehensive information about your employees' individual overtime and deficit hour records. You can also access an overview of monthly overtime balances here. You can delete individual entries by clicking on the recycle bin icon next to them.

Account balance adjustments
Click on Edit balance to adjust an employee's individual overtime account balance as of a specific past or future date.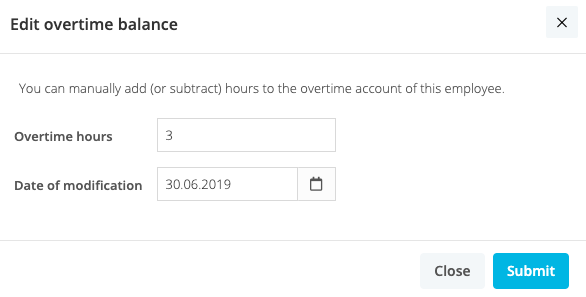 Pay out
If you would like to pay employees for overtime, select the Pay out option. You can then enter the number of hours to be paid out, the payment rate and the calculation factor. Personio will suggest a default rate based on the employee's current monthly salary.
The hourly rate is calculated from the following formula: Fixed salary x 3 / 13 / department's weekly hours (fixed salary x 3 months / 13 weeks / department's weekly hours)
As the calculation of the hourly rate depends on various annual factors and therefore varies from one month to the next (e.g. depending on the number of public holidays in a month), an average hourly rate is calculated based on three months with a total of 13 weeks.
The following example illustrates this calculation for a monthly fixed salary of €3,250 and 40 weekly working hours for the department.  
€3,250 x 3/13 / 40 = €18.75
The employee is therefore paid €18.75 per hour of overtime.
Please note that Personio uses this predefined formula for calculating hourly rates on the basis of the monthly salary by default. However, amounts can also be adjusted manually.
You can also schedule overtime to be paid out on a specified date.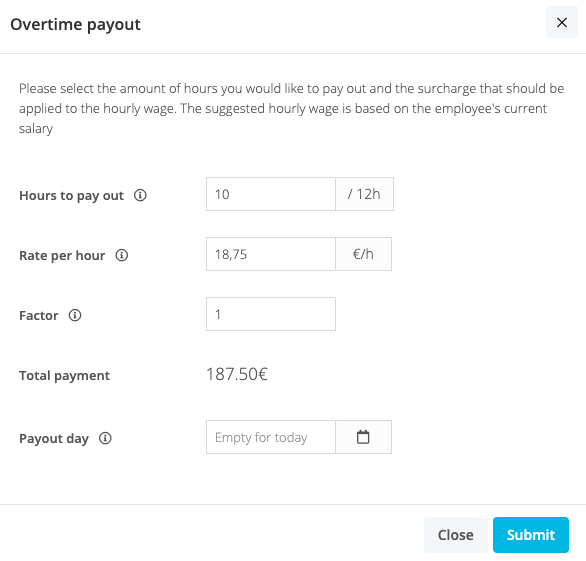 Once you have saved your settings, the respective employee will see the financial overtime compensation in their Salary tab. 
Please note that employees who are to process financial overtime compensation will need the relevant edit rights for employee salaries.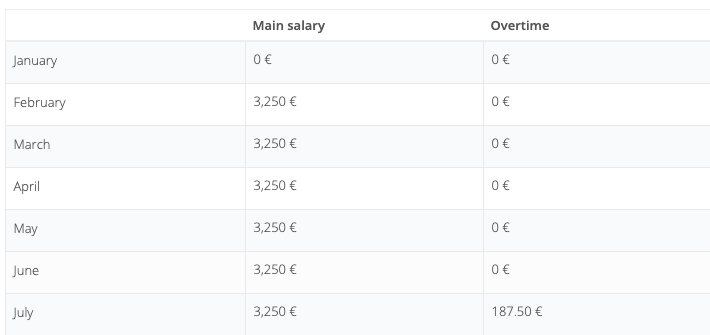 Overtime credits as leave
Click on Vacation time if you want to convert overtime into additional leave. You again have the option to enter the number of hours to be converted and the number of leave days to be generated as a result. Alternatively, you can define a calculation factor.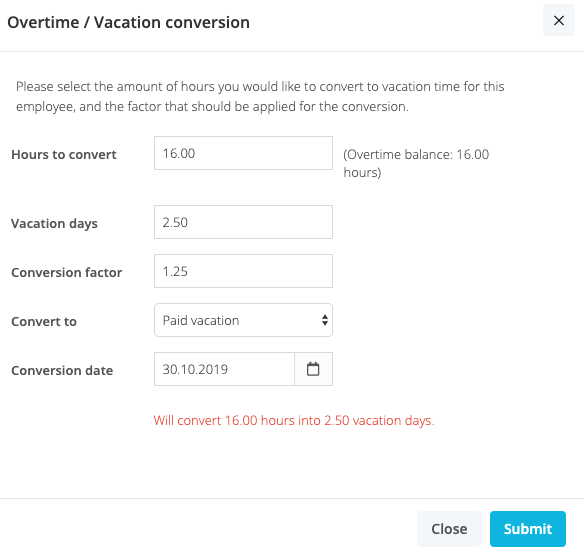 A factor of 1 means that each 8 hours of overtime will be converted into one day's leave. You can, of course, adjust this factor to reflect your internal policies. The following table shows commonly applied factors:
| | |
| --- | --- |
| Factor | Hours required for one day of leave |
| 0.5 | 16 hours overtime |
| 1 |   8 hours overtime |
| 2 |   4 hours overtime |
The factor-based calculation is independent of the defined working hour schedule. This means that, when a factor of 1 is applied, 8 hours of overtime will be needed to generate one day of leave even for employees who only work 4 hours per working day. If you prefer to organize this differently, please adjust the factor accordingly. 
The factor is calculated from the following formula:  8 / x = factor (with x being the number of hours required for one day of leave)
Once you have saved your settings, the additional leave is credited to the employee under Absence and the respective absence type.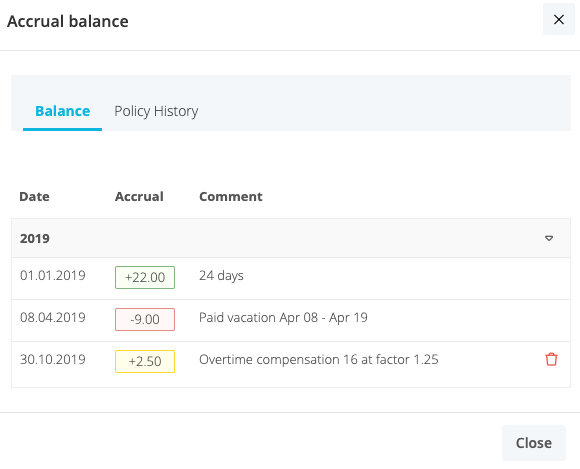 Overtime can only be converted into absence types subjects to accruals. If you would like to have leave in lieu of overtime worked shown separately from normal leave, you can create an additional absence type for overtime. To do this, it is essential that accrual policies are enabled, and a rule is defined for 0 days per year and assigned to employees.
Please note that employees who are to process leave in lieu of overtime worked will need the relevant editing rights for employee attendances.
Can't find what you're looking for?
We are happy to help you! Just write us a message with your questions and we will get back to you as soon as possible.
Submit a request